Radler Brunch Hash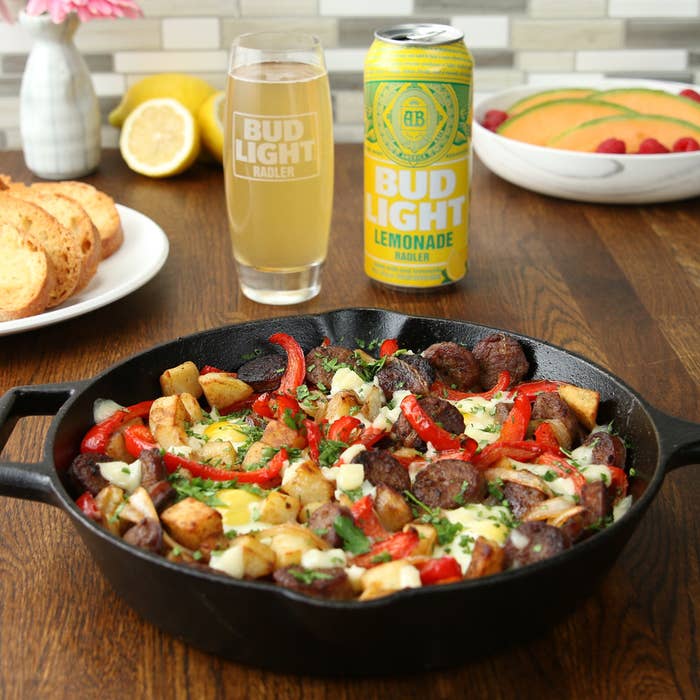 RECIPE
Serves: 4
INGREDIENTS:
1 package raw bratwurst
2 cans Bud Light Lemonade Radler
1 onion, cut in half
1 sprig rosemary
1 teaspoon salt
1 pound Russet Potatoes, peeled and cut into 1-inch chunks, par-boiled but not cooked through
2 red bell peppers, sliced
1 onion, sliced
4 eggs
¼ cup fresh cheese curds, chopped
Olive oil
Fresh herbs (chives, parsley, cilantro)
PREPARATION:
Preheat oven to 375°F.
1. Place onion, bratwurst, rosemary, and salt in a medium stock pot.
2. Pour enough Bud Light Radler to cover all ingredients.
3. Bring to a simmer and poach for 12–15 minutes, until bratwursts are cooked through.
4. Remove bratwursts from pot and slice into coins.
5. In a cast iron (heat-proof) skillet, heat 1 tablespoon of olive oil over medium heat. Add bratwurst coins, allowing them to brown on one side before turning over. Remove from skillet and set aside.
6. Add another tablespoon of oil to the skillet and turn heat to medium-low. Add peppers and onions, stirring occasionally until lightly browned and tender, but still crisp. Remove from skillet and set aside.
7. Add another tablespoon or more of oil to the skillet and add par-boiled potatoes. Let potatoes brown slightly before stirring. Repeat until potatoes are nicely browned and cooked through. Return bratwursts, peppers, and onions.
8. Add eggs to top of hash and place in oven. Cook until desired doneness (5 minutes for soft-cooked eggs; 10–14 minutes for hard). Sprinkle with cheese curds.
9. Garnish with fresh herbs and pair with Bud Light Lemon Radler.