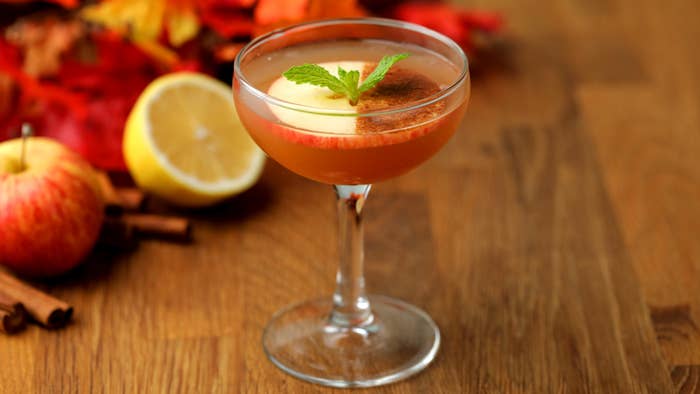 Ingredients
Apple Cinnamon Simple Syrup
1 cup apple skins
1 cup brown sugar
1 cup water
3 cinnamon sticks
1⁄2 teaspoon black peppercorns
Cocktail
1 cup apple cider
1⁄2 cup lemon juice
12 ounces Buchanan's 12 Yr Deluxe Blended Scotch Whisky
Garnish
Crushed ice
2 apples
8 mint sprigs
Ground cinnamon
Preparation
1. Simple syrup: Peel the apples and place peels in a small saucepan. Add the rest of the simple syrup ingredients to the saucepan of the apple peels and bring to a simmer, stirring occasionally. Let simmer until thickened, about 15 minutes, and set aside to fully cool. Strain syrup.
2. Cocktail: Pour syrup into a pitcher. Add apple cider, lemon juice, and Buchanan's scotch.
3. To make the apple garnish: Cut 2 apples into rounds. Place a paper towel over half of an apple round and sprinkle the other half with ground cinnamon.
4. Fill coupe glasses with crushed ice and divide the cocktail between them. Top with an apple round and a sprig of mint.
5. Enjoy!