Fruit Crepe Cake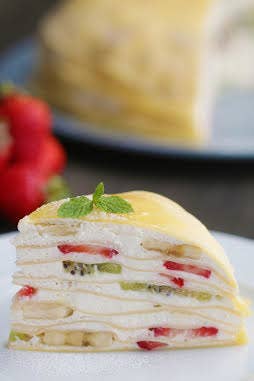 INGREDIENTS
Crepe:
1 cup flour
1 ½ cups milk
2 eggs
1 tablespoon melted butter
2 tablespoons sugar
Pinch of salt
Cream:
6 oz cream cheese, at room temperature
2 tablespoons sugar
1 teaspoon gelatin
1 ½ cups heavy cream
Topping:
15 strawberries, sliced
2 kiwis, sliced
2 bananas, sliced
PREPARATION
1. Whisk together eggs, sugar and salt.
2. Sift in flour and mix. Add melted butter and mix.
3. Then gradually add the milk until no clumps remain.
4. In a nonstick skillet over medium heat, pour ¼ cup of crepe batter, and tip the pan in a circular motion to cover the entire bottom surface. Cook until the bottom surface of crepe begins to brown, then flip. Repeat until all of the crepe batter is used. Cool crepes.
5. Combine cream cheese and salt and whisk. Add gelatin and whisk until smooth.
6. Add whipped cream and mix well.
7. Stack crepes on top of each other, with cream and fruits (strawberry, kiwi, banana) between each layer.
8. Wrap cake in plastic. Refrigerate for 4 hours.
9. Top with sifted powdered sugar (optional).
10. Enjoy!