Cheese Fondue Bowl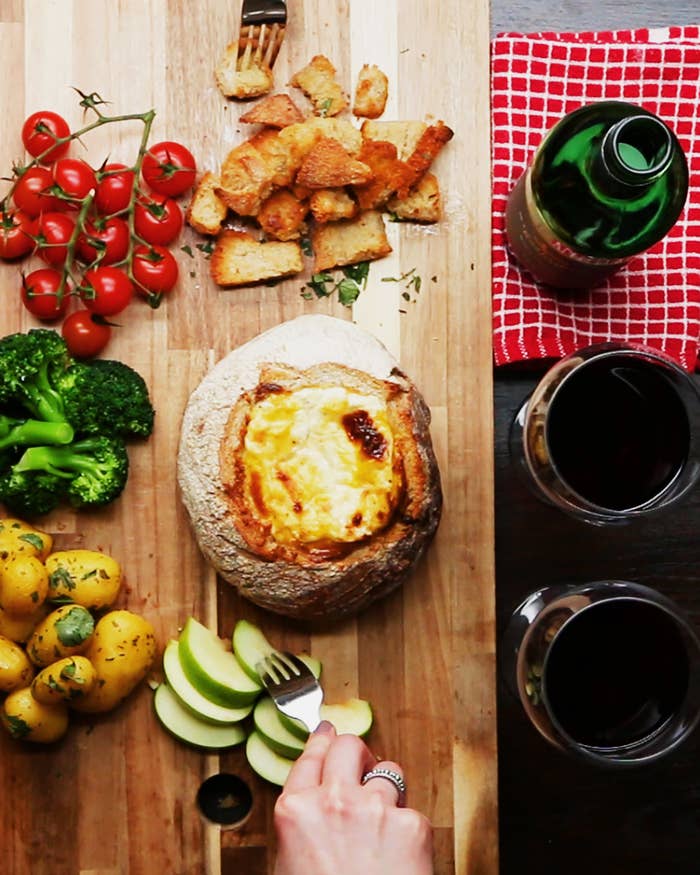 INGREDIENTS
1 loaf sourdough bread
80 grams melted butter
3 teaspoons crushed garlic
180 grams cream cheese
50 grams cheddar
50 grams mozzarella
120 milliliters milk
¼ teaspoon pepper
¼ teaspoon salt
2 egg yolk
PREPARATION
1. Preheat the oven to 180°C/ 350°F.
2. Cut off the top of the bread.
3. Use a bread knife to cut around the inside of the bread and scoop the center out.
4. Cut all the removed bread into bite-sized cubes.
5. Mix 2 teaspoons of crushed garlic into the melted butter.
6. Brush the garlic butter on the bottom and the inside walls of the bread.
7. Dip all the bread cubes in the remaining garlic butter, set aside.
8. Combine the cream cheese, cheddar, mozzarella, milk, 1 teaspoon of crushed garlic, salt, and pepper.
9. Pour the cheese mixture into the bread.
10. Brush the top of the cheese mixture with egg yolk.
11. Place the bread boat and the bread cubes onto an oven tray.
12. Bake for 15 minutes, remove the croutons, and continue cooking the bread boat for another 15 minutes or until the cheese is melted and a golden brown crust is formed.
13. Dip and enjoy.