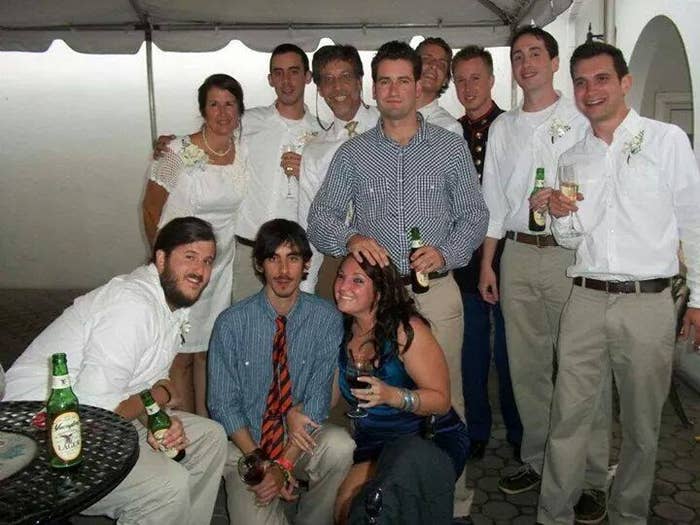 The Asshole Wedding Party
I couldn't remember when or where I'd been working; I just knew that I was supposed to be. Because that's what you did when you grew up. You worked, you got married, you birthed and raised kids. You were supposed to be happy and you would have everything you'd ever wanted and nothing could ever go wrong inside of you, nor with the asshole people you grew up with….
There I was, driving down the Atlantic City Expressway with a bottle of red wine in my lap. I remembered staring out into the darkness and feeling nothing but excitement at the opportunity to be with most of my childhood asshole friends. There wasn't much else going on in my head. Except to keep the bottle low when I sipped from it.
When I'd got to the bar in Margate all the girls from the bridal party had gone back to their rooms. They were responsible. The groomsmen, however, were all in different stages of drunkenness. They all cheered and said my name, after I'd parked and walked onto the back patio of the bar.
"Dude! So glad you made it!"
"Good to see you, bro!"
"You look like every bassist in every band I've ever seen."
"What are you drinking?"
That was where I almost always felt at home: with my asshole friends from over the years who had seen me at my worst and never cared to think anything less of me, or at least never having said so to my face. It was reciprocated. We were all relatively the same assholes. That was why we had enjoyed each other's company since we were old enough to know that we weren't supposed to be drinking as much as we did. But we did it anyway because that was who we all were, especially when we were together. Total assholes.
Then you grew up and your friends got married and everything changed....
Mark was hammered. Jameson, the groom, was missing. Craig was dancing on the dance floor inside of the bar with women from back home that were having a bachlorette party. My twin brother, Michael Myers, was quietly inebriated, having explosions of emotion to anyone that would listen. Anthony was high. Chris was ordering shots. Sean was chain-smoking. Eric was pissing. And Jameson's brother and father were watching us as they left, thinking about how hungover we would all be for the wedding the next morning.
Through a window from outside of the bar, after I had a beer or two, I could see Craig inside on the dance floor, his hair flapping around like George Harrison on a serious cocaine binge. A few of the groomsmen had been ready to leave. But things happened fast when everybody you were out with was a seasoned asshole drunk. Somehow we all managed to quickly make our way in to the bar, standing by the dance floor, ordering more drinks.
Mark was standing there, his face intent on being three sheets to the asshole wind. He looked like he was sleeping with his eyes open, far away and smiling at nothing in particular. Nobody really noticed until he dropped a beer bottle and tried to clean it up but just ended up bleeding and needing people to help him as he stood there drunk and bleeding like an asshole with loud music playing as drunk asshole people danced at the drunk asshole Jersey Shore.
Pretty soon he was causing a commotion in the bathroom with Robert and Eric. Other patrons couldn't get in there. There were bloody asshole paper towels piling up in the trashcan. Mark kept his eyes wide open and tried to convey that he was fine and just needed another asshole beer. On the dance floor, Craig was sweating with a blonde girl, moving around her waist as he tried to keep his asshole eyes from getting crossed. Chris and Anthony were somewhere being assholes, getting high. I was on my third or fourth beer, catching up with the assholes, thinking about the bottle of wine in my car, wondering where I'd be sleeping for the night.
A few of us had decided we should all be leaving. Some walked out of the bar and stood waiting on the patio. And as those friends would come in to grab the other assholes, the other assholes would walk away from drinking and dancing to go take a leak, only to return to the bar, ordering more beers, laughing and staring at the wild asshole scene.
Anthony and Chris were then back inside of the bar, joining Craig and I, as we kept on dancing and swinging our arms. The music was loud and our assholes were getting hot. Mark was out on the patio, drunkenly telling Eric and Mike how he had cut himself. Robert was blowing dastardly smoke-rings as Sean was laughing at every other asshole. Craig had breathed the salty nighttime sea air and found more asshole energy to dance. Some of the women inside of the bar looked good. The night was trying to wind us down. But with so many asshole friends at different asshole blood-alcohol levels it seemed impossible to have every asshole on the same page.
Finally, we were all deciding which cars to take. I walked to where my car was parked, got in and drove it up to the curb next to the outside exit of the bar. My asshole friends were stumbling, laughing, smoking, yelling, staring, bleeding, cursing. The groom and the rest of the wedding party had been in bed for hours -- they weren't assholes.
Still fiery and uncontrollable, Craig came running down the patio as Mark was returning from a brick wall on the sidewalk behind the bar where he had been talking to himself. (I thought I'd seen him punching the wall a few times.) Mark had stumbled directly into the path of Craig who leaped into the air, landing on Mark's right shoulder and tackling him to the ground. Some assholes were surprised, some assholes hadn't seen it coming, some assholes were expressionless, but most of us had just looked like assholes standing outside of a bar, unable to control ourselves and our asshole friends.
Mark lay on the cement like a wounded paraplegic. Eric and Mike were leaning down to help Mark up to his feet while rotten Robert was pissed and coming for Craig. Sean held Robert back as Craig began wheezing. Or he might have been laughing and crying at the same time. Anthony was cackling in my passenger seat. I'd asked him, like an asshole, if he wanted a sip of wine.
After a few bouncers came out and told us to scram, we finally all piled into two cars. The arguing continued. Eric was in my backseat. He and Anthony were talking and talking until they were finally almost yelling at each other. At a red light, with Anthony taking a caustic swig of wine, Eric got out of my car and walked ahead to climb into Robert's green asshole truck, sitting next to Mark. Eric was defending the fact that Mark should not have been tackled. Anthony had disagreed, for whatever asshole reason, always unafraid to speak his drunken asshole mind.
We'd obviously been drinking heavily. It was truly a chaotic asshole scene. The huge lump on Mark's forehead was just starting to blossom.
We got to a Wawa and parked. Still, there was bickering in both cars. Craig opened my back door and immediately vomited in the parking lot like somebody had dropped twenty water balloons filled with tomato sauce from three-stories above us. I think I went in to the store but I'd been laughing so hard at every asshole that I hardly remembered who had gone in with me.
As we departed with our late-night goodies, Craig's apology for being so highly intoxicated had been left in the parking lot of that Wawa, in Margate. For somebody else to clean up....
Somehow we all made it the motel. There were two rented rooms for the night, completely opposite the parking lot from one another. This division seemed to be necessary for a group of asshole friends that couldn't control their drinking. Nor their mouths.
With a bunch of us asshole drunks in one room, the conversation was turning into a volatile argument. Although there was some good weed to smoke, Robert and Eric fanned the heated debate with Anthony, who, as an Italian asshole, was highly offended. Through the haze I only sat and watched and listened and laughed.
With a relaxing headache, Mark was blacking out on one of the beds, all cozy and warm. Craig could have been choking on his upchuck -- he was practically forgotten for the night. Some other assholes kept on drinking. Whether it was beer or whiskey or vodka or water, I wouldn't pretend to remember.
Quietly I retreated to the floor in the room across the parking lot, slipping into unconsciousness, laughing myself to sleep.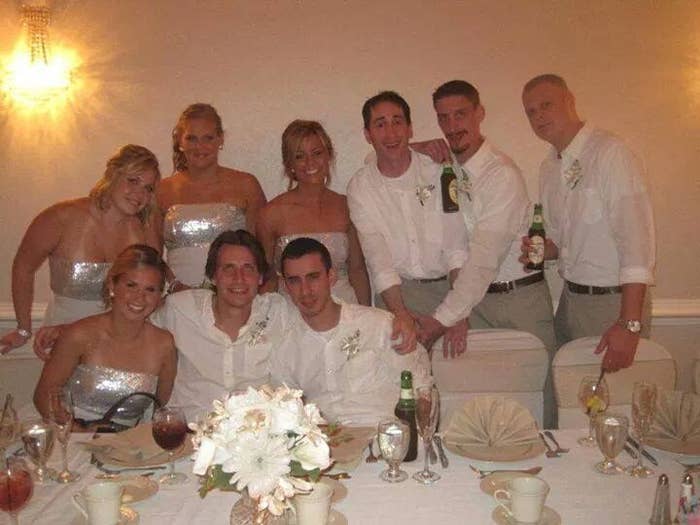 The Day of the Wedding
My memory would be a little more clear of when we were all waking up on the day of Jameson's wedding. He was to be married on the beach in Ocean City.
The sun was beyond brutal in the morning. The door to the room had been left ajar. I groaned, got up, rubbing my eyes, and walked out through the doorway. The potent smell of marijuana emanated into my nostrils. Jameson's dad was getting high in his motel room. Some of the others were in there, too. From across the lot, I saw Chris walking on the second-story balcony with a Woodchuck cider in his hand. He held it up above his head, cupped a hand over his mouth and then shouted down to our corner room.
"GOOD MORNING, FUCKERS!"
It was time for us assholes to get moving.
I was the only one with the group that wasn't actually in the wedding. The rest of the guys had to wear white-collared buttoned shirts, khakis, and sandals. While getting ready, Robert soon discovered that his pants had a hole in them. He'd just gotten the khakis so he figured that the hole had been created within those previous twelve hours.
"Somebody must have dropped a cigarette in my car." He looked around the room, with me, Eric and Sean, all laughing. "My shirt was laying on the floor in the backseat. Thanks, guys. I have awesome friends."
Showers were taken consecutively. Sports inoculated the motel TV. The door hung open. People kept coming and going. Eric talked to his girlfriend on the phone outside.
"I love her, man."
Chris walked in.
"Anybody want a beer?"
He was without shoes, dressed in khakis and a white t-shirt, carrying a cooler.
"You guys see Mark's head?" He let out a laugh. "It's pretty fuckin' bad."
I got in the bathroom, shit, took a shower, and laughed the entire time. It had always been funny to have us assholes all together. Somebody could just as easily get hurt, vomit, have a bad time, fight, argue, fall asleep with their shoes on and get messed with, because we were assholes. We were smart and intelligent too; but mostly we were assholes. And Jameson was getting married. I dressed and walked out of the bathroom.
Some time had passed and most of us were ready to get into our cars. Chris returned, properly dressed. Taking one look at me, he laughed. Eric looked at me too. He looked at Chris and then they both laughed. Robert turned away from the mirror.
"You look like an English teacher, dude."
They didn't say I looked like an asshole. So I felt good about that.
Then Mark came into the room and everybody burst into laughter. Jameson was there.
"What the fuck happened to your face?"
There was a rectangle of a deep and burning red in the center of Mark's forehead. The edges of the fresh bruise were slowly starting to scab. He reached up and carefully touched it.
"It's pretty bad," he laughed.
Craig howled out loudly, turning away. Mark smiled and blinked. I walked to my car and threw the bag I'd had onto the back seat. Robert was just getting in his car with Eric. I drove out of the lot and followed Robert down the congested shore road. The weather seemed to be shifting. The sky was churning with slightly gray clouds that hung over us, looking like at any minute they could potentially rain down on our asshole parade.
Robert had needed brown sandals. Once we were over the bridge and into Ocean City, we stopped at the first store. At the last possible minute, Robert got his sandals. Back outside, the winds were picking up. So I'd decided to purchase a hat for style and inventiveness.
"Dude, that hat looks like Indiana Jones."
I was also wearing an orange tie….
We kept on driving. As we'd arrived at the beach where the ceremony was supposed to be, I parked. Sean was there. He got out of his car and climbed into the passenger seat of my silver Honda. Soon we both had fresh beers in our hands. We watched from a few blocks away as the others were pulling white chairs out of the back of Anthony's bright blue asshole pick-up truck. He squinted down at us.
"They can't see us," Sean said between sips of his beer, "fuck that."
The sky kept looking worse. I saw Jameson on the corner ahead of us, in jeans and a blue hooded sweatshirt, talking to one of his Marine friends. He didn't have any shoes on and he was standing in the street looking nervous and contemplative. Mike and Anthony and Jameson's brother, Brett, were unloading the chairs. Robert pulled onto the street and parked next to Anthony's truck. I started my car and drove up to them, remembering that there were two very important cases of beer in my trunk.
I parked, got out, went to the trunk, opened it up and grabbed a few more beers. Robert, Sean, Eric and I were then sitting in my car. I put on some music. We talked about the music, drank and smoked. The wind was blowing all over the place. Jameson disappeared to go change.
Soon other people started showing up. Real people. The groomsmen had to stand on the covered boardwalk and greet the guests as they arrived. It had started to fill, the boardwalk, as the cool rain was beginning to come down from the clouds. Asshole clouds.
Jameson came down the wooden planks in his military uniform, hugging and greeting members of his family. Mark was just getting used to explaining what had happened to his freshly bruised forehead. Jameson's mother just shook her head and smiled at the rain and at each one of Jameson's South Jersey asshole friends.
The bride and her bridesmaids arrived on a trolley, much more sober, well-rested and sane. All the girls looked beautiful. They glowed and smiled and looked up at the clouds. I stood mute in my hat, avoiding the droplets, under the shoddy wooden awning. Every person in attendance walked onto the beach. The rain started coming down harder. The ceremony had to begin.
It was for love. That's all that had mattered in the moment. Not Mark's head, not the petty asshole arguments, not getting kicked out of the bar the night before your friend's South Jersey wedding.
Erica and Jameson would say their vows as silent tears fell in the rain. And the only whispering of gossip was based solely on the fact that one of the groomsmen had a large scar on his forehead that looked like he had recently been smacked in the face with a shovel. By some asshole.
As certain South Jersey people know, what happened after the ceremony was going to be even more ridiculous….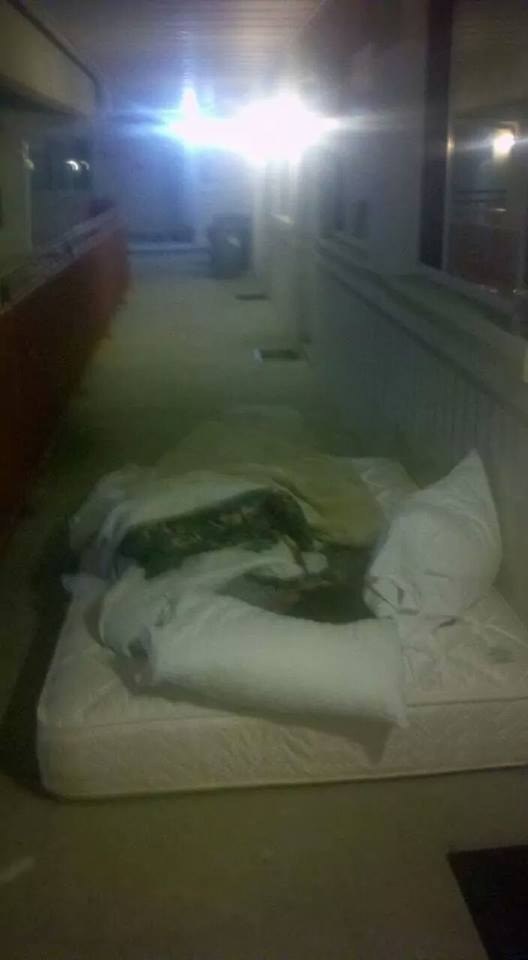 I wouldn't condone this type of behavior. It is just as well, to be able to enjoy weddings and life events, without being an asshole. Also, there are assholes everywhere. Not just in South Jersey....
The reception was good and fun. I'd danced like an uncontrollable asshole, spilling wine all over my pants and other people's white-collared shirts.
And at the next hotel for the night, I remembered pulling into the parking lot with a certain asshole (pictured above). As I got out of the car and walked to the back of it, to retrieve a bag of my clothes from the opened trunk, the driver pulled out a football and sprinted down the lot.
"Hey, man," he shouted, "catch!"
The football came spiraling at me in the twilight. A few distant stars twinkled above us, in South Jersey splendor. I caught the football. Then, just as quickly, I hurled it into a crowd of other post-wedding guests -- innocent bystanders in between two assholes.
"OW!" a girl yelled out into the night, "you hit me right in the head, you asshole!"
I'd just pretended I didn't know what she was talking about.