1.
A super popular pet hair remover you can use on furniture, bedding, clothes, or anything where shedding tends to accumulate. Best of all? It's totally reusable and doesn't require any annoying sticky film, making it eco-friendly!
Promising review: "This thing is magical and I wish I had found it sooner. Even the most stubborn of dog hairs that have been seemingly woven into the fabric of your couch are no match for the ChomChom. The satisfying click of the roller will have you ChomChom-ing every surface you possibly can, while your dog looks at you in cold betrayal for removing his precious fur deposits. He plots revenge against this new nemesis, revenge that is doomed to fail from the start, because the ChomChom is far too powerful. Meanwhile, you are transfixed by the serotonin rush filling your brain as your ChomChom fills with more and more hair, leaving a path of de-furred sofa in its wake. The dog barks in disapproval. You smile, finally sitting on fur-free furniture for the first time in a long time. Maybe you'll even have friends over now." —Will
Get it from Amazon for $27.95.
2.
A pack of dishwasher cleaning tablets, because how clean could your dishes really be if your dishwasher itself is a mess? Their subtle, crisp scent is a welcome change from those rancid odors that often creep up over time with dishwasher use, and in terms of your dishwasher's appearance, I think the photos speak for themselves. 
Just pop them into the tray where you'd normally put detergent (or on the bottom of your dishwasher if you're washing dishes at the same time), and run as usual!
Promising review: "This was simple to use, smelled good, and I was pleasantly surprised when I opened the dishwasher after the recommended cleaning cycle. This product actually did what it advertises that it will do! Great results, fairly economical — and by the way — it works!" —Old Southern Charm

Promising review: "Just get them. Changed the way my 20-year-old dishwasher works. Much cleaner dishes and the interior is like new. First time you use it, run it empty with just the cleaner. I didn't realize how much mold and ickiness it got out of my machine." —drpicard
Get a pack of six tablets from Amazon for $8.99.
3.
And on a similar note, some washing machine cleaning tablets for extra assurance that your linens aren't mingling with odor-causing residue while they're being "cleaned." Simply place one tablet in your empty washing machine and run a normal wash cycle — easy breezy!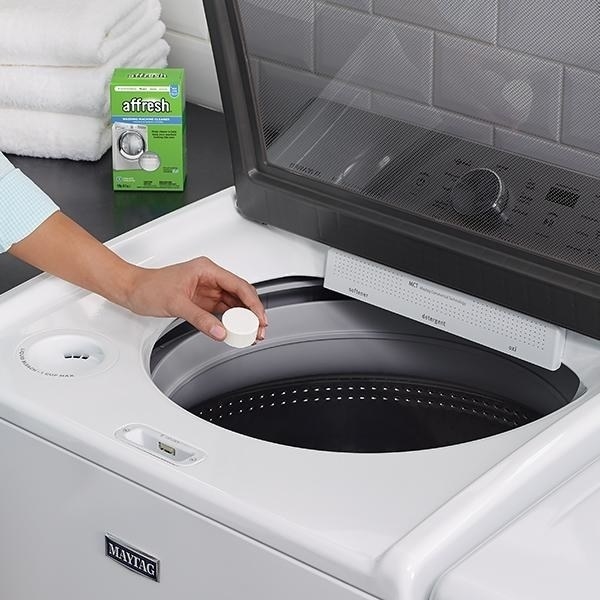 They're safe to use with pretty much any type of washer: HE or regular, top-loading and front-loading.
Promising review: "I have been using bleach to clean my machine for some time, but decided to give this a try a few months ago. My very first clean with Affresh left me surprised and delighted for not only did it clean my machine, it eliminated the nasty smell that always transferred to my clothes thanks to a build up of mold I didn't even know about. Every month now, I toss a tablet into the drum and let it work its magic. Now, my machine is cleaner than ever, and my clothes always smell wonderfully fresh." —Kelli Crawford
Get a pack of six from Amazon for $11.98.
4.
A fume-free oven cleaner so you can breathe a bit easier when you finally get around to doing everyone's least favorite task. This NSF-certified product doesn't contain lye or harsh fumes, and reviewers say it works like a dream on caked-on messes and grease stains if left on overnight. Your parents will faint the next time they visit.
Promising review: "I've tried scrubbing my oven with a baking soda paste but it barely did anything to clean my oven. I had years of baked on grease from baking lasagnas and roasting chickens in my oven that looked like they were seriously here to stay. That is, until I tried this amazing product. I sprayed my oven and left it overnight. The next morning — all of the grease stains just simply wiped off with a paper towel! It was that EASY. I'm pretty sensitive to fumes too and this did not bother me at all. Definitely a new staple in my kitchen." —CupCake
Get it from Amazon for $7.40.
5.
Or, a 100 percent natural oven scrub made of pumice that'll cut through tough stains just as well as chemical cleaners, aka no unpleasant odors to see (smell?) here. In fact, reviewers say the slightly minty scent is actually a treat for the nose!
It also comes with a metallic scrubber!
Everneat is a small Etsy shop based in Fairfield, Connecticut that specializes in natural cleaning products.

Promising review: "Love everything about this! Love the scent and the clean it provides! We could not get our oven window clean with any previous product — this did it in seconds :)" —Elizabeth Rowe
Promising review: "This stuff is MAGIC! One application and it took 15 years of yuck off my oven that refused to come off with other oven cleaners! The product does most of the work so you really don't have to scrub for hours. Highly recommend this stuff!" —Traci Hutchinson
Get it from Everneat on Etsy for $19.99 (available in three scents).
6.
A two-pack of *iconic* cleaning paste The Pink Stuff, because once you realize how much stain-lifting power this unassuming paste has, you'll be happy you bought in bulk. Not only does it get stains out, it does so quickly and with minimal effort on your part.
After seeing countless videos on cleaning TikTok that raved about The Pink Stuff, I knew I had to try it out on my stained, grime-coated sheet tray. I mean, if it could make a dent in that, I'd probably believe in magic. Well, I started scrubbing one corner as a test, and lo and behold, the difference was nothing short of DRAMATIC (check out the photos for proof!). And I didn't even have to scrub very hard, though as someone with ~minimal~ upper body strength, I doubt any force I could physically apply would even constitute as heavy scrubbing. At any rate, it worked so well that I tried it on a pair of dirty tennis shoes and a blue stain that had been singed onto my toaster oven for months, and, yup, it worked. I will say, if you want your sheet trays to look brand spankin' new, you might need one of those cleaning scraper tools to get every last bit off, but as far as general stain removal goes, consider me a FAN. 
Promising review: "The stuff cleans anything. I had an old outdoor lounge chair that had been sitting outside for years. It had so much buildup on it I was sure I would have to just throw it away. We tried everything, and the Pink Stuff was the only thing that worked. It looks brand new! I also use this on my oven and my shower. It does take a little elbow grease but the result is always beautiful." —~MJ~
Get a two-pack from Amazon for $14.99.
7.
A fan-favorite carpet cleaner that'll help you keep your cool the next time the dog/kid/S.O. makes a mess on that white rug you insisted on getting. Don't worry, it'll make stains and regret vanish!
Promising review: "This stuff is AMAZING. We have a 1.5-year-old puppy and have make several futile attempts to clean up carpet stains from her potty training days. Another dog owner clued us into this, and we cannot believe we didn't buy it sooner. Seriously, the same night this arrived, I spilled an entire bottle of beer on white carpet (oops), grabbed the Folex, sprayed a bunch onto the stain, massaged it into the carpet with my finger tips, and blotted with a damp towel. You can't see ANY remnant of a stain. I've also attacked old stains (like one-plus year old) and saw the same results. Seriously, buy this!!!" —AKM
Get it from Amazon for $12.80.
8.
Or! A pack of stain-removing pads to keep you from crying every time your beloved pup decides your new carpet is the best place to pee. They work on wet and dry stains, and all you have to do is plop 'em down, stomp, and let the magic happen. No more scrubbing!
They're also great for things like wine, mud, coffee, blood, and juice.
Promising review: "WOW! Honestly, I was a little skeptical of the promise of these pads, but I bought them just to try out. THEY WORKED AMAZINGLY WELL! Seriously. I have some stains that are 1.5–2 years old. I've tried everything to get them out. I put these pads on the stains (two to cover the spot), let sit for about an hour, pulled them up, and the stain was gone. I truly couldn't believe it. The pad was yellow. Somehow the old urine was soaked up into the pad. My carpet looks like new. I couldn't recommend these any higher for what I wanted and what I got. Wish I could give this more than five stars." —Matt

Get a pack of 20 from Amazon for $24.99.
9.
A fan favorite TubShroom (70,000+ 5-star ratings!) that proactively catches any hair that makes its way into your drain so the water doesn't take forever to go down. Plus, you'll save money on plumber visits!
Promising review: "I hardly ever write reviews but this thing is so amazing I had to share. With every shower I take, I shed a TON of hair and (as you can see from the picture) stick it to the wall so that no hair goes down my drain. I thought this method was working out well but my drain was continuing to stop up. I figured it must be my sister's fault since I was so good about not letting any hairs go down the drain, but I went ahead ordered the TubShroom after seeing advertisements on Facebook. I got this thing and after only two showers, it collected a crap ton of my hair that I didn't catch. It really is so easy to install and wipe away the hair, exactly like the videos. Awesome invention and I'm super happy with this purchase!" —Megan K.
Get it from Amazon for $12.95+ (available in five colors). 
10.
And, a drain clog remover for any respectable adult who's ever witnessed a plumber pull a humiliating amount of hair out of their backed-up drain and is like, "Nope, never again!" Just stick it down your drain so it can lift out all of that gunk and try not to be too grossed out when you see what's been hiding down there.
Promising review: "When I pulled the orange plastic spiked strip from the package, I was immediately skeptical and felt like all those five-star reviews were from people who exist in an alternate universe. I was tempted to initiate a return on Amazon but decided that I might as well gamble on a piece of $9 plastic before gambling $200 on a plumber. I slipped the plastic strip down my shower drain and literally FIVE SECONDS LATER I was pulling up gobs and gobs and gobs of hair. HOLY COW!!!!!!!! OHMYGOSH. I can't believe I still have any hair left on my head. SO MUCH REPULSIVE GUNK!!!! I saved my prize hairball on the shower floor to show my husband because I knew he would be as skeptical as I was. We both agree it looks like a small raccoon or a large squirrel lying helplessly on my shower floor. It's a grisly, messy, smelly and oh-so-rewarding job." —Chocolate and Chips
Get a six-pack from Amazon for $8.18+ (available in orange or green).
11.
A pack of foaming garbage disposal cleaner that'll replace lingering smells — you know, the ones that always make you think, Wow, should I be cleaning my garbage disposal? — with a bright, lemony scent. Plus, watching it bubble up is pretty fun!
Promising review: "Glisten is great and easy to use. I don't like products that are complicated and have numerous steps to them. Glisten is easy, does the job, and smells good. No more smelly drains. Just drop it in the drain with a steady stream of water and the disposal on, and that's it. A bubbly freshness cleans the disposal...it's that easy." —Helen Lanning
Promising review: "Performs exactly as describes. Have two kitchen sinks that had odors. Tried in both and both no longer have a smell. I'd highly recommend this product to anyone who wants to clean their kitchen drains." —DPK
Get a two-pack (good for eight uses) from Amazon for $9.30.
12.
A dryer vent cleaner attachment so you won't have to worry about extra lint buildup becoming a potential fire hazard. You probably didn't even know this existed (but you'll be glad/horrified you discovered it once you see how much filth it sucks up).
This adapter is compatible with most vacuum cleaner pipes, so all you have to do is attach it to your vacuum and guide it around your dryer to suck up excess and hard-to-reach lint. Too much lint build-up not only slows down the drying process, it's also a fire hazard, so this handy device can actually be considered a safety tool!
Promising review: "Yes, we had a sock in our dryer vent!! This past summer, the lint trap broke on our dryer. Our kids ran the dryer regardless! What a disaster. Received my vacuum kit today, and now my clothes are dry! I sucked up the sock, as well as a piece of lint roller tape. Great product!" —Laurel Enoch
Get it from Amazon for $10.99+ (available in three colors). 
13.
And a dryer vent lint brush with a long, flexible handle that'll get into those hard to reach crevices in your dryer gap and exhaust port. 
Promising review: "I never thought I could have so much lint stuck in the vent. It helps keep clothes smelling better and I'm sure is overall easier on the dryer with better air flow." —Andrew Portus
Get a pack of two from Amazon for $8.95.