1.
A pack of dishwasher cleaning tablets, because how clean could your dishes really be if your dishwasher itself is a mess? Their subtle, crisp scent is a welcome change from those rancid odors that often creep up over time with dishwasher use, and they couldn't be easier to use!
Just pop them into the tray where you'd normally put detergent (or on the bottom of your dishwasher if you're washing dishes at the same time), and run as usual!
Promising review: "This was simple to use, smelled good, and I was pleasantly surprised when I opened the dishwasher after the recommended cleaning cycle. This product actually did what it advertises that it will do! Great results, fairly economical — and by the way — it works!" —Old Southern Charm

Promising review: "Just get them. Changed the way my 20-year-old dishwasher works. Much cleaner dishes and the interior is like new. First time you use it, run it empty with just the cleaner. I didn't realize how much mold and ickiness it got out of my machine." —drpicard
Get a pack of six tablets from Amazon for $8.99.
2.
And on a similar note, some fresh-scented washing machine cleaning tablets for extra assurance that your linens aren't mingling with odor-causing residue while they're being "cleaned." Simply place one tablet in your empty washing machine and run a normal wash cycle — easy breezy!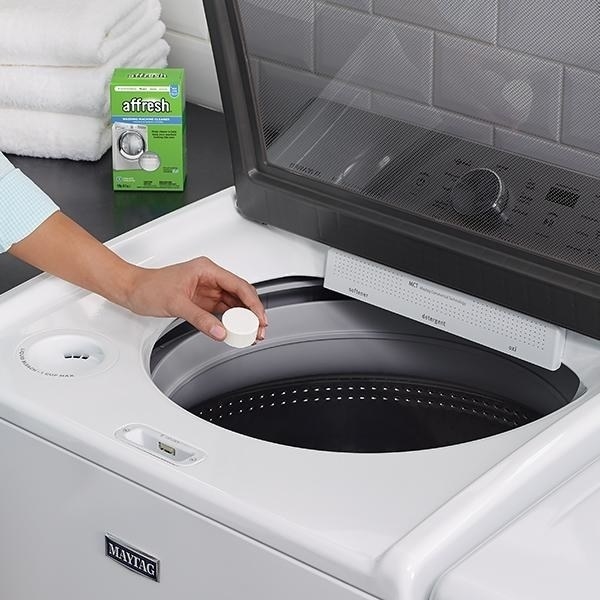 They're safe to use with pretty much any type of washer: HE or regular, top-loading and front-loading.
Promising review: "I've tried other brands of washer cleaner and either their scent is overwhelming or they produce too many suds. Affresh is perfect. It cleans well, has a pleasant scent, and doesn't overwhelm my HE front loader with suds. I will not use any of the other brands after using Affresh." —thepit47
Promising review: "I have been using bleach to clean my machine for some time, but decided to give this a try a few months ago. My very first clean with Affresh left me surprised and delighted for not only did it clean my machine, it eliminated the nasty smell that always transferred to my clothes thanks to a build up of mold I didn't even know about. Every month now, I toss a tablet into the drum and let it work its magic. Now, my machine is cleaner than ever, and my clothes always smell wonderfully fresh." —Kelli Crawford
Get a pack of six from Amazon for $11.98.
3.
A pack of foaming garbage disposal cleaner to replace lingering smells — you know, the ones that always make you think, "Wow, should I be cleaning my garbage disposal?" — with a bright, lemony scent. Plus, it's fun to watch it bubble up!
Promising review: "Glisten is great and easy to use. I don't like products that are complicated and have numerous steps to them. Glisten is easy, does the job, and smells good. No more smelly drains. Just drop it in the drain with a steady stream of water and the disposal on, and that's it. A bubbly freshness cleans the disposal...it's that easy." —Helen Lanning
Promising review: "Performs exactly as describes. Have two kitchen sinks that had odors. Tried in both and both no longer have a smell. I'd highly recommend this product to anyone who wants to clean their kitchen drains." —DPK
Get a two-pack (good for eight uses) from Amazon for $9.40.
4.
A 100 percent natural oven scrub, because it's been...how many years of avoiding this dreaded task? It's made of pumice that can cut through tough stains just as well as chemical cleaners, so no unpleasant odors to see (smell?) here. In fact, reviewers say the slightly minty scent is actually a treat for the nose!
Everneat is a small Etsy shop based in Fairfield, Connecticut that specializes in natural cleaning products.

Promising review: "Love everything about this! Love the scent and the clean it provides! We could not get our oven window clean with any previous product — this did it in seconds :)" —Elizabeth Rowe
Promising review: "This stuff is MAGIC! One application and it took 15 years of yuck off my oven that refused to come off with other oven cleaners! The product does most of the work so you really don't have to scrub for hours. Highly recommend this stuff!" —Traci Hutchinson
Get it from Everneat on Etsy for $19.99+ (available in a plastic or glass jar, and in three scents).
5.
A wood polish and conditioner that'll make you think twice before replacing your scratched up furniture — yes, there is hope for it! This cleaner contains beeswax, which acts as a protective coating, along with yummy-smelling orange oil to help condition the wood and keep it from drying out.
Promising review: "This stuff is amazing. I've used this on 60-year-old wood floors, new wood floors, and a 100-year-old table, and it worked on all of them. Covers scratches and worn areas. New scratches disappear. Deep scratches are hidden well." —C.
Promising review: "I am so happy with this purchase. I have a dresser from the 1940s that is dark cherry and the piece looks amazing after one treatment! So easy to apply and smells wonderful. I cannot wait to use this on my other wood furniture. I highly recommend this product." —MJS in Miramar Beach
Get it from Amazon for $22.99.
6.
A Mrs. Meyer's multi-surface cleaning solution to spritz on pretty much everything, from countertops and tiles to walls and hardwood floors. Oh, and those herbal scents — lemon verbena, basil, and mint — are ~to die for~. 
Promising review: "I was so pleasantly surprised by this product. I got it on a whim, thinking, 'What the heck, I'll try it.' I literally use this cleaner for EVERYTHING! I mean from my wood furniture, mirrors, granite countertops, even my hardwood floors! The smell is so nice and not overpowering like other cleaners, and I feel safe using it around my kids. I'll be buying this product as long as it's made." —casandra

Get a pack of three from Amazon for $11.37+ (available in three scents at the linked page, or even more here). 
7.
Or, an eco-friendly all-purpose cleaner that can be used on any sealed surface — and thanks to its refreshing grapefruit and lemon scent, you'll probably start spilling stuff on purpose just so you have an excuse to use it.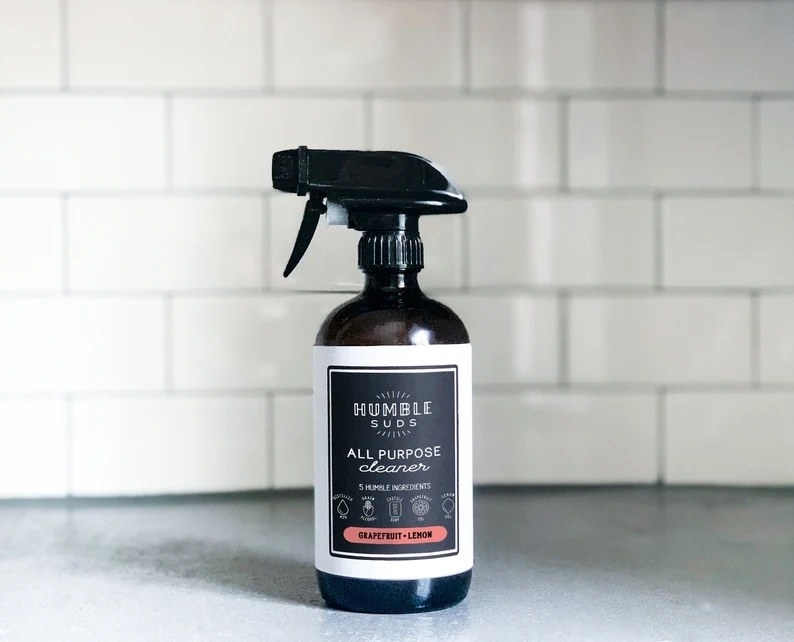 Humble Suds is a small business based in Denver, Colorado, and sells natural, plant-based cleaning products to make doing household chores a little more enjoyable. 
Promising review: "I'm so thrilled to find alternatives to chemical cleaners, and these smell FANTABULOUS!!! Even drinkable, though I won't, of course. I've already been going around the kitchen and bathroom spraying things to wipe down. Mmmm! Thank you for these super safe and super refreshing cleaners." —Sandy Grugan

Get it from Humble Suds on Etsy for $15.55.
8.
A fresh-smelling Scrubbing Bubbles toilet cleaning stamp, because who says cleaning your bowl can't be fun? You literally just stamp a gel cleaning disc under the rim, then let the flusher do all the heavy lifting. Let's hear it for no more gnarly toilet brushes (and unpleasant smells) to deal with!
Each stamp lasts for up to 12 days!
Promising review: "I was sooo skeptical and was confused about how they'd work but the gel solidifies and with every flush, suds wash through with the water and it really makes a fresh difference. Also the scent is light but really nice and fresh! I recommend these 100%! They're super interesting but they do the job." —Janet
Get six stamps from Amazon for $4.37.
9.
And, some deodorizing toilet bombs to keep your b-room smelling nice and fresh, even between cleanings (you do clean your toilet...right?). Simply pop one into the bowl, let it fizz up, brush, and flush!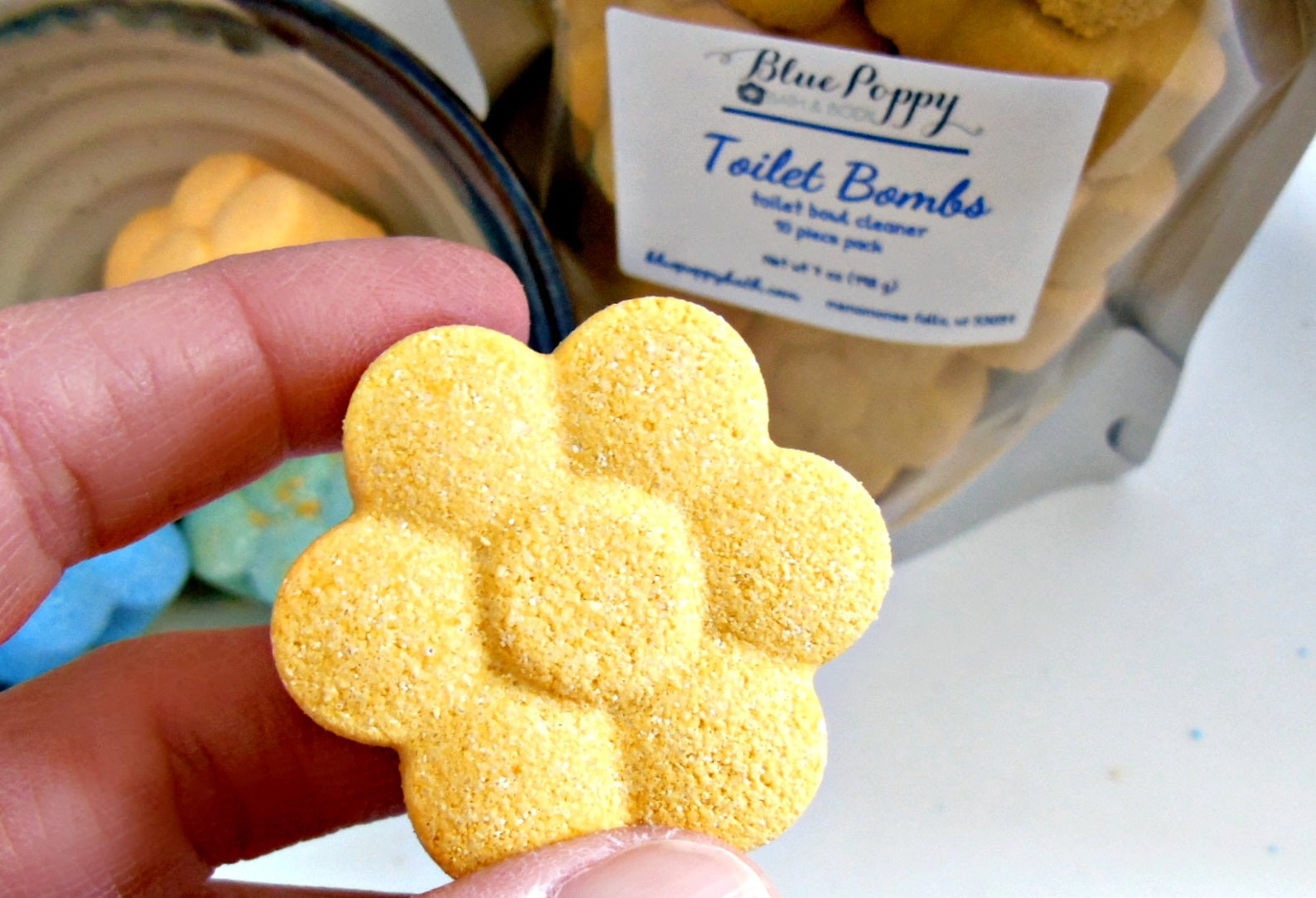 P.S. The maker also says they use these to clean their garbage disposal!
Based in Menomonee Falls, WI, Blue Poppy Bath makes handmade bath and body products in a truly mind-blowing variety of scents (and their packaging is super cute!).
Promising review: "Love these toilet bombs! I bought the lemon verbena and the smell is wonderful, but not overwhelming. Fantastic product! Thank you!" —Heather Villanueva
Promising review: "I saw these recommended on BuzzFeed. I tried them and as a housecleaner, as a profession, I have not seen anything clean so well and easy. Somehow the toilet even stays cleaner longer!" —Marcie Johnson
Get a 10-pack from Blue Poppy Bath on Etsy for $9 (available in six scents and in a variety pack). 
10.
A laundry soap bar that might not look like much (aside from its cute pink color), but its stain-lifting powers will knock your socks off (and clean them, too!). Many reviewers also *swear* by this for cleaning makeup brushes/sponges, and say it smells nice and fresh!
Promising review: "I know this wasn't designed as a brush cleaner but OMG!! My brushes come out cleaner than any brush cleaner i have ever used. It works amazing on my beauty blender, taking out the highly pigmented cream blush. Best of all it has a delightful clean but not chemical smell." —Katherine Hirsch
Promising review: "When I went on my first solo backpacking trip across Ireland, I only had enough room in my pack for three sets of clothes. I contemplated buying individual packets of laundry detergent, but was glad I decided to go with Zote soap instead. It was easy to carry with me and to use to wash my clothes in the sinks at the hostels I stayed it. This bar will last you forever and made my clothes super clean and smelling nice." —Maryann K.
Get it from Amazon for $4.27.
11.
A nontoxic pet odor and stain remover made with natural enzymes for anyone who loves their furry friend but has had it up to here with urine stenches that just won't. go. away. Upon making contact with the problem spot, the enzymes are activated to leave your carpet or clothing looking nice and clean without any funky smells — in fact, some reviewers even said the spray itself smelled like candy!
Rocco & Roxie is a family-run small business specializing in all things pets, from treats and supplements to grooming products and toys. 
Promising review: "I never write reviews but I'm writing one for this amazing spray!! I know what you're thinking, I thought the same: that's an awful lot to pay for a bottle of spray cleaner. I get it, and it's worth every penny!!! I have two large dogs who are potty-trained, however my niece accidentally shut them in one of the spare rooms while we were upstairs (bless her tiny heart) so they took it upon themselves to hate-pee allllll over the carpet in there!! When we finally took a black light to the carpet, we discovered the true horror of our situation; CSI crime scenes had nothing on us! We tried EVERYTHING. I found this product, read the reviews, and hit the 'buy now' button with all of my hope riding on Prime shipping and a spray bottle. NO ODOR, NO STANK, LIGHT CLEAN SMELL BUT NO FAKE FLOWERY COATED AIR!!!! This stuff is a MIRACLE!!!" —N. Garcia
Promising review: "This smells much better than others I have tried, it's got a scent reminiscent of Red Hots candies, and then it fades pretty fast. So far I have used it for cat and dog urine marking problems, and while I don't know if it will keep them from going back, it does eliminate the odor to my nose, which is amazing since I am sensitive to the smell. I would buy again." —Hoopgirl
Get it from Amazon for $19.97+ (available in two sizes).
12.
Or, a nontoxic carpet cleaning solution any pet owner should add to their arsenal, stat. Not only will it help remove those stubborn stains, reviewers say it'll take care of unpleasant lingering odors with its refreshingly minty scent as well!
This solution works great with Bissell, Hoover, McCulloch, Rug Doctor, Kenmore, and Carpet Express vacuum cleaners.
Sunny & Honey is a family-run small business making cleaning products designed for pet owners who want keep their homes stain- and odor-free. 
Promising review: "A true sensory experience while completing a mundane, laborious chore! The scent from this cleaner was pleasing versus the harsh chemical smell from the other brands out there. Yet, it was able to remove old stains that had been in the carpet fiber for well over seven years. This surprised me as I had just accepted that those stains were there to stay. Plus, it's concentrated so I just used over a bit of the recommended amount. Now the carpet looks great with no grainy feel to it when you walk on it with bare feet; although I did vacuum afterwards. Just as important, the carpet does not have the unpleasant odor that has lingered and would rear its ugly head from time to time! Thanks to Amazon for carrying this and making it easy for me to locate on the site!!!" —Marie J.
Get it from Sunny & Honey on Amazon for $16.97.
13.
A plant-based Method daily shower cleaner you can spray and...yeah, that's it, no scrubbing required! It's powerful enough to cut through slimy soap scum, and as if that wasn't enough, it's also got a clean eucalyptus mint scent so you won't have to step into a shower that reeks of chemicals. 
Promising review: "I am so impressed with Methods' Shower Spray. It literally cleans my shower daily, better than me actually scrubbing it down. It smells fantastic and keeps the shower and chrome sparkling. Just spray it around your shower after each time you use it. It does the rest!!! No more soap scum, mildew, hard water stains. I'm blown away by this stuff!!!" —Tony Roy

Get a four-pack from Amazon for $15.96.

14.
A tub of extra large, heavy duty cleaning wipes that really come in handy when you don't want to lug out a big bottle of product to spot-treat small messes. Oh, and they're designed to be gentle on your hands and have a bright, citrusy scent to boot!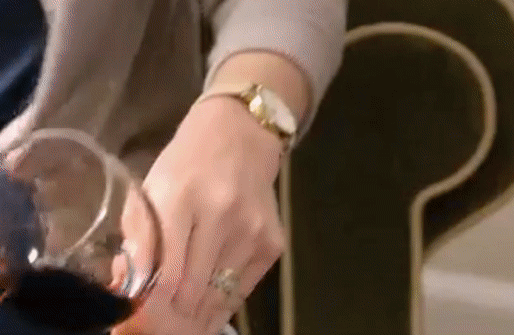 Promising review: "I'm in LOVE with these. I wanted something to CLEAN, not disinfect. I bought these knowing full well that they weren't Lysol/Clorox wipes. What I didn't know was that they were already pre-moistened — added bonus! They clean really well (even got my gunky window frames looking brand new) and the smell is wonderful. I love cleaning my bathroom with these simply because it leaves my bathroom smelling like a soft citrus flower (don't worry, it's nothing like grandma's overwhelming floral scent). I definitely recommend these for cleaning around the house!" —Amber
Get a tub of 90 wipes from Amazon for $14.94.