We hope you love the products we recommend! All of them were independently selected by our editors. Some may have been sent as samples, but all opinions and reviews are our own. Just so you know, BuzzFeed may collect a share of sales or other compensation from the links on this page if you decide to shop from them. Oh, and FYI — prices are accurate and items in stock as of time of publication.
1.
An easy-to-use Vintorio wine aerator complete with a decanter spout for a smooth pour even connoisseurs approve of.

Promising review: "Let me tell you something. I drink wine almost every weekend. I love it. I'm telling you straight up that this aerator made my experience unlike anything I ever had. To a point where I can admit I was drinking wine wrong. Get this aerator. Everything this product says it does, it really does. My wine tasted very different after using it. It makes these bubbles when you pour and the smell of the wine is heightened. In short, please get this aerator. It's priced really well and it works perfectly. Now I can't drink wine without it." —Dickens Dumont

Get it from Amazon for $15.99.
2.
A portable electric wine aerator that's a total game changer when it comes to getting the *best* taste. Just attach the aerator to the top of your bottle, turn it on, and this lil' gadget will dispense *chef's kiss* vino every time. 

Promising review: "This is a great wine tool, easy to setup, easy to use, and easy to clean. This also makes for a great hostess gift, Mother's/Father's Day gift, or as a stocking stuffer. The aeration is also perfect for reds and adds depths to your red wines. Love the ease of use literally with a push of a button!" —leonied

Get it from Amazon for $34.99 (available in two colors).
3.
An overachieving Newward 3-in-1 in-bottle aerator with a pourer that also works as a wine chilling stick so you can sip delectably chilled vino without needing to reach for the ice cube tray.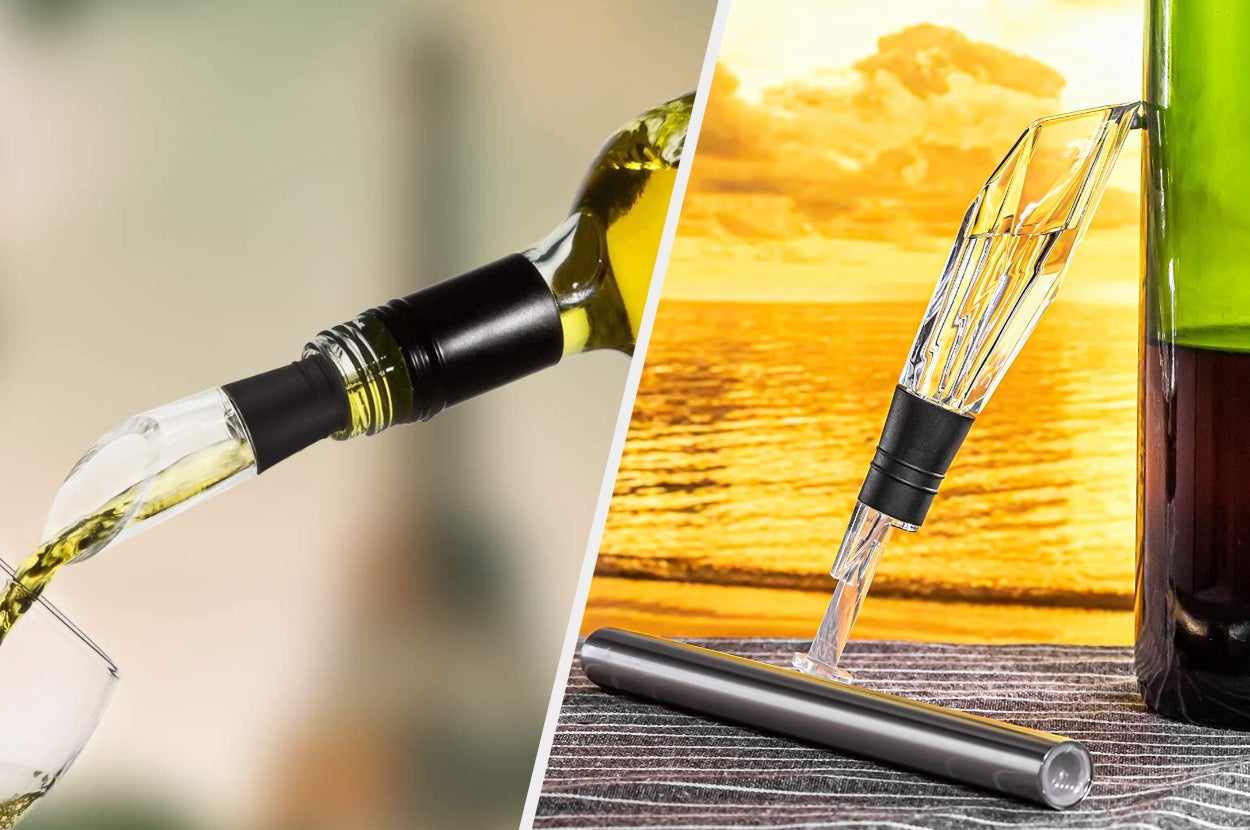 Promising review: "This is so unique and a fun gift. I like keeping white wine handy during a party and chilled without taking it out of bucket of ice so it drips all over. Plus, it caps in the bubbles for sparkling white wines. A winner." —Penny D
Another promising review: "I've had a couple different wine chillers that didn't have a pour spout. Love this so the chiller doesn't have to be removed to pour the wine." —Deborah Santesteban

Get it from Amazon for $11.99+ (available in three styles).
Psst, you'll probably want to check out these other very nice things for your kitchen while you're browsing. 
4.
A popular Zazzol wine aerator decanter with a multistage design to solve virtually all your wine woes. Pour your wine into the plug, then watch as it drains through 30 holes before interacting with pressurized oxygen to get you what might be some of the best-tasting wine you've ever had.


Promising review: "I'm no connoisseur, but I do enjoy a glass of wine. What a pain, though, to have to pour a glass and then wait an hour or more for it to breathe. This gadget is amazing at slashing that wait time. Forget to open the bottle until dinner's on the table? Friends drop in unexpectedly? Just got in from the worst day of your life and want to wind down NOW? No problem! Open a bottle, position the Zazzol over your glass, pour, gurgle gurgle gurgle, bam! It's happy time. If the wine's more tannic than you like, the Zazzol mellows that out nicely, too. The Zazzol comes with a handy little rubberized stand that you can set it in while you're enjoying your vino, ready to go into service when you're ready for another glass. It's very nice to have right there if you're sharing a bottle or two with guests, so each person can pour their own as the evening wears on. When you're finished, just rinse the Zazzol under running water, drain, and pop it back onto its stand to store." —LonesomeDove
Get it from Amazon for $23.97.
5.
A multitasking crystal wine decanter equipped with a convenient aerator pourer touting the impressive ability to hold a 750 mL bottle of wine *and* have it ready for smooth sippin' in a quick three to five minutes.  

Promising review: "Love the fact that you only need this product to aerate, decant, and pour the wine. It thoroughly decants and pours the wine without dripping. It's also elegant looking." —Sonja D. Taylor

Get it from Amazon for $39.50.
And what better way to display this gorgeous decanter than with a cute bar cart?
6.
A handy Rabbit wine aerator to lock into place with its silicone base at the top of your bottle and enjoy drip-free pouring (very) soon after. 

Promising review: "This gadget is super easy to use. Just open a bottle of wine and insert the aerator into the top of the bottle. Opens up the flavors and gives heavier reds a great taste quickly when you don't feel like waiting and letting the bottle sit. Also great if you don't plan to drink the entire bottle and just want to enjoy a glass or two. If you've never used one, just play around with the types of reds it works best with or do an online search for the types of reds that can benefit was aeration. Cheers!" —Nipa Patel

Get it from Amazon for $11.57.
7.
An aesthetically pleasing in-bottle Soirée option complete with a thick, hand-blown borosilicate glass aerator for anyone who prefers the gadget their wine is being poured out of to be as amazing as what they're about to taste.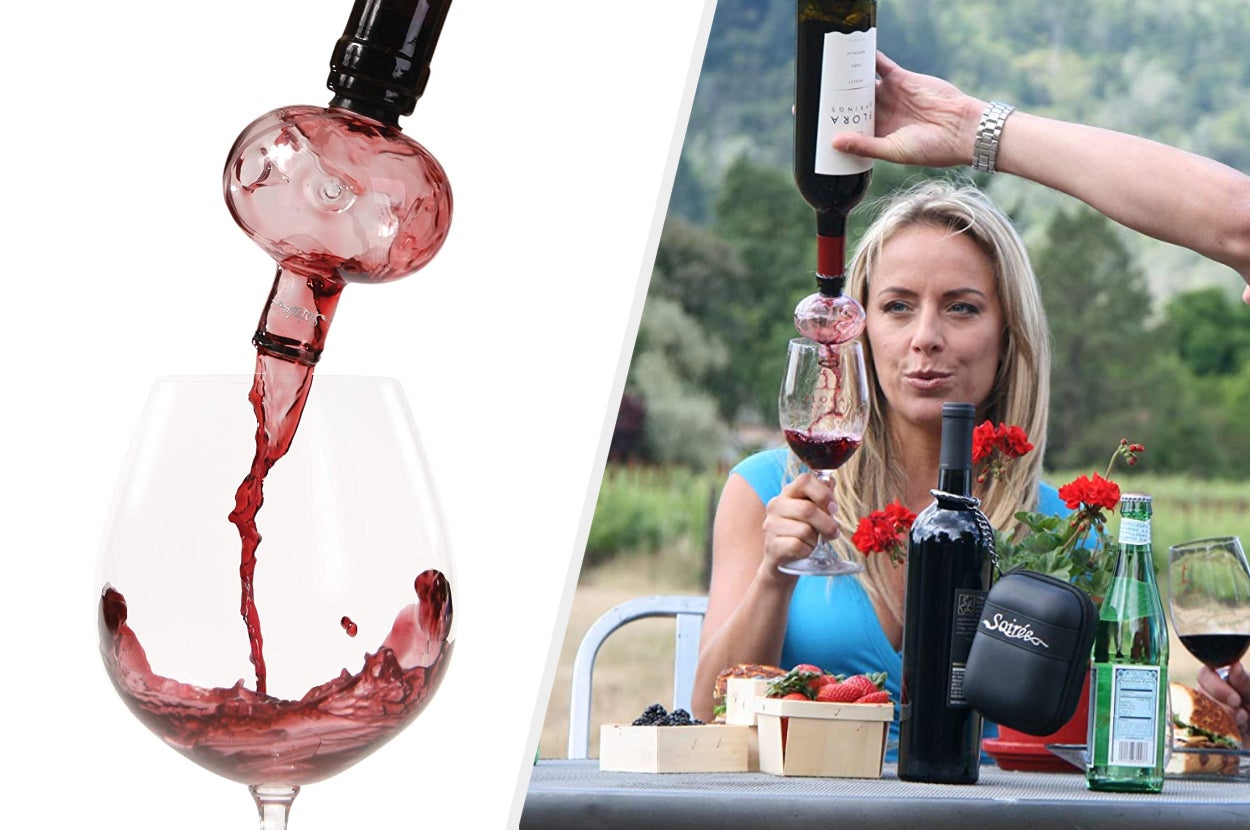 Promising review: "BEST AERATOR EVER. I have used aerators for the last 10+ years and this is by far the best one. It is equal to double decanting in a single pour. Everyone I have given one to cannot believe how much better it is than all the other ones on the market and at such a cost effective price." —David

Get it from Amazon for $25.99+ (available by itself or with a travel case).
Plus, here are a bunch of other things you'll only care about if you love wine.
8.
A unique OxyTwister aerator pourer designed with a convenient spout that'll make dispensing your wine a whole lot easier (plus, it's just nice to look at).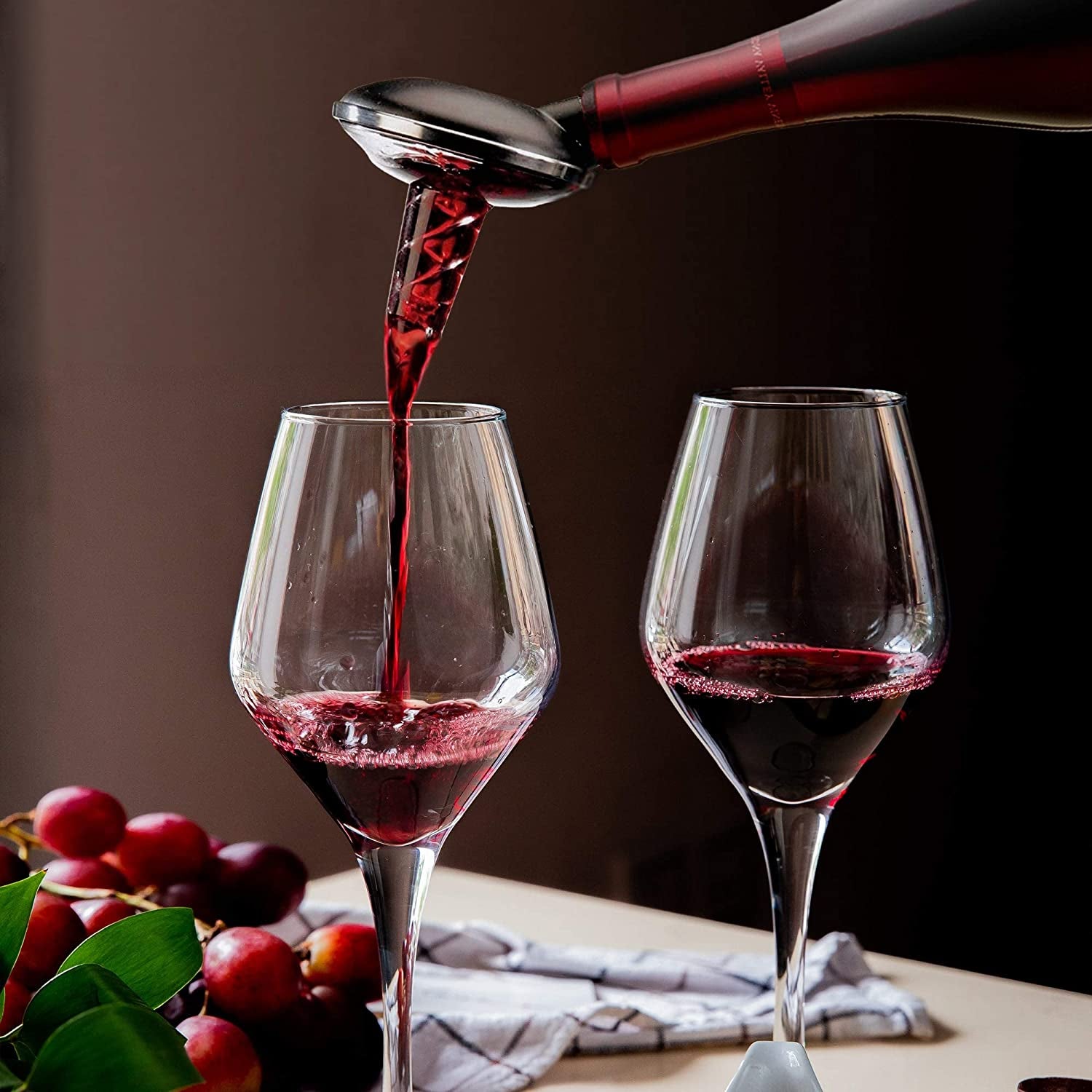 Promising review: "This is made well and the plug grommet is attached better than many other similar devices, which is important seeing that constant pushing and pulling in/out of bottle necks can shorten the life of these fast IF not designed well. Not a cheap device at all. Doesn't impede flow too much allowing a steady controlled flow that will still fill a glass plenty fast. Plenty of bubbles and aeration action that many can attest enhances flavor noticeably. Good angle to allow user to aim it and have time to tilt bottle a good bit before wine starts to flow. Doesn't stick out too far or make the bottle more cumbersome. Sustained many elbows and bumps its first night of use at a party, but doesn't show any signs of coming apart or breaking anytime soon. Can be used regularly without worry of clumsy users damaging it." —Pete

Get it from Amazon for $15.99.
9.
A speedy electric "Waerator" and decanter requiring you to press a single button and wait ONE second to enjoy your wine. You might even fool some wine connoisseurs into thinking they're indulging in a pricy bottle!

Promising review: "I bought this for my girlfriend who was an assistant manager at a well-known winery here in Oregon. I used a bottle that I had picked up at the store for under $10. Had her do a blind before and after taste test of the bottle but had her believe that she was tasting a Syrah from two different vineyards. Needless to say she really liked the glass that was ran through the Waerator. Then she was blown away when I really told her what was going on." —Bryan

Get it from Amazon for $27.99+ (available in two colors).
And since you love kitchen gadgets so much, here are even more to add to your cooking arsenal. 
10.
A classic Vinturi red wine aerator specifically designed to only allow a certain amount of air in at a time to achieve a consistently great pour.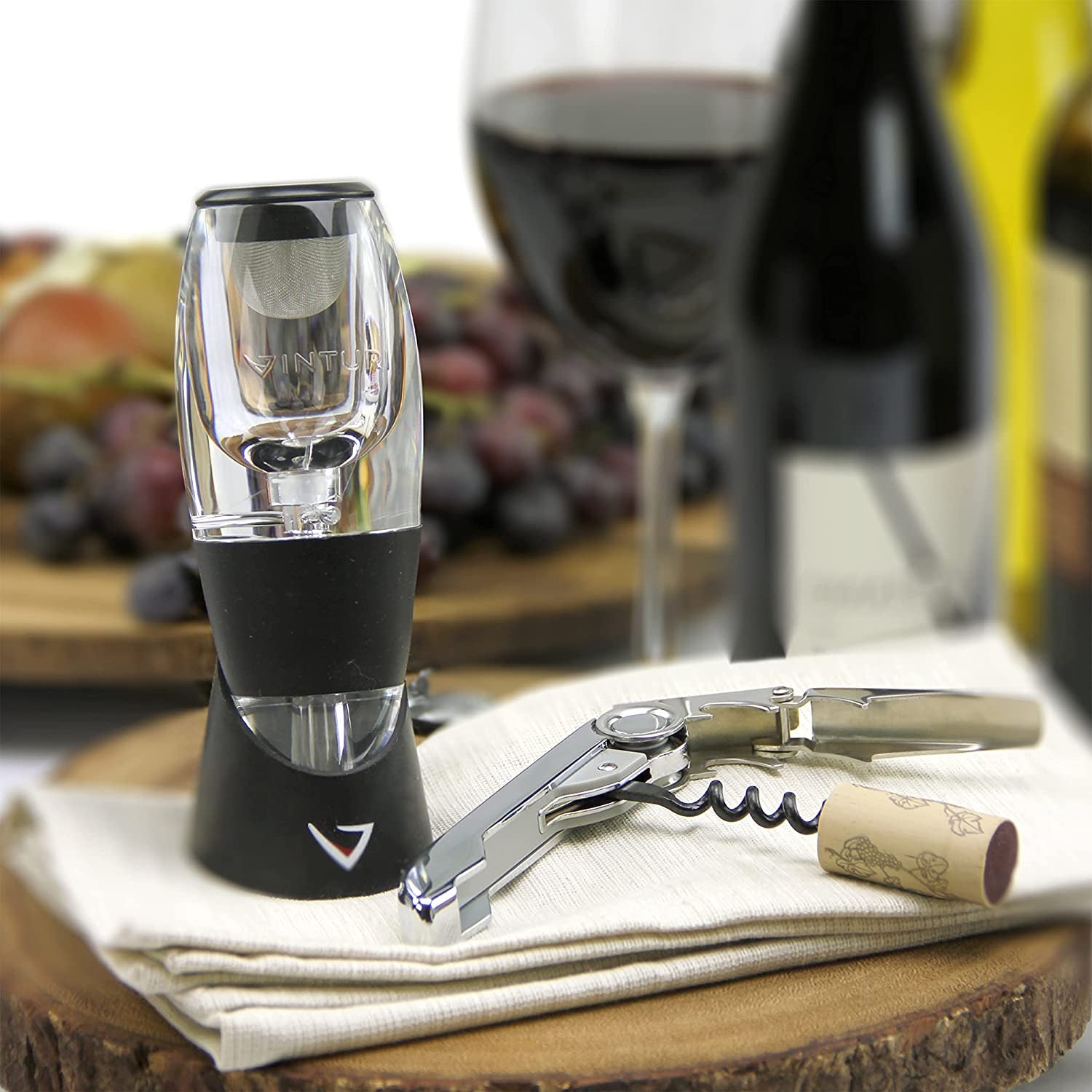 Promising review: "This wine aerator worked great for me. If you drink wine and you haven't tried one of the nicer aerators, then you have to try this. It absolutely changes the taste of the wine and instantly. I've never been a fan of red wines and some red wines had just tasted terrible to me so I figured I would give it a shot. The cabernet sauvignon, which we had initially discarded because it tasted *that* bad, actually tasted perfectly reasonable after we opened another bottle to compare with the aerator. Just hold it over the glass and pour the wine into the top of the aerator and it re-emerges, ready to drink, and delicious from the other end into your glass. Then simply rinse it out with water. After a while it gets dirty so I've been tossing it in the dishwasher with no problems." —M
Get it from Amazon for $30+ (available in three colors).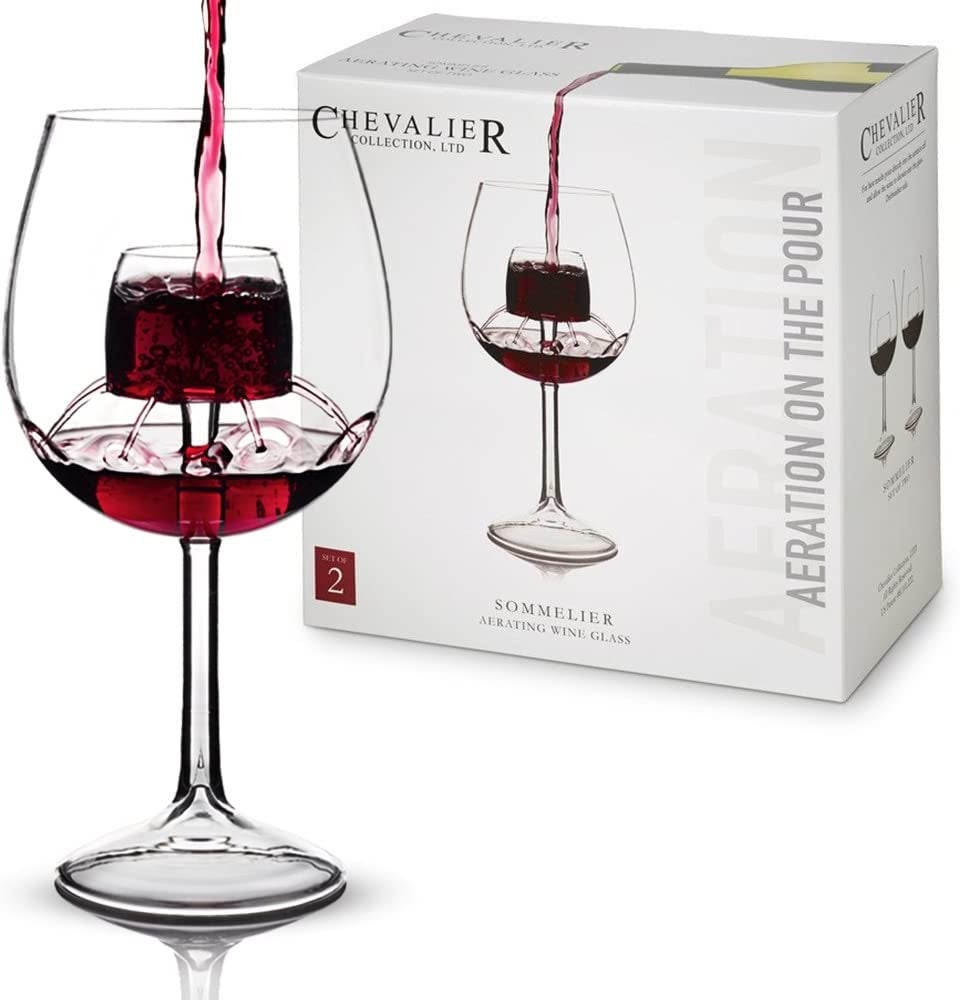 Promising review: "Perfect gift for the wino friends. Sommelier approved and was a great conversation piece of the last gathering. Makes pouring and drinking its own fancy event and your pinky naturally extend itself. 10/10 would recommend for anyone who appreciates wine." —Niko

Get it from Amazon for $56.
Plus, here are even more wine glasses you'll want to fill to the brim.
Cheers to (really) great-tasting wine! 🥂
The reviews for this post have been edited for length and/or clarity.