1.
A lace cover-up boasting thousands of 5-star reviews from people who can ~knot~ believe they scored such a great deal for this little tie-front number.

Promising review: "Because these swim cover-ups look like a lace type of knit I wasn't expecting them to be soft. They are so incredibly soft and comfortable that I plan to order many more. I got a few different colors already and all of them were true to color from the photos on the listing. I couldn't be happier with my purchase of these cover-ups!" —Sarah G.

Get it from Amazon for $9.99+ (available in sizes XS–XXL and 16 colors).
2.
An Eloquii sarong wrap cover-up for you to take long strolls on the beach in as the oceanside breeze helps style your hair for the perfect photo op.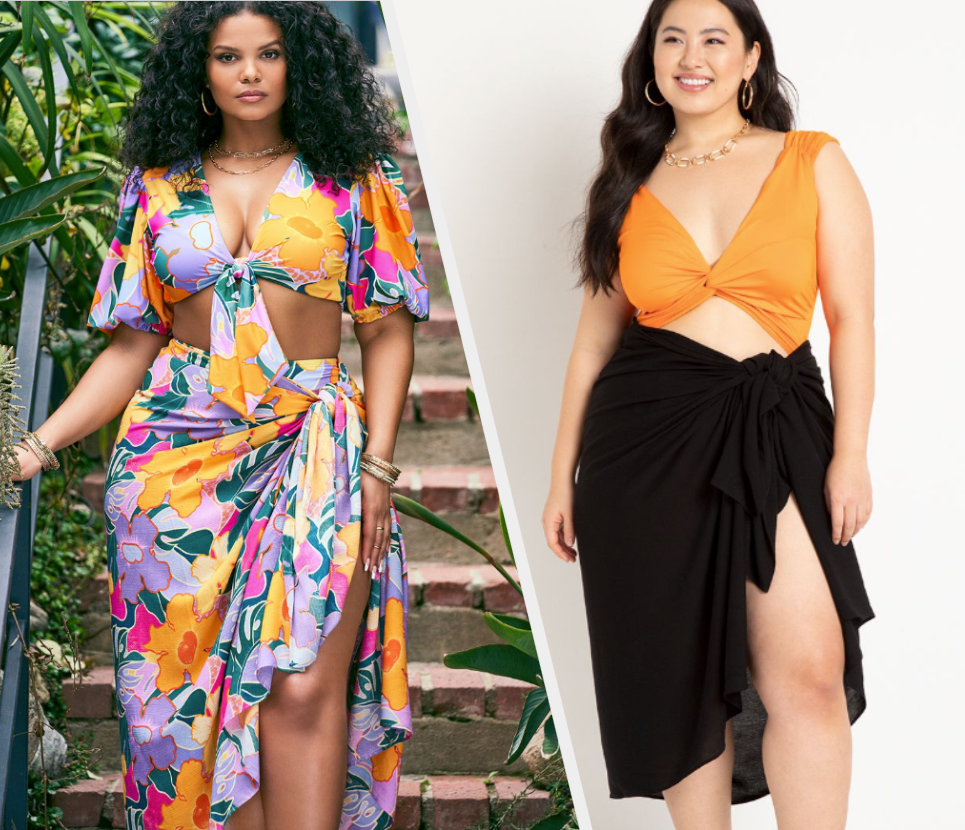 Promising review: "I bought this for my upcoming vacation in the USVI along with the matching swimsuit. This sarong is of great quality with beautiful vivid colors and it's true to size. Can't wait to wear the entire set." —Ron C.

Get it from Eloquii for $69.95 (available in sizes 14–28 and two colors).
How about some beach towels to match your new cover-up? 
3.
A super soft boho swimsuit cover-up you won't mind changing into – even if you really do not want to get out of the water yet.

Promising review: "BLOWN AWAY. I usually don't have too much luck with clothes from amazon but I am so happy with this. It's crazy soft and perfect to cover my suits. 10/10!" —Zoe Klingaman

Get it from Amazon for $16.99 (available in 21 colors).
4.
A lightweight sarong cover-up for anyone who can't decide between a short or long skirt – this one lets you enjoy the best of both worlds!

Promising review: "I normally don't write reviews but this is SO cute and the blue color is beautiful. I was debating on getting a short version of this, but I'm really glad I got this long one since it can be worn as a dress if you need to go into a restaurant or something. If you want it to be shorter, you can also just fold it in half." —sophia h
Get it from Amazon for $8.49+ (available in 48 colors).
5.
A pair of gauzy Abercrombie & Fitch short cover-ups to quickly slip on as you head out the door so you don't need an outfit change just to go into the grocery store to grab some bevs before hittin' the sand.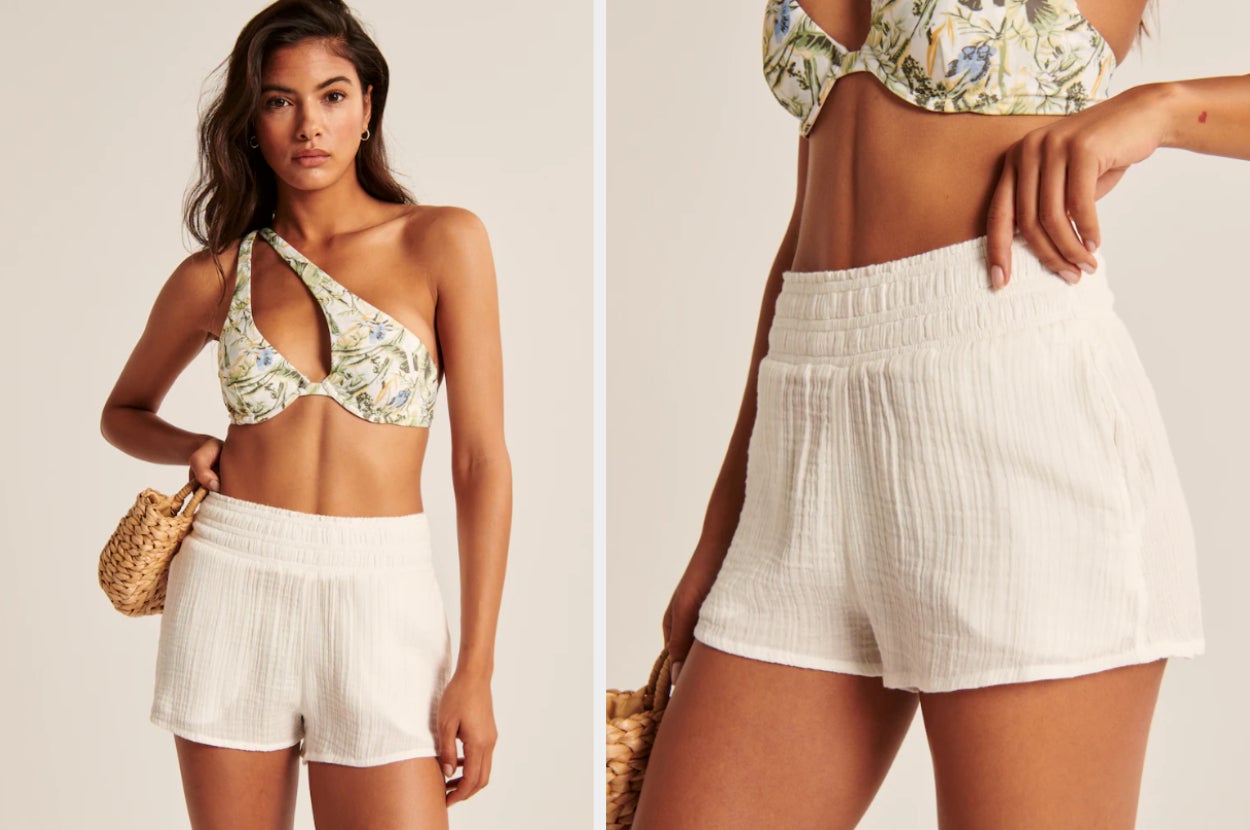 Promising review: "Love the fit and the material. It is so comfortable, it feels like you wearing nothing. Definitely recommend!!!" —Leigh
Get them from Abercrombie & Fitch for $39 (available in sizes XXS–XL).
Don't forget to treat yourself to some new reviewer-approved swimsuits while you're at it!
6.
A fashion-forward flowy boho-style cover-up featuring an adjustable tie-waist if you prefer something a lil' more form-fitting.

7.
A vibrant Lilly Pulitzer open cover-up designed with adorable pink tassels for a bright and cheery option that'll last through years and years of use.

8.
A kimono-style cover-up for you to twirl away the day in. Pair it with a stylish bucket hat and some comfy sandals to complete the look!

Promising review: "A head-turner in the classiest way possible! I bought this on a whim since I wanted another option than my standard cover-up for hanging poolside. LOVE IT! It looks so beautiful and classy. When walking, it flows so beautifully in the wind. Comfortable material and beautiful color. I definitely want to purchase in more colors." —AllieClaire

Get it from Amazon for $27.99 (available in 34 colors).
And don't forget to take along these beach products that'll make your trip even better.
9.
A pair of palazzo-style Summersalt cover-up pants to wiggle into when you wouldn't mind some extra coverage but your swim top is too cute to hide.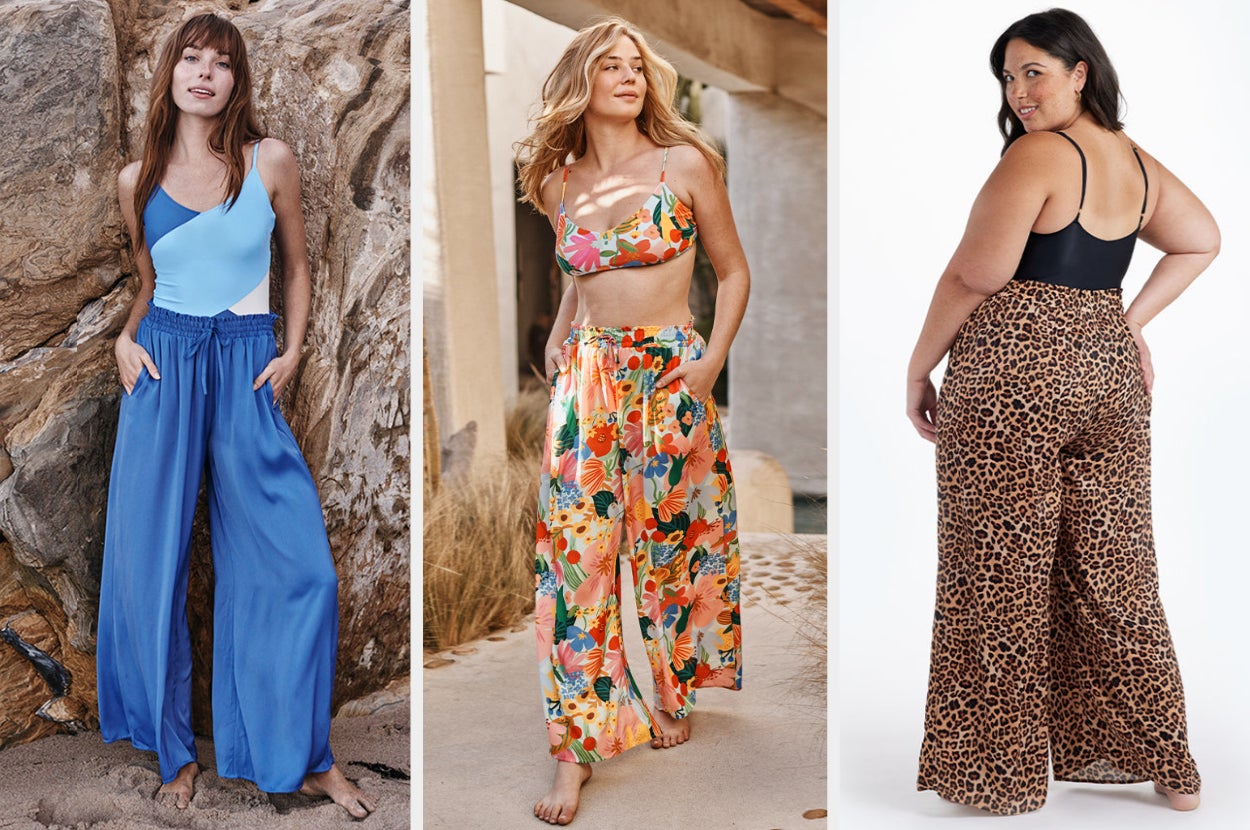 Promising review: "Super cute and comfortable! I bought them for a backyard pool party wedding and I'm so excited to wear them. They will definitely be a summer staple!" —Jessica S.

Get them from Summersalt for $95 (available in sizes XS–2X and eight colors).
And if you're a fan of this comfy style, we've got a whole list of palazzo pants you'll want to add to your cart!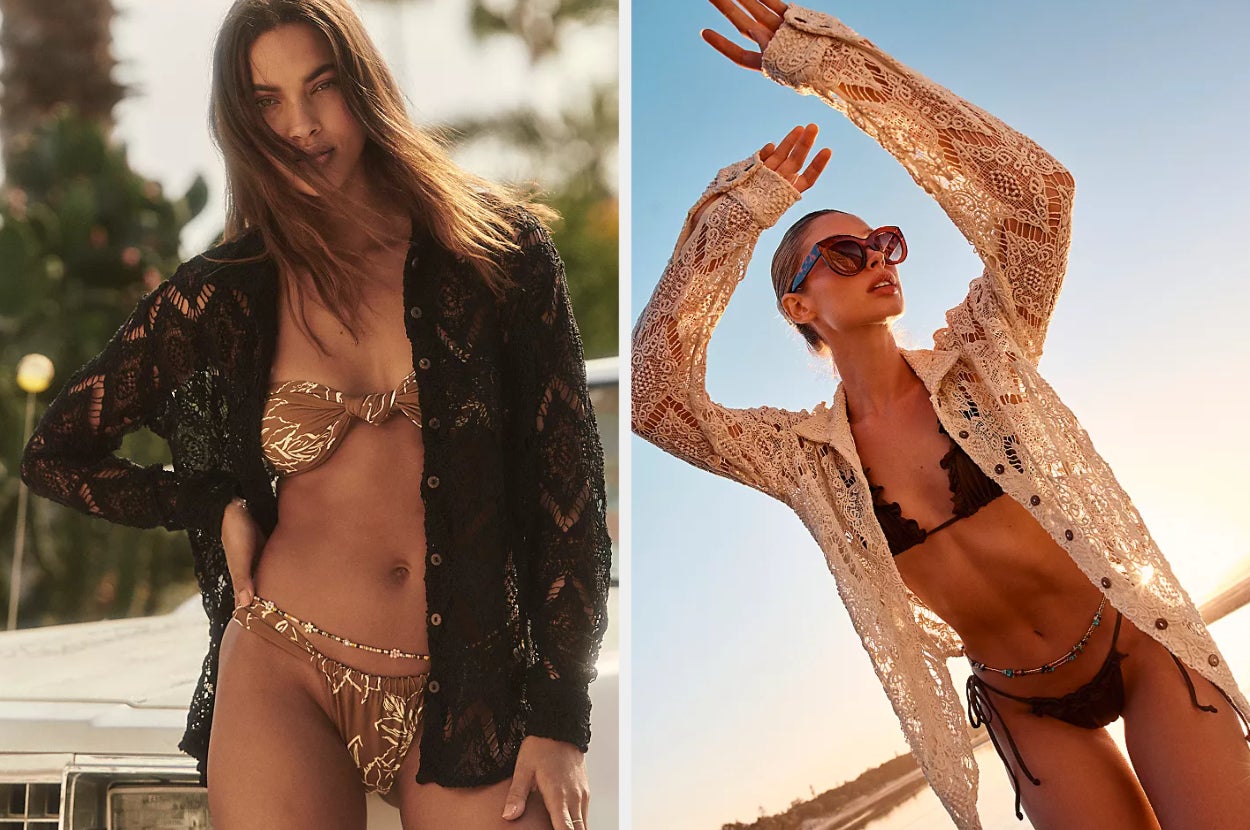 Promising review: "Love this shirt. It's different and stands out. It's also of good quality." —macamoozle
Get it from Free People for $98 (available in sizes XS–XL and three colors).
11.
A cozy knit cover-up to slip into after catchin' waves and rays all day (try saying that five times fast).

Promising review: "I live in Florida, where we spend 8–10 months in bathing suits. This is the cutest, most functional coverup I own. It is so soft – like a sweater – but very lightweight. I love that the pattern does enough to distract from the fact that you only have on a bathing suit under it. I was comfortable enough to walk into convenience stores and hotel lobbies because I didn't feel exposed. Fits comfortable and loose, lets the breeze move around you instead of sticking to you when your suit is wet. LOVE IT!" —Kristin Barron

Get it from Amazon for $20.99+ (available in seven colors).
Be sure to pack some really great sunscreen too!
13.
A lightweight swimsuit cover-up destined to elegantly trail behind you and be the star of all your impromptu poolside photo shoots.

Promising review: "I travel a lot and have been eyeing this cover-up for so long. I'm so mad that I waited so long. Here I am packing all these different coverups and this was the only one I needed. It can be dressed up or down with a pair of shorts. You wouldn't think so, but it goes with most suits. I received sooo many compliments on it. Seriously, at every pool or beach strangers approached me. It's good quality. Worth the extra few dollars. This will be the only cover-up I bring for now on." —Rebecca Trin
Get it from Amazon for $20.99 (available in seven colors).
14.
A boho chic Free People midi skirt with a high-rise waist and column silhouette that'll have you booking tropical vacations year-round just so you'll have an excuse to wear this gem more often.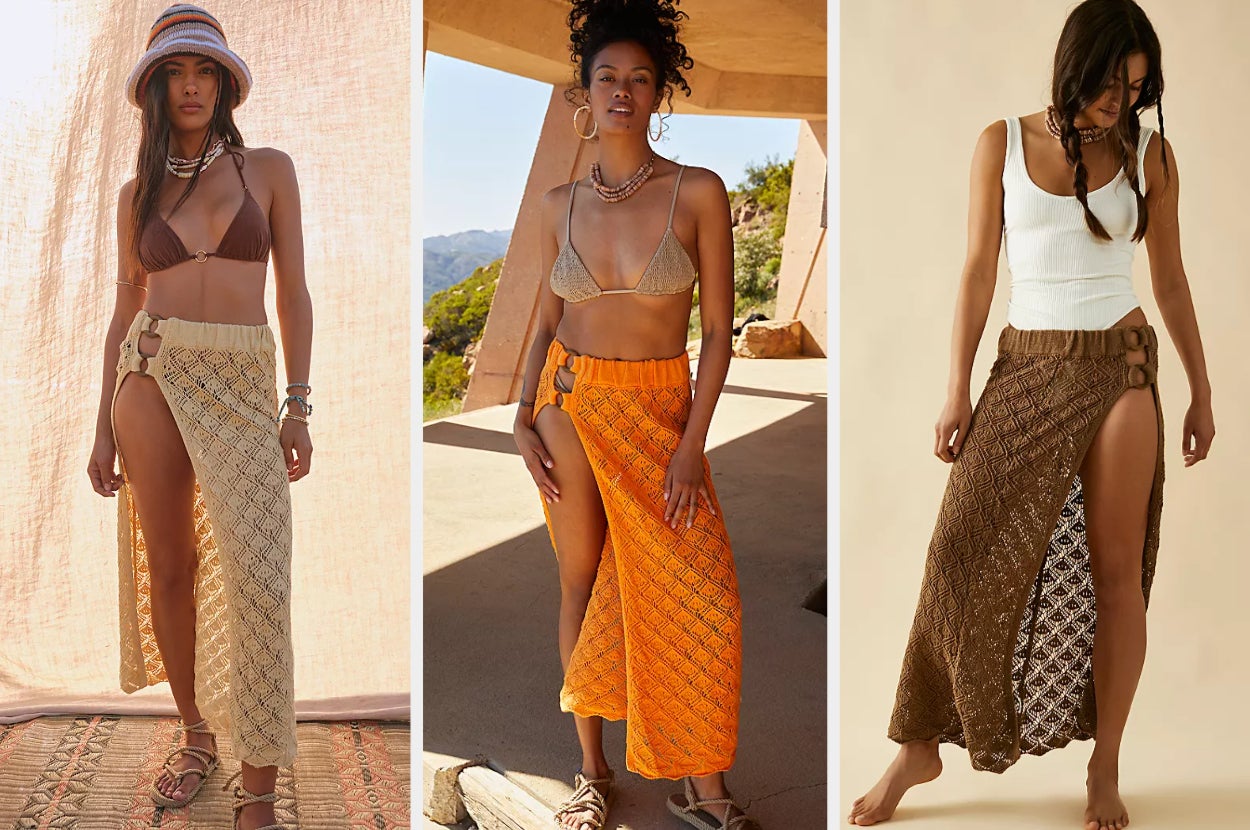 Promising review: "Perfect for Miami. I wanted this for my vacation. It fits perfectly! Great purchase!" —Amustbuy_1
Get it from Free People for $70 (available in sizes XS–XL and five colors).
15.
A sleeveless cover-up with two side slits so your legs can enjoy some fresh air while still providing you with a bit of coverage.