We hope you love the products we recommend! All of them were independently selected by our editors. Just so you know, BuzzFeed may collect a share of sales or other compensation from the links on this page if you decide to shop from them. Oh, and FYI — prices are accurate and items in stock as of time of publication.
1.
A rust-proof mason jar soap dispenser with the ability to seamlessly blend in with the rest of your ~farmhouse chic~ home decor. It even comes with four waterproof stickers for you to label it with!

Promising review: "I love this so much, I ordered one for my kids' bathroom, and when I received it, I immediately went and ordered two more for my bathroom and for the kitchen. They are soo cute! Sturdy enough for my kids, and I love that you can unscrew the whole lid to pour in the soap. No more overflowing out of the top of small wholes! Love it! Also it comes with four stickers so you can put what you want on your soap dispenser. I also love that I can just use my mason jars as 'matching' stuff in the bathrooms." —Kt.Medina

Get it from Amazon for $9.99.
2.
A fun pineapple-shaped ceramic soap dispenser that a certain sponge living under the sea would probably approve of. Throw in some piña colada-scented soap to really bask in all that tropical goodness!

Promising review: "Larger than I expected and well made. Nothing cheap or flimsy about it. The quality, heavy-duty, smooth-as-glass ceramic is finely detailed. While the top dispenser is plastic, it is not that cheap kind that will easily break with use or start to flake. The top is a bright, shiny, yellow-gold. A great item for the price and well packaged for delivery." —LALLAW

Get it from Amazon for $11.61+ (available in two colors).
And if you're looking for more fun decor, we've got a whole list of cool bathroom products to spruce up your space!

3.
A touchless, rechargeable Simplehuman soap dispenser for the tech-obsessed hand washer who *knows* they deserve the luxury of a touch-free gadget in their bathroom and/or kitchen. 
Promising review: "Easy-peasy to put the soap in this dispenser. It is such a clean-looking convenience to have on my kitchen counter by the sink. Really nice looking. Many visiting friends have commented on how attractive it is, in addition to the convenience of its intended use. I have already purchased a second one of these for a friend and he liked it so much. I bought the liquid soap in the bag that was recommended for this dispenser. It has a nice subtle lavender scent. I appreciate its ability to dispense soap automatically when I have really dirty hands." —Walden

Get it from Amazon for $69.99 (available in five colors and battery-operated options).
4.
A durable clear glass soap dispenser with a rust-proof stainless steel pump that reviewers swear looks way more expensive in person (plot twist: it's actually super affordable, but no one has to know).

Promising review: "There has been absolutely no leaking. This is so pretty and very inexpensive compared to others I looked at. I wet my hands then grab the soap and the ridges of the design help me funnel any water from my hands down the side and right back into the sink. It's large enough that I don't have to constantly refill it and the glass is thick enough so that it's very sturdy. I love that it's clear rather than colored glass." —Deb B.

Get it from Amazon for $8.99.
5.
An adorable snail soap dispenser that'll give you an excuse to whisper "snailed it" to yourself (and anyone near you) every time you wash your hands. The only obligation accompanying this purchase is to give it a name (and fill them up with soap every now and then).

Having a meh day? Do yourself a favor and take a moment to read all these 5-star snail dispenser reviews. You're welcome.
Promising review: "Mesmeralda is a divine regent of our household, doling out her elixir of sanitation in judicious doses to all those who would seek it. All she asks in payment is a pump of her shell and everlasting devotion to her immaculate will. Pledge yourself to her service and she shall smile upon you, bestowing saponified blessings unto you as you partake of the Holy Rite of Lathering and Rinsing! All snail the queen of soap!" —Meagan

Another promising review: "I LOVE this snail. I mean I knew he was gonna be cute, I was excited to get him in the mail, but the amount of joy he brings my household is ridiculous. This is one of my favorite things about my kitchen, and I have a damn cute kitchen. He isn't incredibly sturdy but he doesn't need to be, and for the price I have no qualms. He doesn't hold much soap at a time but again, he makes us so happy that we literally could not care less. I named him Frank and I smile every time I wash dishes. We even catch ourselves thanking him and saying hi to him now and then. 10/10 just buy the snail." —Amazon Customer
Get it from Amazon for $9.99+ (available in sets of 1 or 3 and in the shape of a penguin).
6.
A set of two amber glass soap dispensers ticking the boxes of being chic, practical, and timeless. They also come with four waterproof labels for you to stick on 'em if you want!

Promising review: "Love these soap dispensers! They look uniform and clean. I love the fact that I don't have to have two different mismatched plastic bottles on my kitchen counter. I was worried about the dispenser clogging but I've had them for around a month now and have had no issues. The amber glass is a nice touch too. These are timeless and I'm very happy with this purchase. I would definitely recommend them." —Jessie

Get it from Amazon for $21.99+ (available in six pump colors).
And because you deserve it, here are a bunch of luxurious products to fill your bathroom with.
7.
A stunning raw stone soap dispenser available in sodalite, rose quartz, green aventurine, and crystal quartz because you can never have too many crystals. Seriously, it's just not a thing.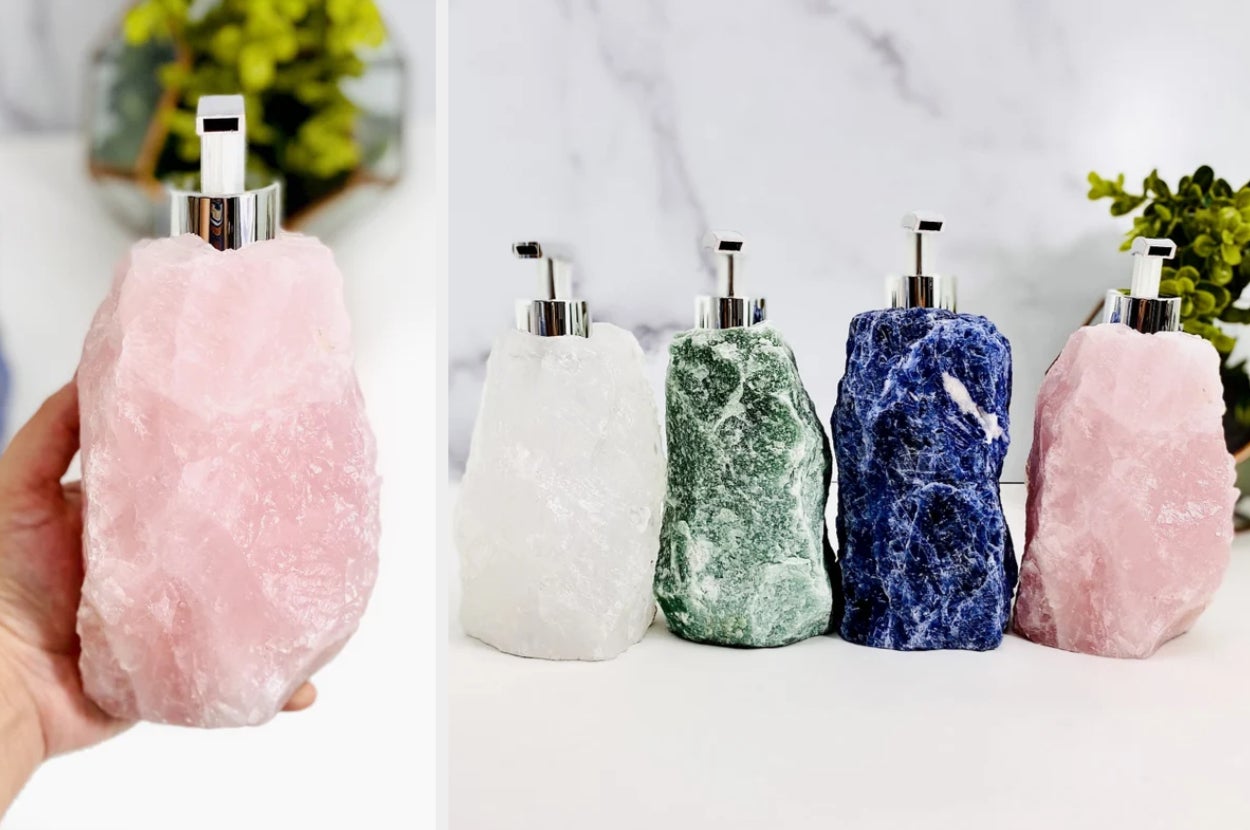 Rock Paradise is a California-based Etsy shop offering natural stone products, like home decor items, bookends, keychains, jewelry, and more.

Promising review: "Absolutely LOVE this!! So unique and instantly upgrades my bathroom counter! I chose sodalite for its properties and it looks beautiful as well. Such a unique product and I hope to buy more for my other bathrooms!!" —ksohpank
Get it from Rock Paradise on Etsy for $46.75.
8.
A best-selling touchless, battery-operated dispenser complete with an adjustable soap dispensing volume control dial. You can even attach it to the wall to save some counter space!

Promising review: "I have now bought four of these. That is unheard of for me, but these are fantastic! You stick your hand under the spout and like magic, soap falls into the palm of your hand! I come in from the garden, stick my hand under the new dispenser and...soap! No muss, no fuss! I might buy another one for hand sanitizer...just saying." —CAHuss
Get it from Amazon for $24.64+ (available in four colors).
9.
A gorgeous set of glass soap dispensers available in three styles, all of which teeter on the edge of being a practical home item and actual artwork.

Promising review: "I love this three-pack of hand soap bottles. The bottles are made of glass. Thick, sturdy glass. The tops are plastic, but don't seem to be that cheap plastic. Thick enough to withstand kids. They do also provide you with an extra pump in case one breaks. I make my own hand soap, which is a little thicker, so it will clog some soap bottles. This bottle has no problem with it coming through the spout." —Leanne Graham

Get it from Amazon for $14.99+ (available in three styles).
While you're getting your hands squeaky clean, why not treat your home to some of these cleaning products with jaw-dropping results?
10.
An Oxo Good Grips stainless steel soap dispenser with a non-slip base and fingerprint-proof coating so it'll always stay put and look as clean as the soap inside it will make your hands feel.

Promising review: "I'm very pleased with this dispenser. The stainless steel always looks good and wipes off any smudges easily. The clear area at the bottom is nice to show the level of soap. A super great feature is the wide opening which is so easy to refill. The dispensing is easy with one or two hands. It does have a smaller opening for the dispensing so adding just a bit of water when refilling is a good idea and it saves money without compromising quality. I have not had any leaking with this pump so far. I always am surprised at how much I love Oxo products, but each one has been very well worth the price." —Gina T.
Get it from Amazon for $22.94.
11.
An Everlasting Comfort automatic soap dispenser designed with infrared motion sensor technology capable of holding enough liquid soap to get you through 1,400 (!!!) hand washes before needing to be refilled again. Impressive, I know.
Promising review: "I am in love with this soap dispenser. I wanted it for when I wash dishes. It's so simple to set up and holds a lot of soap. I'm truly happy with this purchase. I love the dial on feature which lets you use how much soap you want. I like a lot of soap when I do dishes so I set it to a higher level. I love this soap dispenser a lot!  It looks very fancy. I'm truly happy with this purchase." —VARGAS

Get it from Amazon for $27.95.
And just for fun, here are some beautiful pieces of furniture and decor that would look ~fab~ in your home.
12.
A space-conscious Oxo Good Grips soap dispenser featuring a streamlined design capable of winning any minimalist's heart. No frills necessary.
Promising review: "For the price I paid, I expected a flimsy plastic that you could almost bend if you squeezed too hard. I was pleasantly surprised. The base is thick solid plastic that looks really nice, almost like glass. The top is good quality and not flimsy. It pumps really well, and even if you hit it crooked or half effort, soap still comes out. It has a nice large top and doesn't slip when your hands are all wet. I've had it for almost a year and it is still working like the day I bought it. It is really easy to rinse off and the soap never gets clogged when it sits for too long. It squirts the right amount of soap for doing dishes and I never feel like I'm wasting it. All in all, a fantastic purchase, and would do it again if something ever happened to this one." —Dustin G
Get it from Amazon for $11.95.
13.
A unique acrylic 3D floating motion soap dispenser that'll have you and your house guests mesmerized by the dancing decor floating inside it. Choose between seashells, ducks, fish, orange flowers, green plants, and leaves to instantly brighten up your sink space! 

They also come in sets of four or five pieces of matching accessories so you can deck the whole room out in unique decor. 👀

Promising review: "OMG! Prettier than the pictures, stunning, and so worth my $$$. It came VERY well packaged and the various shells within the deep-sea blue liquid are absolutely stunning. Unique, beautiful, and just all-around ALL THAT!!!" —Dianne V'Rod Diva
Get it from Amazon for $15.99+.
14.
A modern Simplehuman quare push pump soap dispenser with a spot for your sponge to live so you can finally get to around to cleaning all those dishes without needing to dig around to find your sponge first.

Promising review: "This is the best soap dispenser ever created! I've had it for over two years now and am only writing this review because I was shopping for refill soap and saw this suggested as an additional item, and I decided to share my experience as a longtime owner and user. For starters, it's so easy to operate one-handed, which makes a huge difference for me. No more having to hold the bottle or dispense with one hand and pumping with the other. It's also easy to get a little or a lot, simply depress the lever slightly for less soap, and give it a bigger press for more. Way more sensitive than any other dispenser. Also, it never ever clogs. I should replace them all with this one! I've never had to deal with gross crusty soap shooting into my hand. Thank goodness! The design is also great in other ways. The opening to add more soap is really wide, so no more awkward soap transfers with drips and waste everywhere. And the base is clear, so now I never have to guess on whether we're running out or not. And finally, it simply looks cool. It fits perfectly with my modern bathroom, and looks like a way more expensive item than it is." —Dina L.
Get it from Amazon for $36.69+ (available in three styles).
Maybe even throw up some macrame plant hangers in your bathroom/kitchen for effortlessly ~boho~ vibes.
15.
And a glass soap dispenser from The Polished Jar you can customize to your liking. So yes, this will *definitely* match the rest of your bathroom/kitchen decor.

I never knew I needed these dispensers until I was gifted them by The Polished Jar and I'll honestly never go back to one-time-use soap bottles. (Can we just talk about how convenient it is to ~simply~ pump dish soap onto a sponge instead of needing to flip over and squeeze plastic dish soap containers? It's the small things in life, guys.) These three bottles feel sturdy and are definitely of high quality, especially considering I've knocked them over already and they're still in tact. Totally recommend them to anyone who lives for customized chic decor!

Get it from The Polished Jar for $31+ (available in three sizes, four jar colors, 11 pump options, and two sleeve options).
You, admiring your new soap dispenser:
Reviews have been edited for length and/or clarity.