1.
A set of bamboo sheets so smooth you'll feel like you're laying in a tub of luxurious buttery goodness (but like, the really nice artisanal kind).
3.
A set of 100% bamboo rayon cooling sheets (psst, rayon = a plant-based fiber often called viscose) with 16K+ five-star ratings, which have left *a lot* of people raising their sheet standards.
4.
A set of moisture-wicking Layla Bamboo Sheets with a 120-night money-back guarantee, five-year warranty, *plus* free shipping. Sleep on that!
5.
A four-piece set of hypoallergenic bamboo sheets so shockingly anti-static you'll never have to worry about zapping yourself while unloading the dryer.
6.
A set of organic bamboo sheets designed to never *ever* pill so you'll be able to enjoy its silky smoothness for the foreseeable future.
7.
A set of inexpensive 1,800-thread sheets made from a mix of bamboo and microfiber so you won't need to worry about smoothing out wrinkles in order to have a crisp- and clean-looking bed.
10.
A set of bamboo sheets with an 800-thread count ~specially treated~ to always be wrinkle-free and will gradually get softer each time you wash them. See, even more incentive to get the laundry done!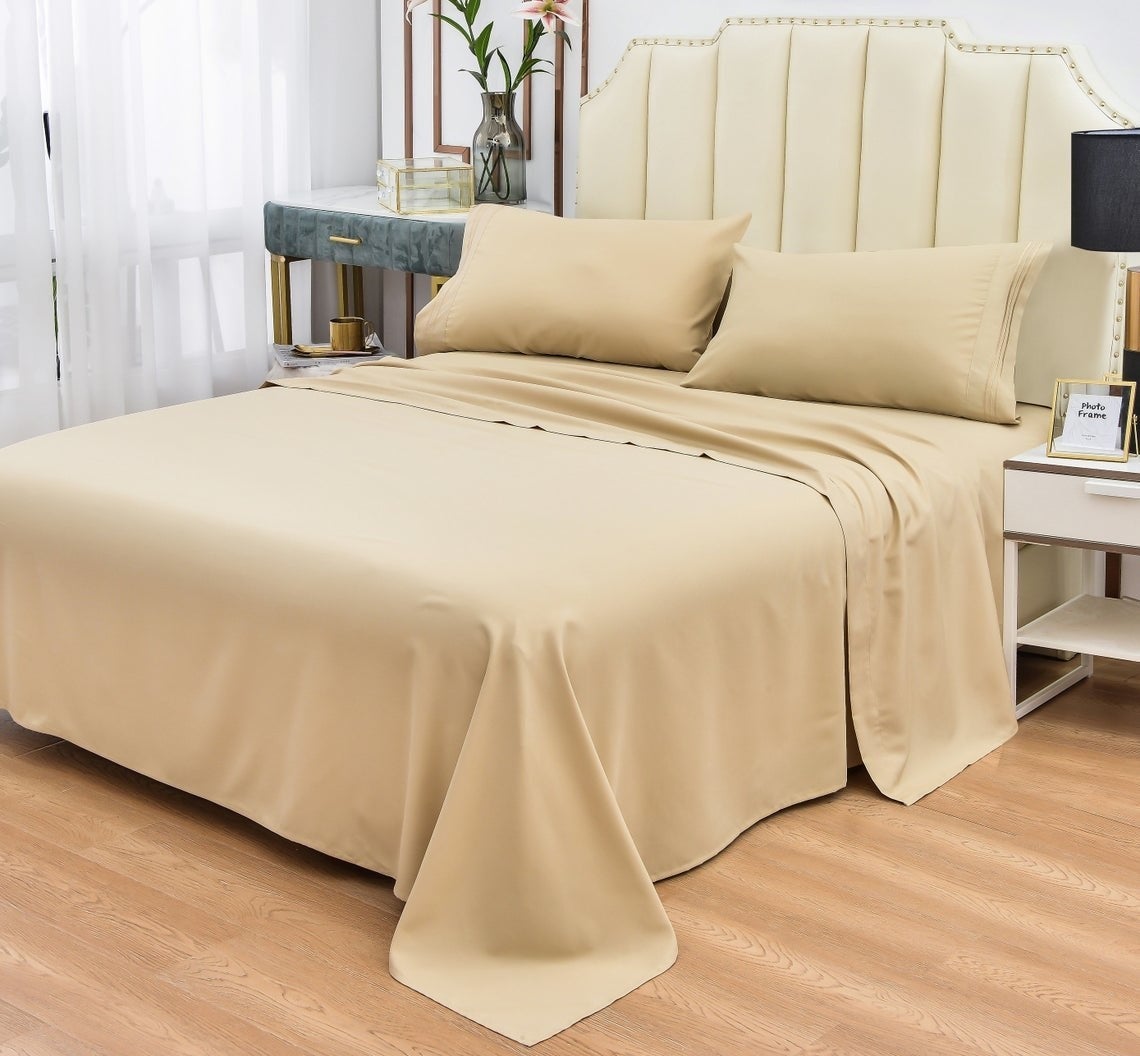 12.
A set of eco-friendly wrinkle-free bamboo sheets that's affordable *and* comes with plenty of pillowcases to cater to your steadily growing pillow collection (everyone has one of those, right?).
14.
A set of bamboo sheets perfect for those hot summer nights where you can't fathom having cotton sheets over you but not having *any* sheets feels plain wrong.
15.
A set of sheets made of 100% organic bamboo lyocell, since supporting sustainably-produced products is *really* important. (Bonus points for being wrinkle-resistant and temperature-regulating.)
You, coming home to your ~luxurious~ new bamboo bedsheets every night: