1.
A highly rated all-in-one beach umbrella endorsed by the American Lifeguard Association so incredibly sturdy and durable reviewers are practically writing love letters to it. Oh, and it resists winds up to 44 mph!
And if you want visual proof of its durability, check out this reviewer's video of the umbrella in the midst of a storm. I also recommend giving the full version of the following review a read! It's super thorough and entertaining, but for the sake of length, here's the abridged version:

Promising review: "I have bought all manner of beach shade contraptions over the years, looking for 'the one' that is not too big or heavy to carry as part of a single dad-load, sets up quickly and easily, and is stable in the wind. Many could do two of the three, but none could ever do all three. Until now. This is The One. Like Neo. The whole system is simple-yet-effective design followed by solid implementation. It's an honest-to-goodness actually engineered product, and made in the USA. The base is of course the main event – it must be 100+ pounds of sand holding down your umbrella. The cotter-pin-style attachment between pole sections is supremely more sturdy than the cheap plastic tension levers in most other consumer umbrellas. The pole is not coming apart. Period. And the pole is ALUMINUM. The umbrella struts seem to be some type of strong and thick ABS plastic. Nothing flimsy at all, but with a little flex, which is good. The umbrella canopy feels thicker than most consumer-grade umbrellas. No cheap nylon here. Even the bag – IT'S OVERSIZED! You just throw it in and then put the extra-wide padded strap comfortably over your shoulder. And you FINALLY – for once – feel like a PRO, when it comes to the beach game." —D. Forester
Get it from Amazon for $156.75+ (available in four colors).
2.
A Salt Life beach umbrella designed with a wind vent, adjustable tilt joint, and a corkscrew tip that I personally own and can attest to how sturdy it is!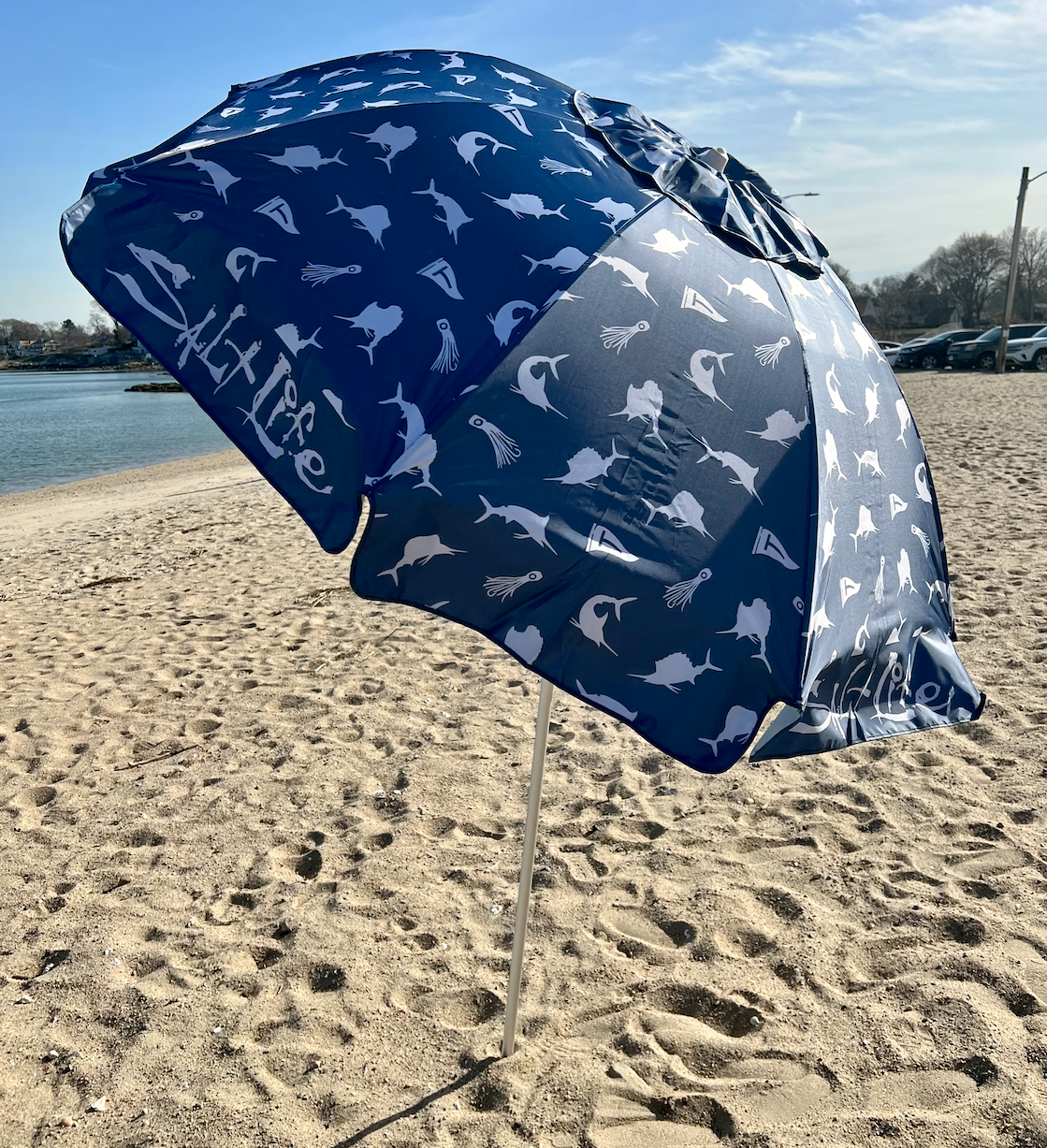 Brittany Gibson / BuzzFeed
Not only is this Salt Life umbrella super cute and has a ton of fun little critters printed all over it, but it also touts some serious durability, is designed with an aluminum pole, and comes with a carrying case. In other words, totally portable and the pole won't ever break (even if a really strong gust of wind challenges it)! 

Get it from Salt Life for $65.
3.
A Tommy Bahama beach umbrella that's not only super chic and ~nautical~, but it's also lab tested to block 99.8% of UVA and UVB rays and features a built-in mesh airflow window to allow wind to easily pass through – no more impromptu cardio bursts trying to catch your rogue umbrella!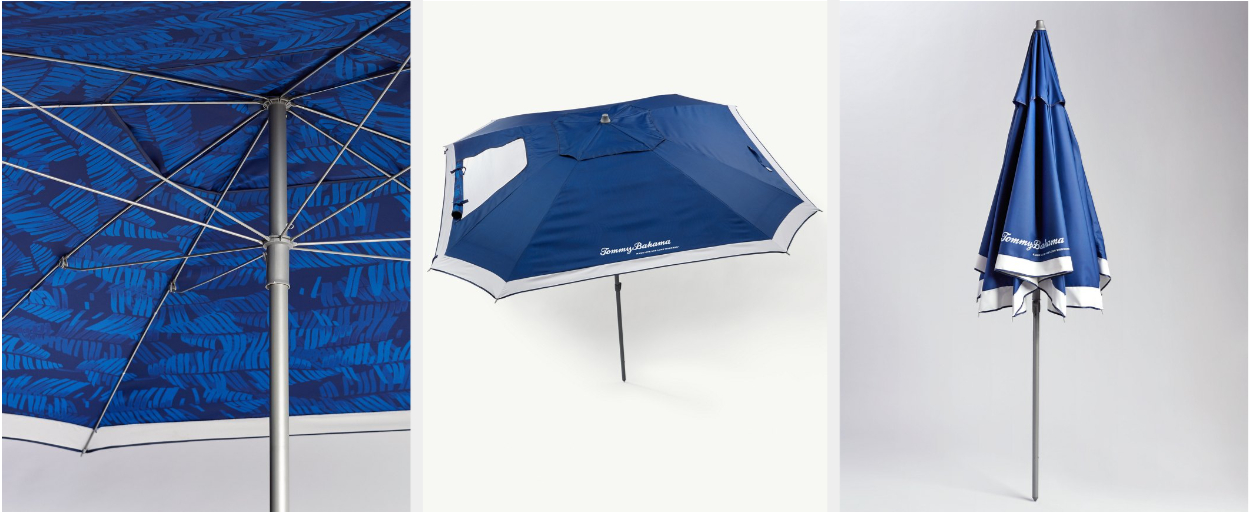 Oh, and here are a ton of other products that'll make your next beach trip so much better! 
Promising review: "This umbrella is perfect for the beach. We spent two windy days on the beach with sand blowing everywhere. If you turn the umbrella, and stake it on its side, it creates the perfect wind barrier and sand blocker. Can't wait until we can buy a second umbrella!" —JBWB

Get it Tommy Bahama for $130.
4.
A classy ivory beach towel with fringed edges from Business & Pleasure designed to look like it's dotted with stylish eyelets for an undeniably chic beach aesthetic that's hard to top.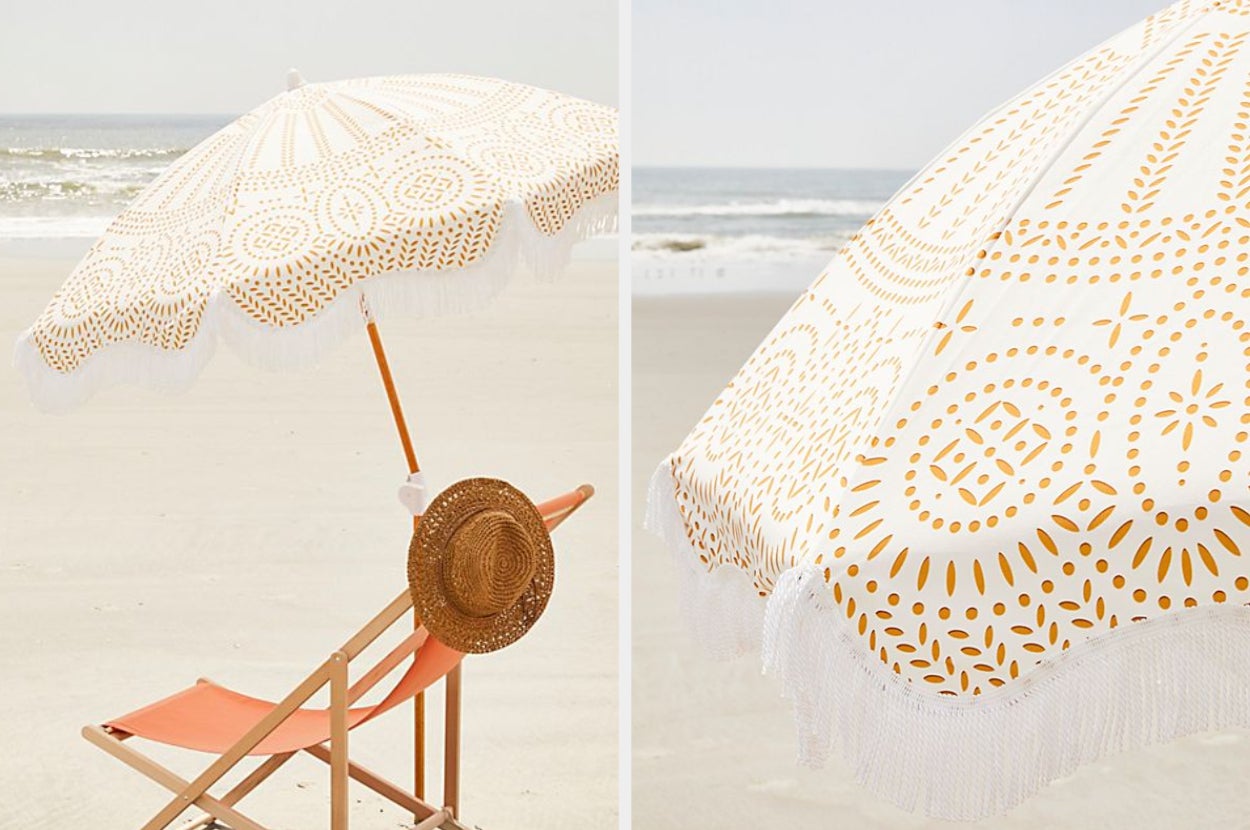 Promising review: "This umbrella is so beautiful! It gives perfect shade for an all day beach adventure. My family of three fit perfectly under it!" —Breanna T.
Get it from Business & Pleasure for $199.
5.
A vibrant beach umbrella available in three sizes so you can easily corral your plethora of beach accessories plus you and your bestie under it, no problemo.
Promising review: "This umbrella is legitimately one of the better ones out there. I was impressed by the experience of setting it up. This umbrella comes with a plastic handle that is more sturdy and lets you screw the pole into the sand faster, easier, and safer. Then, the grooves at the bottom of this pole are superior to other brands because this one has thicker grooves, and once it's in the ground, you can't even turn it that much, it's already secure. Lastly, it started to get windy on the beach, and with my friends umbrella, we had it almost a foot in the ground, but it still flew away. This umbrella stood the test of the wind and was not budging at all. This is your ride or die umbrella, people. This umbrella is a game changer. Buy it if you are ready to elevate your experience, and then you can laugh at everyone else who doesn't have this umbrella." —J
Get it from Amazon for $39.99+ (available in three sizes and 15 colors).
6.
A UV 50+ portable umbrella available in solid colors, with stripes, and even fun prints (like avocados and watermelon) that you'll be clocking a whole lot of hours napping under!
And if you're vacay-bound, here are a bunch of cute travel products you'll want to take with you.
Promising review: "This beach umbrella is as good or better than any we saw on the beach. Set it up in under two minutes, handy aluminum handle helps screw it into the sand. The handle attaches to the pole for storage. Packs back into the included carry bag easily. Second day the wind picked up, one of the other umbrellas turned inside-out. This one remained intact and upright all day. And it tilts to help provide shade as the day progresses." —Mike M.
Get it from Amazon for $39.99+ (available in three sizes and 11 colors).
7.
A lightweight yet sturdy tiltable umbrella made with a rust-proof aluminum pole destined to *instantly* become a beach-going staple. 
Promising review: "We are very happy with our purchase of this 7" beach umbrella. It is built very sturdily and screws into the sand or dirt very easily. The tilting aluminum pole is excellent for blocking out more of the sun. It also has a little flip-up table tray built around the pole. All of this comes in a nice umbrella carrying bag with a shoulder strap that can be used again and again. Overall, we highly recommend this beach umbrella." —Michael Pappernek 
Get it from Amazon for $35.99+ (available in four colors).
8.
A luxurious paisley beach umbrella from Business and Pleasure complete with a UV- and water-resistant canopy, UPF 50+ rating, and matching canvas carrier bag that looks like you plucked it straight out of a catalogue from the '50s. Vintage is IN, folks!
Eyeing that matching paisley chair? Same.
Promising review: "BEST UMBRELLA EVER!!! Absolutely in love with the pattern. It was super easy to screw into the sand and held up amazing even with all of the strong wind. It was surprisingly really light to carry, and the bag with shoulder strap made it even easier. The quality is definitely top notch." —Kelsey R.
Get it from Business and Pleasure for $299.
9.
A versatile four-way swiveling Sport-Brella umbrella that's technically not just for the beach, but it's super ideal for clamping onto the back of your beach chair and swiveling it wherever you need it to go!
Looking for even more beach chairs? We've got your covered.
Promising review: "This is the second Cancun trip with this item. It is great! My wife likes no sun so this allows us to pull a beach chairs together and I can set it up and 'boom' no sun for her. The clamp holds up in wind and the adjustable angles that the umbrella has allows you to sort of aim the shade. Great product and it fits into a suitcase!!" —Quarrelman

Get it from Amazon for $21.99.
10.
A UPF 50+ beach umbrella complete with a sand anchor, so if corkscrew-tipped umbrellas are the bane of your existence, this one is for you! Just fill up its base with some sand and it'll stay put from sunrise to sunset. Easy peasy.
Promising review: "I'm SOOOO glad I bought this! It's easy to carry, easy to set up and break down (one person job), and didn't budge when other umbrellas on the beach were doing the hula dance in the wind! It provided enough shade for three people to fit comfortably at high noon and room for four a little later as the shadow grew larger. The sand bag idea is so simple, yet genius! I've sever seen it on an umbrella before." —Stripey Zebra
Get it from Amazon for $42.49+ (available in six colors).
11.
An elegant St. Tropez drape beach umbrella decked out with a fringe border fully equipped with a matching bag and a UFP 50+ rating, all of which will make ya' feel like a million bucks. 

This little number boasts a UV-resistant cotton canvas canopy doesn't take up a whole lot of space but still packs a mean punch when it comes to keepin' those rays out of the way. It's also designed with a fully adjustable hinge for 180-degree range of motion and tilt! 

Get it from Pottery Barn for $229 (available in four colors).
12.
A Rio beach umbrella featuring an integrated sand anchor, wind vents, and a tiltable canopy to make all your future beach getaways a total ~breeze~. Just don't forget to pack your sunscreen!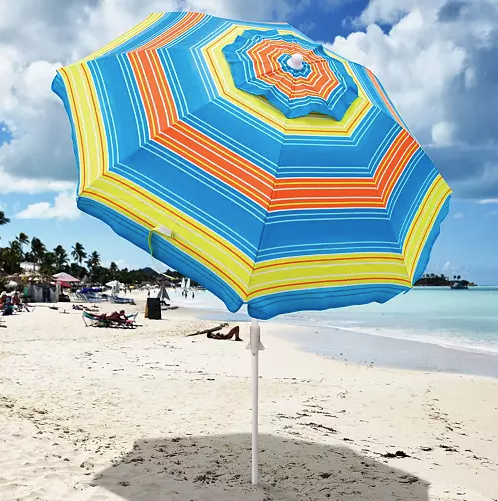 Promising review: "Perfect 10 in design and function at a great price! Lightweight two-piece, tilt-able umbrella that you simply screw the auger-tipped pole into the sand. Worked well on a fairly windy day. Nice carry bag with shoulder strap makes it very easy to bring along. I bought four more for gifts!" —Beach Bud
Get it from Dick's Sporting Goods for $39.99 (available in two colors).
13.
A heavy duty beach umbrella sure to stand out when everyone else's are toppling overs while yours is standing strong. Might as well print out the link on tiny pieces of paper so you can hand 'em out to all the other beachgoers when they start asking!
And just for good measure, here's a reviewer video of it *not* blowing away on a super windy day in Maui.
Promising review: "Love this umbrella! After reading a thousand reviews, I decided to buy this one. I'm extremely happy with my purchase. It's easy to set up and the anchor is good. It handled the wind at a PR beach like nothing was happening. It did not bend like others. Just make sure to anchor it deep and it will be steady. Getting another one soon." —MelPR
Get it from Amazon for $53.95+ (available in seven colors).
14.
A beach umbrella equipped with a built-in table touting two cupholders, because you know what? You deserve to be able to reach for your sangria (or water bottle, I suppose) without having to dust off a ton of sand first.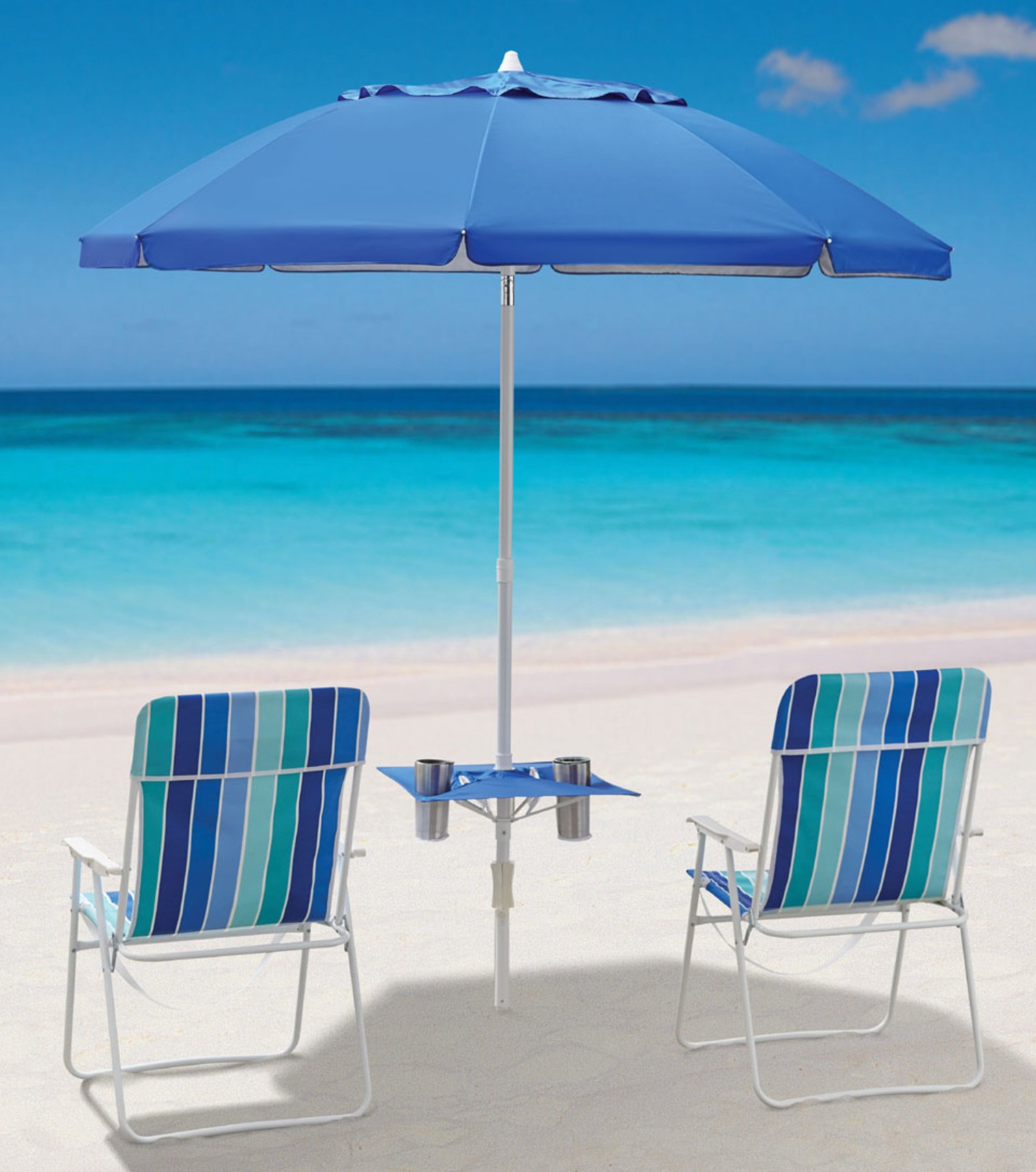 You know what's even better than an umbrella with cupholders? An umbrella with cupholders *and* a new reviewer-approved bathing suit.
Promising review: "Love this umbrella! It's lightweight, easy to carry to the beach, the pole is so simple to secure in the sand, and it holds wonderfully, even during blustery beach days. The table was a neat extra I enjoyed as well." —Amy
Get it from Walmart for $32.80.