Dozens of firefighters battled a massive fire that ripped through London's Camden Lock Market early Monday morning, destroying several floors and a roof of a building within the venue.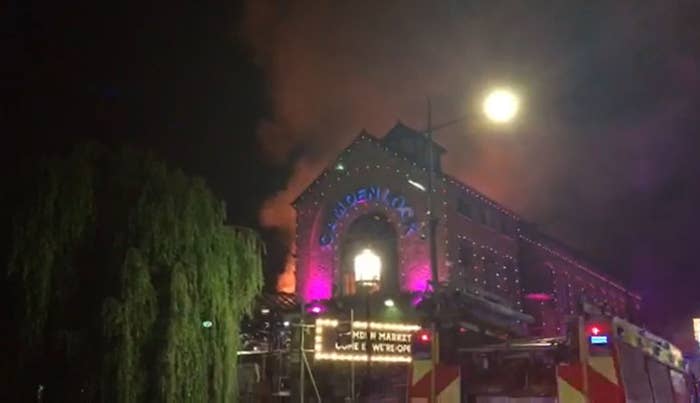 The London Fire Brigade said more than 70 firefighters and 10 trucks had been deployed to fight the blaze at the popular tourist destination in north London.
The Metropolitan police said in a statement that no injuries had been reported, and that the cause of the fire is still unknown.
"Police were called on Monday at 12.10am to Camden Lock Market to reports of a fire," a police spokesperson told The Telegraph. "London Fire Brigade were already at the scene when officers arrived. It is unknown at this stage if any persons are injured, we await update."
The open-air market, which includes more than 1,000 shops, restaurants, and music venues, was closed when the fire broke out.
The firefighters finally got the fire under control at around 3.20am, but officials said teams would be "damping down" the blaze into the morning.
Witnesses at the scene shared footage and images of huge flames and pillars of smoke enveloping part of the market.
"In just a few minutes the flames went from nothing to absolutely everywhere," Danny Judge, who was working at the Lockside Lounge bar overlooking the market, told The Sun. "It spread so quickly and the heat was intense. Security quickly started evacuating people from the bar – there was just a sense of shock."
It is the second major fire to break out in London in less than a month, coming on the heels of the fire at Grenfell Tower in north Kensington that killed at least 80 people in June.
This is a developing story. Follow @BuzzFeedNews on Twitter for updates.