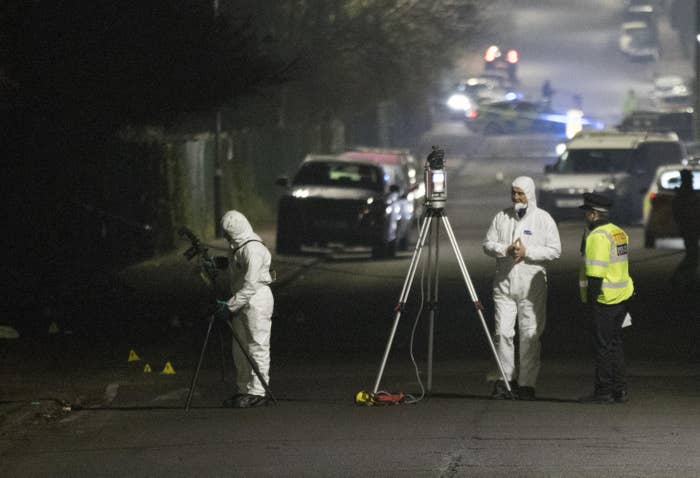 Police in the UK arrested a 51-year-old man on suspicion of murder after a car plowed into a group of pedestrians outside a school in the London suburb of Essex on Monday, killing a 12-year-old boy.

Around 3:20 p.m. a silver Ford Ka — a small hatchback — rammed into people outside Debden Park High School in Loughton, striking four students and an older woman, Chief Essex Police Superintendent Tracey Harman said.
The murder suspect was booked on "suspicion of murder, six offences of attempted murder, one offence of causing death by dangerous driving, six offences of causing serious injury by driving, failing to stop at the scene of a collision and driving without insurance," Essex Police said in a statement.
In a series of tweets, Inspector for Essex Police Serious Collision Investigation Rob Brettell said there was "likely to be a prolonged and serious investigation."
Others injured in the collision include two 15-year-old boys, one 13-year-old boy, a 16-year-old girl, and a 53-year-old woman. Police believe all of the teenagers are students at Debden High School.
The 12-year-old boy who died at the hospital was not immediately identified.
Hours after the incident, police officials announced that they were looking for 51-year-old Terry Glover, who they said lives in the community.

Helen Gascoyne, the head of Debden Park High School, confirmed that the boy who died was a student and that the community is "devastated".

"Our thoughts are with the family and all those affected. As a school we continue to work with the police supporting the ongoing investigation," she said. "The school will be open tomorrow with a number of counsellors on hand to support our community."
On Monday night, residents gathered at St. John's Church for a special mass to pray and light candles for the victims.
"Now and in the days to come our concern will be entirely for praying for and supporting the children, parents and teachers of the school. If you need a place to be, we are here for you, our community," a curator for the church tweeted.