Here Is The Perfect Underwear If You Hate How Clothes Feel On Your Body
I think I had to check that I was wearing underwear at least five times today.
We hope you love the products we recommend! Just so you know, BuzzFeed may collect a share of sales or other compensation from the links on this page. Oh, and FYI — prices are accurate and items in stock as of time of publication.
Hey ya'll! I'm Brianna, and I'm a HUGE advocate of less is more when it comes to clothing. I don't even wear necklaces and rings because I feel really inhibited with things on my skin. I basically wear just enough so I don't get arrested for indecent exposure.
I recently came across these little miracles, Everlight underwear by Fruit of the Loom, for people just like me. According to the brand, "the ultra fine, micro-mesh fabric feels like air and leaves no panty lines so you're confident wearing them under any type of clothing." YES, PLS!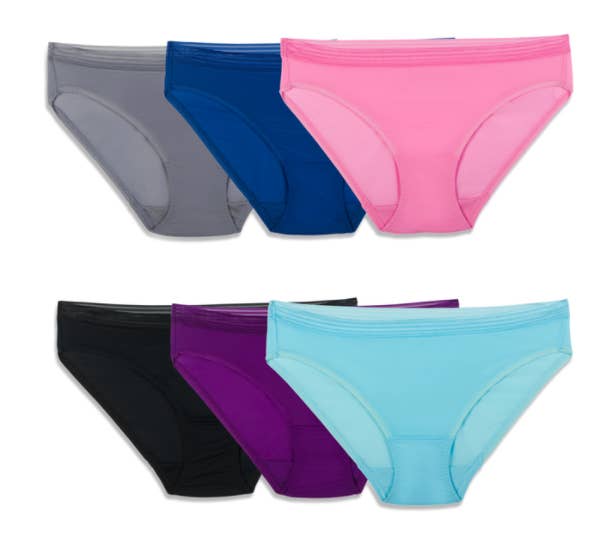 Curious to see if the underwear would live up to the claims, I wore the Everlight thongs to Lollapalooza. They real-life combatted the sun, sweat, and all the other inevitables at an outdoor festival. Also worth noting, they didn't give me wedgies or ride up my butt — two very annoying things that always happen when I wear thongs.
Since Lollapalooza, I've worn a pair just about every day and can 100% swear by their meshy magic. I live in NYC, so I'm always riding a hot subway train or strutting around in humid streets. Usually, my underwear will ride up or feel sticky after 30 minutes in the NYC sun, but Everlight legit makes me feel cool and naked.
Also worth mentioning, this underwear is basically invisible when I'm wearing body con or workout clothes. I can even wear them with a thin sun dress, and I don't have to worry about a panty outline. I had them on in this pic, and there's no bulging or trace around my waist. YOUR THONG COULD NEVER!
And if you're still not impressed, check out these amazing Amazon reviews that agree with what I'm trying to tell you guys!
"Love them. Thin, very dry, but durable. You'll forget you have them on. They fit true to size and are VERY comfortable. This is the second set I've gotten in two weeks. I see more in my future." —Mike
"I'm usually in between a small and medium (between size 4 and 6) and went with the small. They fit perfectly without the unsightly indentation from overly tight panties. They are definitely sheer (you can see a butt crack through them), but don't feel super flimsy. They breathe great and dry quickly and they're perfect for hot days without air conditioning!" —Amazon Customer
"Perfect! Breathable, soft, well-made and perfectly fitted. Colors as shown." —LAItamos