A Top Modeling Agency Told Me I Was Too Fat To Sign
I hadn't realized how much influence a stranger had on my mind and my perception of beauty, just from a 20 minute meeting.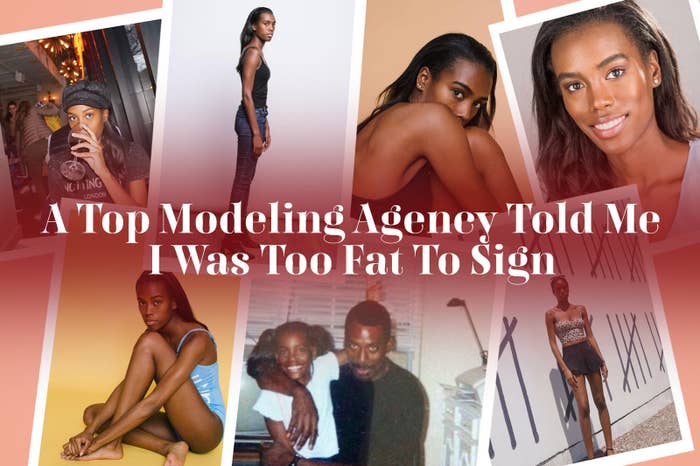 Growing up as a naturally tall and lanky girl, people always told me I should model. I entertained the thought and after being scammed a few times, my mom and I eventually learned the ropes — like never front money for photo shoots. One of my pursuits actually panned out and I was offered a contract, but I was headed to college in a few months and decided to focus on my education instead. That was basically the sum of my modeling experience until I moved to New York after college and started working at BuzzFeed. Celebrities often visit the office, so it's nothing to look up from your desk and find Chrissy Teigen handing out McDonald's fries (Yes, this actually happened), or to be on the same elevator as supermodel Ashley Graham (Yes, this also happened). "You have a very striking look," Graham said to me when we reached my floor. And just like that, her compliment refueled my interest for modeling that I had put on the back burner about five years prior.

Later that evening I started looking up agencies with open calls because why not? I now had the cosign from one of the most successful women in the industry, and I lived in the U.S. fashion capital, home to some of the most prestigious agencies. One day after an unsuccessful open call, I ran into a friend who's signed to NYMMG. She had to pick up some comp cards at her agency, so I tagged along and that happenstance was the start of my career. The agents assumed I was already a model and urged me to sign with them when they found out I wasn't. Within four days, NYMMG was my new home and I felt more confident than ever. But little did I know that in a few months, I'd be in for a rude awakening after an unexpected Instagram DM from another agency.
This agency had signed some of the world's biggest supermodels, so I was super stoked and a little shocked that I had caught their eye. A few DM's led to some email exchanges, and I agreed to meet with their head of development. Before our meeting, I bought a solid black fitted tank top for $3.90 at Forever 21, slipped on my five-inch black heels, and had Essence, my work mama, brush my curly edges into a sleek, low bun. I felt confident as fuck and I was ready to show the head of development what I could I bring to the table. As I waited in the luxe lobby, I felt honored being in the same room that many top models had visited before. Another girl, much taller than me, walked out of a nearby office, which sparked a silent lecture in my mind: "Sit up straight. Get off your phone. Look confident!"
After a few minutes that felt like hours, the head of development led me into another room down the hall. The space felt cramped and lackluster compared to the large and bright lobby. He had barely even looked at me. I began to feel very nervous and not nearly as confident as I had been earlier. "You can sit your stuff down," he said. "I am not going to take a lot of your time." After asking me a few standard questions about my measurements and my current modeling career, he pulled out the measuring tape. That's when I felt the tiny room shrink even more. Because despite having already received my measurements via email and me telling him my measurements again in the office, he proceeded to wrap the tape around my hips, waist, and bust. Everything checked out except for my once 36' hip that had become a 37', something I didn't realize because carrying around measuring tape isn't a regular practice of mine. This gain made me bigger than "normal" models, and he told me, "You need to try to get down to a 34' or at least 34.5." He went on about the workout routine I would need to implement into my daily schedule, and while a recommended workout regimen is expected of models, I knew I would become nothing more than skin and bones with his rigorous routine because I am naturally thin. The only place that I've ever been able to hold weight is my butt; that's just my body type. I'm a black girl, and because of my lineage, I will always have a butt no matter how small I get. I explained this to him, and he said that sometimes the agency makes "an exception for ethnic girls" but I could tell from his monotone and cold facial expression that my 37' hip and butt measurement was still too much. Confused as to what division I belonged in since I didn't qualify as a "normal" model, I asked him if that meant my measurements qualified me as a curve or plus-size model. He told me that "curve modeling is a fantasy division" created for Kate Upton because designers still wanted to work with her after she gained weight. He went on to say that the whole plus-size model and body positive movement was powered by Instagram models who just want to feel better about themselves. I felt shook, disgusted, and defeated all at the same time.

But it didn't stop there. He then asked me, "When are you turning 24 because 23 is pushing it in model years?" He said I had a gorgeous face and skin and I would be able to do a lot of beauty ads since women of all ages are needed for cosmetic campaigns, but due to my age and hips, I would struggle with landing the high fashion career I'd dreamed of. Lastly, he asked me about my brand. I felt good here, thanks to my career in journalism and my vibrant personality. But having a degree and pursuing modeling while maintaining a full-time job and a pretty poppin' social life, if I do say so myself, wasn't the brand he was looking for. A brand was measured by Instagram followers, according to him, and 7,000 just didn't cut it, no matter how great a personality I had. He also said that "A brand is pre-determined from the moment a girl walks in." I walked in with an ALDO bag, heels from Nordstrom Rack, and a Forever 21 tank. No designer labels, therefore no personal brand. It was at that moment that I just zoned out. I didn't even hear what he was saying because I just kept replaying all of the critiques he'd piled on me from the moment I walked in the door. I contemplated going on a diet, getting a trainer, skipping dinner, and even texting my roommate for her Louis Vuitton discount to replace my bag. Within one hour of meeting this complete stranger, I was ready to go broke and hungry to reinvent myself just to get an offer from my dream agency. I snapped out of my daze when he said, "If you don't have any questions, that will be all. You'll have an answer by next Friday. I'll walk you out."

Despite my better judgment, I started working out before and after work. I skipped breakfast and snacks and limited my dinners to salads only. After a week of not noticing enough change, I stopped pouring dressing on my salads and I completely cut meat out of my diet. I found myself growing very tired and not being able to focus on my job. A few of my coworkers noticed how much skinnier I had gotten and spoke up. I didn't care, even though all the self-sabotage didn't even lead to a call back from the agency. In September I booked three shows in New York Fashion Week, and I was convinced it was all due to my weight loss. I told myself I was chosen because I was slimmer, and maybe there was some truth to that because this industry has very biased, twisted rules around who gets in and who doesn't. But something happened at my last show of the week, and I began to come to my senses. I was cast for the KENT x All Women's Project, a NYFW showcase that presented women of all body types, ethnicities, and races in lingerie. I never felt so at peace. The pressure I would normally feel to be unrealistically thin wasn't there. I was surrounded by supportive cast mates and designers. We lifted each other up, standing together in beautiful underwear and presenting our different body types to all of NYC. I credit that experience to starting a mind shift of what I thought pretty or a body should look like. Part of the reason that agent's words were able to cut so deeply is because deep down I believed them; I believed that my value was tied to my physical metrics. But walking in KENT, seeing such vast representation, planted a seed that began to loosen the restrictions runways and campaigns and movies placed on my own beauty standards for so long.
After that day, I began studying models like Grace Mahary and Leomie Anderson who actively speak up about colorism in the industry. I also make it a point to support people like my friend Khrys, a recent contestant on ANTM and body positive advocate who hosts The Real Catwalk, an annual runway show for models of all body and gender identities. I intentionally select strong women, who have healthy relationships with their image, to be the examples I follow not only in career, but also in advocacy. It's made me more conscious in my own work and how I represent people through my writing. Unlearning 23 years of what society says women should look like is hard, but I'm putting in the work. I can't lie and say I'm all the way there and that I never feel insecure about my body, but I recognize that aiming to be anything other than healthy is destructive, not only to me, but to any efforts towards representation that are so much bigger than me.