Ed Sheeran Says The "Game Of Thrones" Backlash Was Not The Reason He Quit Twitter
There has been more ~drama~ around that cameo than on the actual episode of the show.
So, Ed Sheeran has had a rough last 72 hours. After appearing in a (much-hyped) small cameo on the season premiere of Game of Thrones, he received some major backlash from both fans and non-fans of the series on Twitter.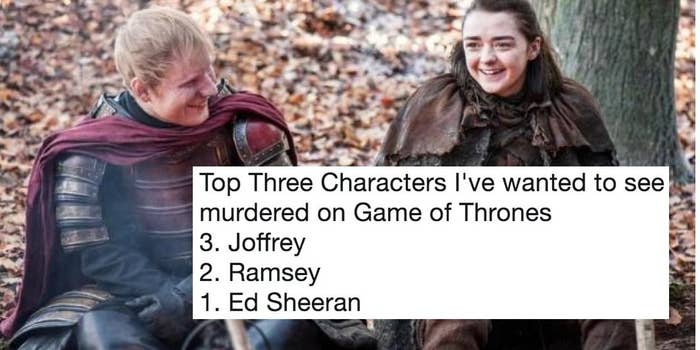 Well, earlier today, Ed reappeared on Twitter — losing all tweets prior to April 23, 2015, and about 5 million followers in the process.
Ed also posted on Instagram explaining that he didn't quit Twitter because of GoT:
Last i'll say on this. I came off Twitter Coz I was always intending to come off Twitter, had nothing to do with what people said about my game of thrones cameo, because I am in game of thrones, why the hell would I worry what people thought about that. It's clearly fuckin' awesome. Timing was just a coincidence, but believe what you want.
So there you go — Ed says this was his plan all along.
Oops. Something went wrong. Please try again later
Looks like we are having a problem on the server.
So now tell us: Do you believe Ed and think it was all a coincidence?
Yes! I totally think it was just a coincidence. Sucks that the timing was bad.

Nope. I think he deleted it because of the Game of Thrones backlash!

Hmmm...I think he might have deleted it for other reasons, and then regretted deleting it.