Trixie Mattel Is A Skinny Legend Who Knows How To Make The Most Of This Quarantine, And She Also Knows Who She Wouldn't Want To Be Stuck In A House With
Oh honey! She just might be the hardest working queen in the biz.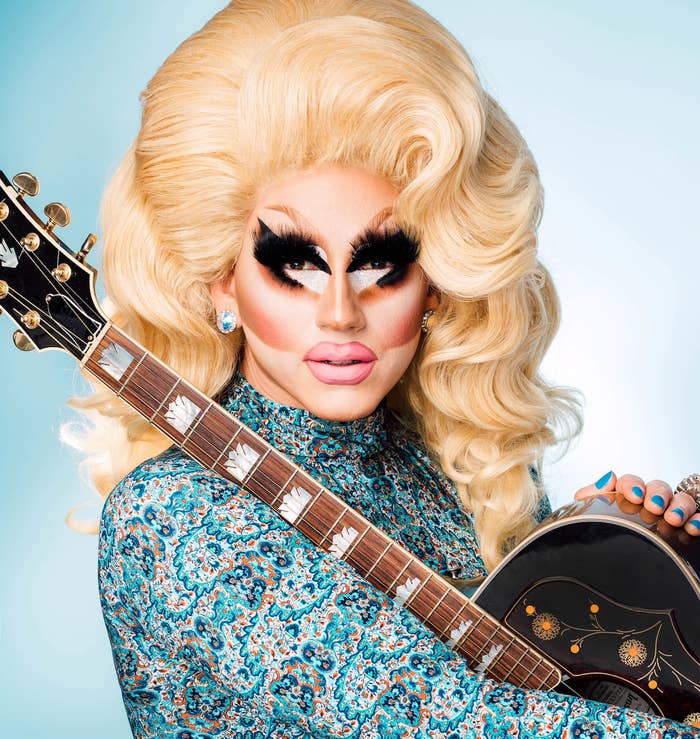 It goes without saying that Trixie Mattel is one of the most popular and famous drag queens in the world. But, when it comes to working hard, she is giving Mama Ru a run for her money — or should I say crown. Since winning All Stars 3 in 2018, the skinny legend and entrepreneur has released two more country albums and her critically acclaimed documentary Trixie Mattel: Moving Parts, continued to tour almost nonstop, reunited with Katya Zamolodchikova for the Netflix recap web series I Like to Watch, and launched her own makeup line, Trixie Cosmetics.
And if all that wasn't enough, Trixie recently returned back to Ru's Werk Room to participate in a brand-new Drag Race spinoff, RuPaul's Celebrity Drag Race. In celebration of the series premiere tonight, Trixie spoke with BuzzFeed about everything from why she returned for another RPDR show, to what she has been up to during this quarantine (spoiler: it's a lot!).
Trixie, you've done Drag Race, All Stars, and the Holi-slay Spectacular, but what made you — a skinny legend and the winner of All Stars Season 3 — want to come back and participate in a another Drag Race competition?
Trixie Mattel: I love being involved in anything Drag Race related, but I especially love it when there's no risk. Nothing bad is gonna happen to me. I love that. And it's celebrities getting involved in doing drag. Obviously, they're not going to be experts like we are. So there's a certain amount of Great British Bake Off energy where it's like, everyone should just try their best, but also at the end of the day you're not going to be shamed for not being a professional drag queen. Because guess what? You're not a professional.
Speaking of drag makeovers, here's a two-part question: Which one of your fellow Ru Girls would you give a makeover to? And the second part is which one would you let give you a makeover?
TM: Oh my gosh. I mean, when it comes to makeup artistry in the drag community there's so many problem areas, I don't know where we begin.
Alright, so sort of the ultimate cardinal sin of drag makeup is doing makeup with really no personal style. Like just putting makeup on for the sake of putting makeup on to look like whatever. So obviously my favorite makeups [for a makeover] are going to be people from like Tammie Brown or Kim Chi, just people with really iconic signture makeup styles.
[As for giving a makeover] I would love to teach Jaymes Mansfield to cover her brows, and I would love to teach Bob the Drag Queen to highlight. You know, there's a lot of opportunity for teaching. That's why I went into the cosmetics industry — to help people and that's what I am here to do. [Laughs]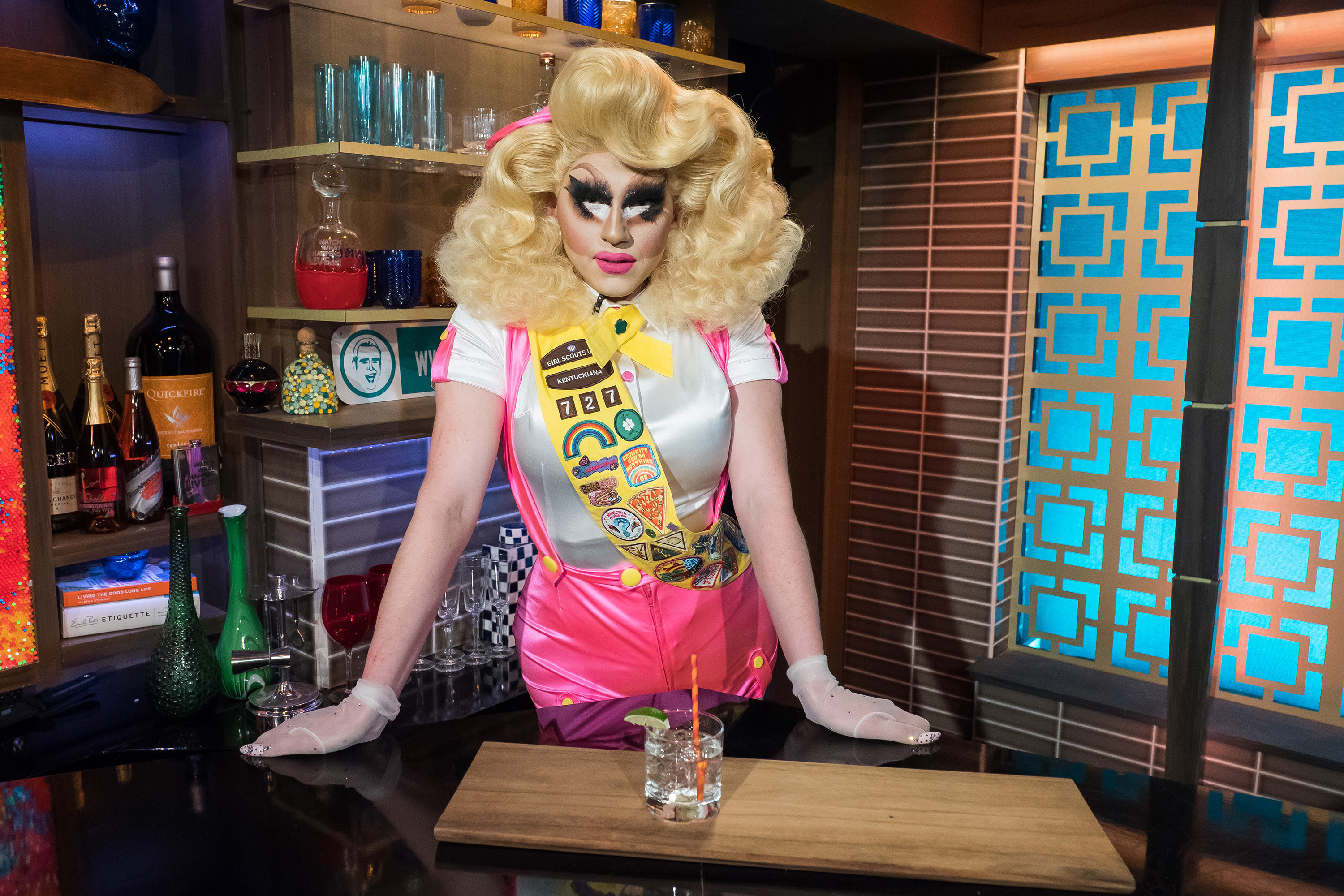 Obviously, a lot of us right now are quarantined at home. So I want to ask you a little about how the quarantine is going for you. I am curious, what is your quarantini of choice right now?
TM: The great thing that I think we're all discovering about this quarantine is that, bartenders — God love them — don't have secret powers. We can make the drinks they make, it's not impossible.
But, I will say, you know the movie Julie & Julia?
Yes, of course.
TM: I was like what is the Trixie version of this? And then I was like, "Oh, I'm gonna drink my way through somebody's drink handbook." So I was on the internet and I was googling like, the top 15 drinks everyone should know how to make and I was like, "Oh, I'm gonna learn how to make all these." Um, all these drinks have completely different ingredients. There are a lot of ingredients in these fancy cocktails…a lot.
Also, I have been lucky because my friends at Skyy Vodka sent me a lot of different types of liquors and stuff, so I am stocked at home. But honestly, my quarantine drink of choice…oh this so sad. Well, I just, I mean, it's dark-sided. I'm making a vodka soda with Skyy Vodka, but instead of soda, I use White Claw. Using a drink to drink. Is that trash?
I don't feel like that's dark-sided or trash at all. I saw a lot of people last summer using White Claw as a mixer.
TM: To be honest, I haven't been able to drink much during this. Well, there have been some nights where I went full tilt, especially when I am playing PlayStation or something. So why not? But, I actually have just as many commitments being at home as I did when I was on my tour. I still have to get in drag like three or four days a week, to create content, and to do interviews and stuff. So unfortunately, my drinking career is really derailed by my drag career.
I'm really curious to know what songs you're lip-synching to at home? I guess ~lip-synching for your boredom to~, so to speak.
TM: I don't really do much lip-synching in general. But, I guess the ones that keep coming to mind are like "All by Myself," and "I Think We're Alone Now." You know, sort of those kind of accidentally themed ones. But every Friday on my YouTube channel, I do a concert show called Full Coverage Friday — which is a double entendre because I, of course, put on heavy makeup coverage and I only do cover songs. 


So every Friday, I grab my guitar and stream a live free concert. And that's been fun because I found that, especially for gays in quarantine (my audience), they want to hear the gayest songs possible and they want to hear them now. So I've done gay club songs like "Believe," "Dancing On My Own," "I Want to Dance with Somebody," and interpreted them on an acoustic guitar. Because, you know, as Trixie Mattel my ultimate talent is taking any perfectly good song and Caucasian-fying it to the point of no flavor. I mean, that's really my skill.
Have you done a Dolly Parton song yet?
TM: We did "Backwoods Barbie" about four weeks ago, because my movie Trixie Mattel: Moving Parts is on Netflix and that's on the soundtrack. So I kind of promoted it. That's been crazy about being in quarantine. Every time I turn on TV, Moving Parts is both in the category for most popular on Netflix and under critically acclaimed. So it's like this really cool thing is happening, but I haven't seen anyone to celebrate it.
It's your documentary and Tiger King keeping us going.
TM: Mama, Tiger Queen! I am Carole Baskin. [Laughs]
I have to ask you about your Barbie collection. You're known as a huge Barbie collector and now that you're not on the road, have you been able to score a doll that you've been looking for?
TM: You know what's funny? I just started this series called Decades of Dolls on my channel, which is basically every week we're taking a decade of Barbie and I'm counting down my top 10 pieces of that particular decade from my collection. And it's so funny, right before we got pulled off my tour because of the lockdown I had just tracked down the 1961 Registered Nurse Barbie (which is one Barbie's first careers).
Can you believe the timing that like two weeks before the quarantine, I tracked down a vintage nurse Barbie? I predicted the future. Not to mention that back in January I put out my special Trixie Mattel: One Night Only, which is a comedy special that I performed in my living room for my Barbie doll collection. I predicted social distancing.
I've always felt a little psychic, not like LA "l own crystals" psychic, but like, things always happen and I'm always like, "I didn't know this was going to happen, but I somehow knew this was gonna happen." You know what I mean?
So as you have probably noticed on your timeline that a lot of people are starting to do lazy drag at home…
TM: Oh my god, I can't even. I can't even. Do you know how many hot gays have reached out and are like, "What wig?" and, "What's good starter makeup?"
Well, actually that's leading into my question: What are some things you think they should buy to up their drag quarantine game?
TM: Um, buy a Motorola flip phone and get rid of your iPhone, because honestly the internet was too much for you. We need to roll back the years! The hot gays are wild and out. And you know what, hot gays? You guys have everything else — let us creatures and monsters have the drag. And that may be unpopular, but whatever.
But to answer your question: What you really, really need is a great black eyeliner. I love the NYX Cream Eyeliner and they're only around $5. Honestly, you could do a whole drag eye makeup job with a good black eyeliner. You need good lashes! Willam [Belli]'s Coverboy's 301&Done is a nice big drill on lash. And I think a bold lip color kind of saves any look. You can get something from Trixie Cosmetics, like Stacy or Stacy's Mom. Otherwise a good easy one is MAC's Ruby Woo, it's a nice, easy, fool proof red.
You just know all these hot gays are all going to look like a mosaic or watercolor of Kameron Michaels.
Can I play RuPaul's Drag Race quarantine houses with you?
TM: Yeah, sure!
Okay, so I'm going to list two houses, and you tell me which one you'd want to be in. So here's House One: House One has Katya, Manila Luzon…
TM: Wait, wait, I'll stop you right there. You said Katya and now I already know I want the other house. But tell me who else is in there.
So it's Manila Luzon, extra special guest judge Jeffrey Bowyer-Chapman, a busted Interior Illusions Lounge with only Wet N Wild makeup, the ghost of Santino Rice, and Shangela and Mimi Imfurst fighting. So, that's house one.
TM: [Laughs] You know, Wet N Wild is the least offensive thing on that list.

House Two has: Kim Chi, Bob the Drag Queen, Bryce from the Pit Crew, the Werk Room filled with Anastasia Beverly Hills cosmetics, but no mirrors, the Season 1 filter, and Snatch Game.
TM: Oh, honestly, I want to tell you this is like the most incredible question I've ever been asked. I think I have to say to house two. I love Katya, but when push comes to shove, I'm not looking to lock myself in a room with her. I want the second one because Kim Chi is in there and I don't need mirrors, 'cause she can do my makeup. Also, Bryce is my favorite Pit Crew member of all time — he plays guitar, you know, and we love each other. And what were the last two things?
Well, you have the Season 1 filter and also Snatch Game is in there.
TM: Oh, shit. I cower in fear from the Snatch Game. But, um, I love the Season 1 filter. People make fun of the Season 1 filter and I'm like, "Let's bring it back!" I don't know why we need to see drag queen pores. I don't understand that.
So yeah, I'm House Two for sure. I mean, Bob, Kim, Season 1 filter. What else do you need?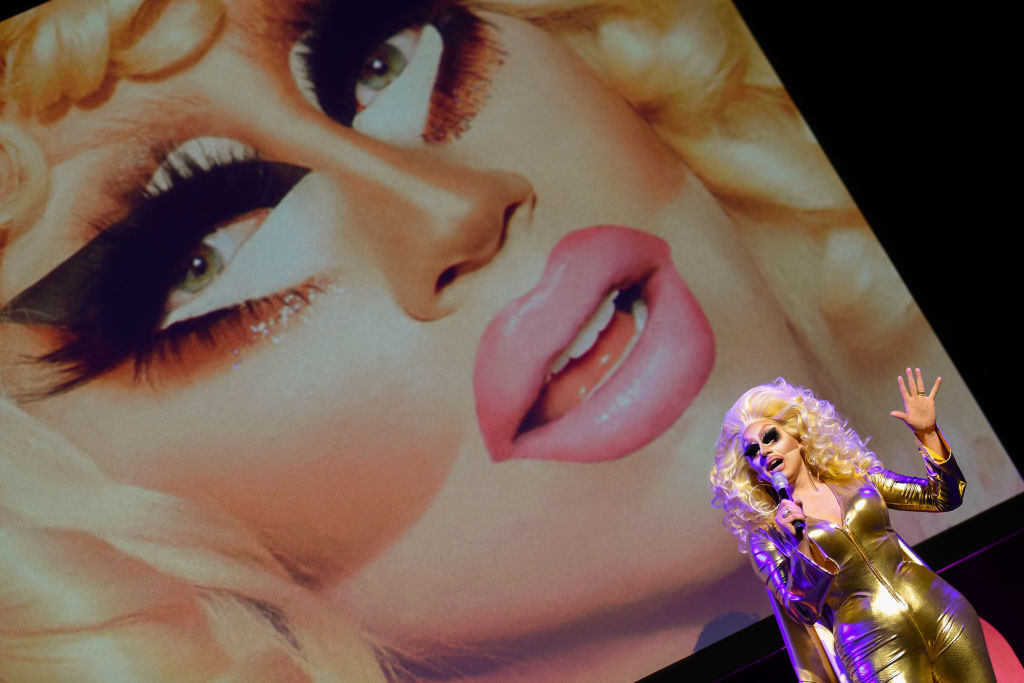 Alright, Trixie, any final words for everyone quarantined at home?
TM: Well if you're looking for fabulous free entertainment, I'm uploading two new YouTube videos a week now, and every Tuesday I do a charity stream. And since this all started, I've raised $22,000 for charity from my home, playing video games. Or you can watch me every Friday on Full Coverage Friday, and it's completely free.
And we can check you out on RuPaul's Secret Celebrity Drag Race and your Netflix special.
TM: Yeah, check me out on Netflix, obviously in Moving Parts, but legitimately, I'm not kidding, watch Celebrity Drag Race! It was the most fun I've ever had on Drag Race — including the day I won. It's the best!
You can catch Trixie on RuPaul's Secret Celebrity Drag Race, premiering tonight on VH1 at 9:30 p.m.