Then Vs. Now: The Cast Of "Batman Forever"
They've all aged like a kiss from a rose on the gray.
Val Kilmer as Bruce Wayne/Batman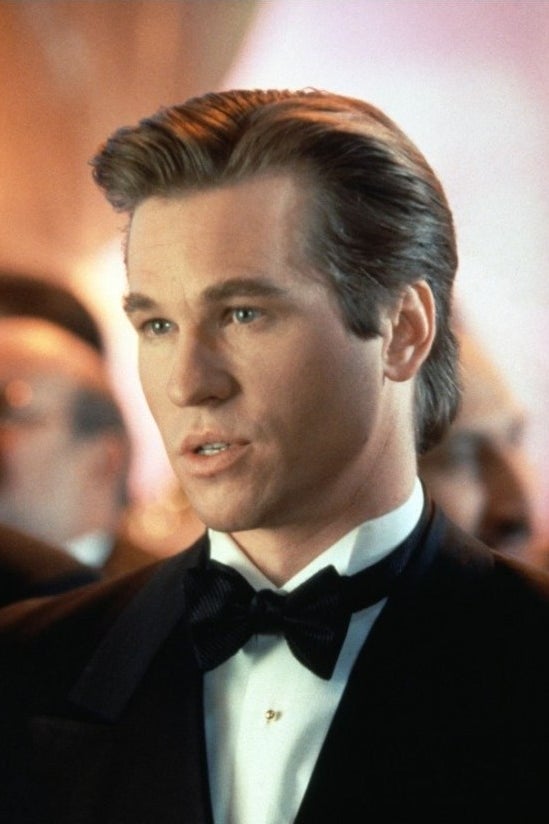 Fun fact: The film's director, Joel Schumacher, and Kilmer constantly clashed on-set. Things got so heated that the two reportedly didn't speak to each other for two weeks during filming. In a 1997 interview with Premiere magazine, Schumacher said of Kilmer, "Val is the most psychologically troubled human being I've ever worked with. The tools I used working with him — tools of communication, of patience and understanding — were the tools I use on my 5-year-old godson. Val is not just high-strung. I think he needs help."
Chris O'Donnell as Dick Grayson/Robin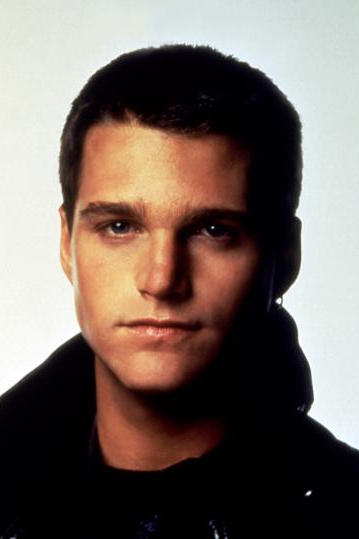 Fun fact: Marlon Wayans was originally signed on to play Robin in what would've been Tim Burton's third Batman film. When Joel Schumacher was brought onboard to direct -- after Warner Bros. decided against having Burton back as director -- he decided to recast the role. Per Wayans' contract, he was paid his salary and, even though he didn't star in the film, still received residuals (which he still receives to this day).
Nicole Kidman as Dr. Chase Meridian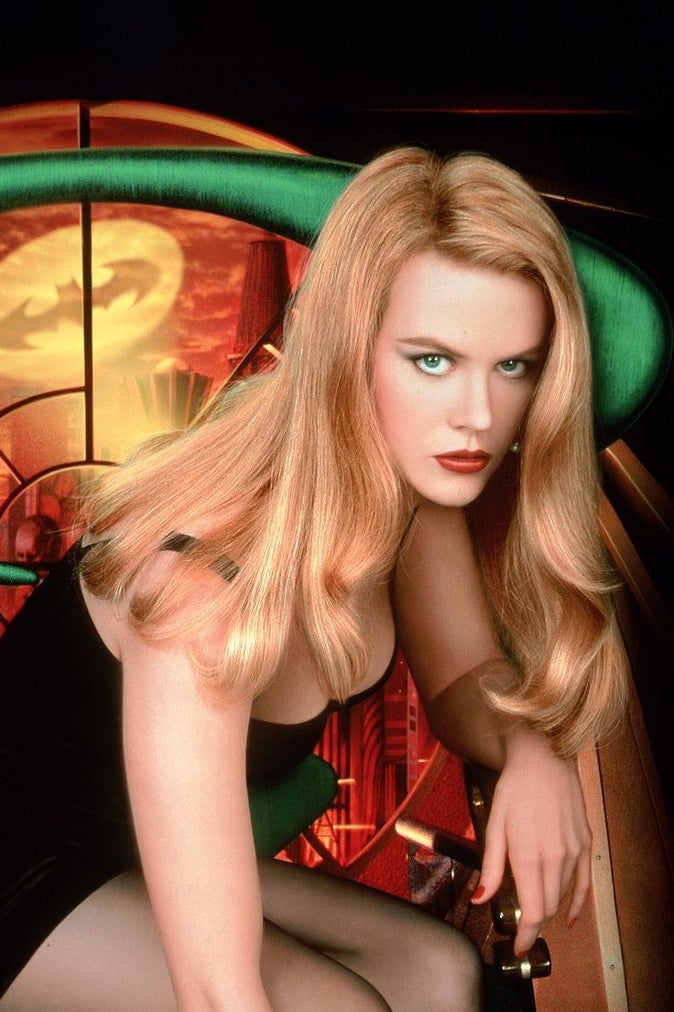 Fun fact: The role was originally intended for Rene Russo -- who had signed on to star in Tim Burton's version of the film. When Val Kilmer was cast as Bruce Wayne/Batman (after Michael Keaton left the film), the producers thought she was too old to play his love interest and cast Kidman in the role instead. (For the record Russo is only five years older than Kilmer.)
Tommy Lee Jones as Harvey Dent/Two-Face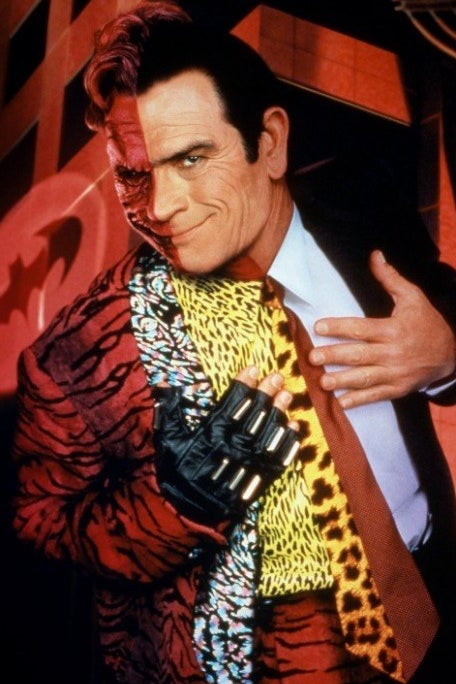 Fun fact: Jones really hated his co-star, Jim Carrey. According to Carrey, he approached Jones at a restaurant the night before filming began to say "hi." Jones got up hugged him and said, "I hate you. I really don't like you. I cannot sanction your buffoonery."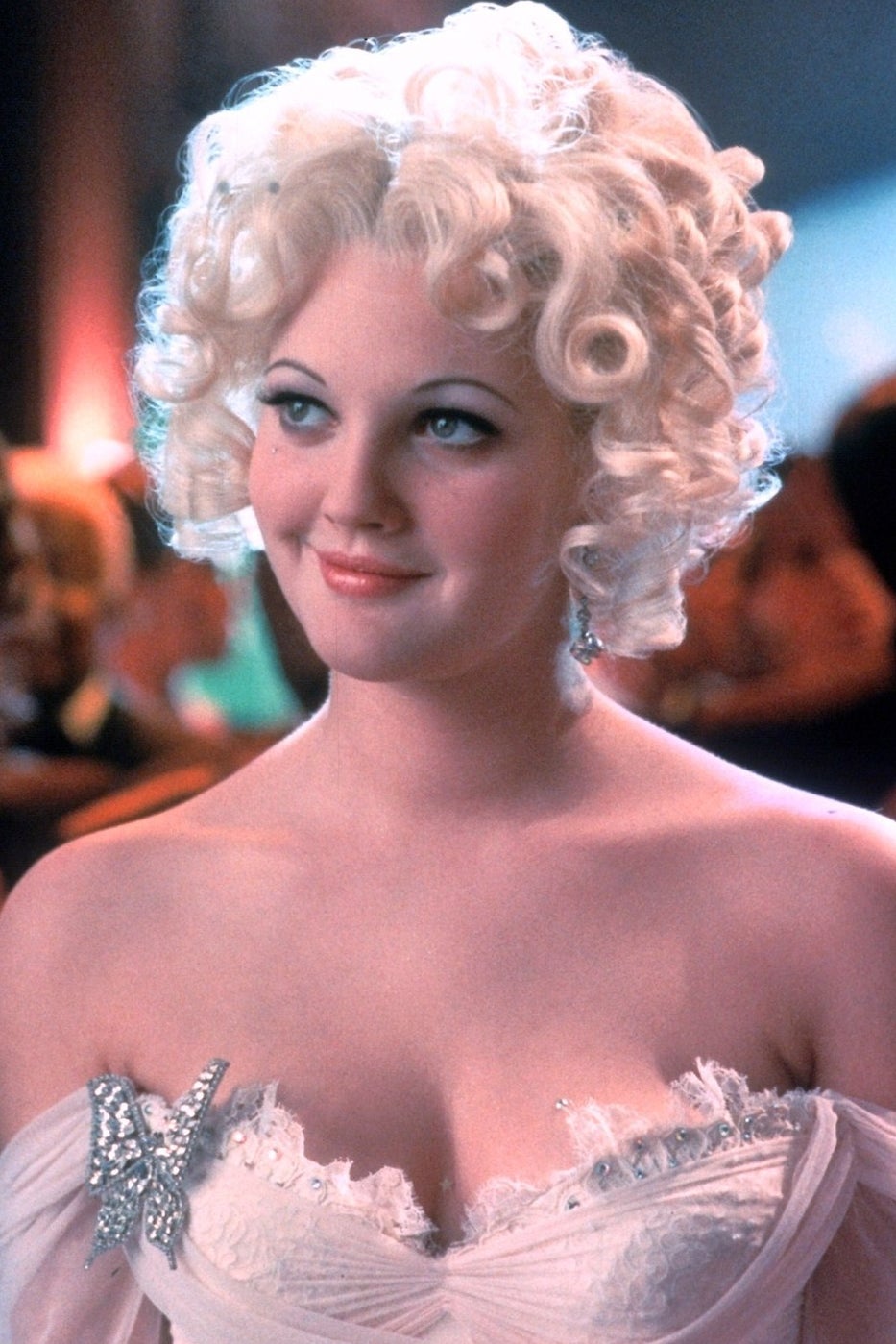 Fun fact: This was the second film that both Barrymore and Chris O'Donnell starred in together that year (1995). The two co-starred as love interests in the teen flick, Mad Love.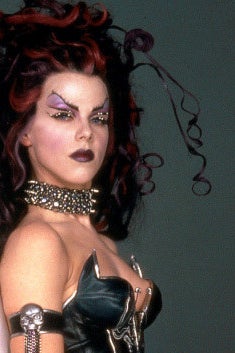 Fun fact: Mazar's character was originally named Leather, while Drew Barrymore's character was originally Lace. The names were changed at the last minute to Sugar and Spice, as the original names were seen as too suggestive and not family-friendly by Warner Bros.
Jim Carrey as Edward Nygma/The Riddler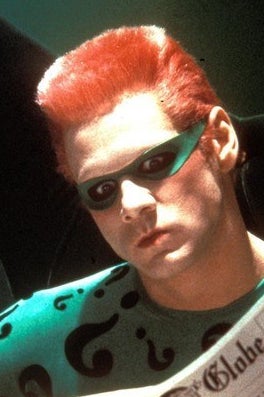 Fun fact: Carrey is actually interested in taking a role in a new Batman film, although not as The Riddler.
Both Michael Gough, who played Alfred Pennyworth, and Pat Hingle, who played James Gordon, have died and were omitted from the list.