"RuPaul's Drag Race" Will Air A Season 12 Finale As Planned, And It Will Be A Virtual One
Category is...finale during a quarantine.
If you've been watching Season 12 of RuPaul's Drag Race, then you know it has been one of the best seasons in the herstory of the show.
Of course, it's also been a strange season to watch, since everyone has been watching at home — instead of the traditional way of going out to watch it at the bars.
But there has been a lingering question hanging over this season: How will the show handle the Season 12 finale?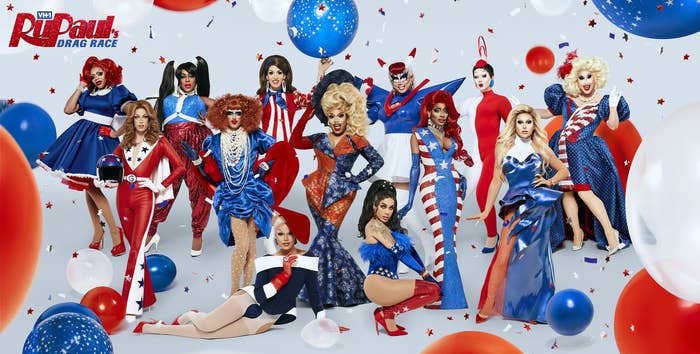 While the show is usually filmed well in advance (the rest of Season 12 was filmed in the summer of 2019), the reunion episode and the finale are usually taped shortly before airing.
With, of course, the finale episode being filmed in front of a live audience.
Obviously, with the coronavirus pandemic, this left the question of whether or not there would even be a finale. The show could easily have held off and waited until it was safe to film with all the queens in attendance and in front of an audience.
Well, good news, squirrel friends: We're getting a reunion and finale as scheduled!!! The Season 12 reunion will air next Friday, May 22, while the finale episode will air in two weeks, on Friday, May 29.
Now, you're probably asking yourself, "How will this be done?!"
The reunion episode was filmed as a virtual slumber party, where Mama Ru will not only be bringing up the shadiest and best moments from the show, but will also be talking to the queens about their life during quarantine.
The finale, it turns out, was also virtually shot. And according to the show, this isn't going to be just some Zoom chat, since they will be "using innovative technology that highlights the creativity of the queens."
And yes, there will be a lip sync battle for the crown between the finalists!
Also, as is tradition, Yvie Oddly (who won Season 11) will be there to crown this season's winner...
...and Season 11's Miss Congeniality, Nina West, will be on hand to crown this year's Miss Congeniality — Heidi Afrodite (née N. Closet). I have no inside knowledge of that, but WE ALL KNOW she is getting it!!!
The finale will also feature a few surprises, as well as celebrity guests making appearances throughout the show.
So mark your calendars, Kitty Girls (like you have anything better to do): The reunion will air on May 22, and the finale on May 29.
Now, just between us squirrel friends, who do you think is taking the crown this season?!