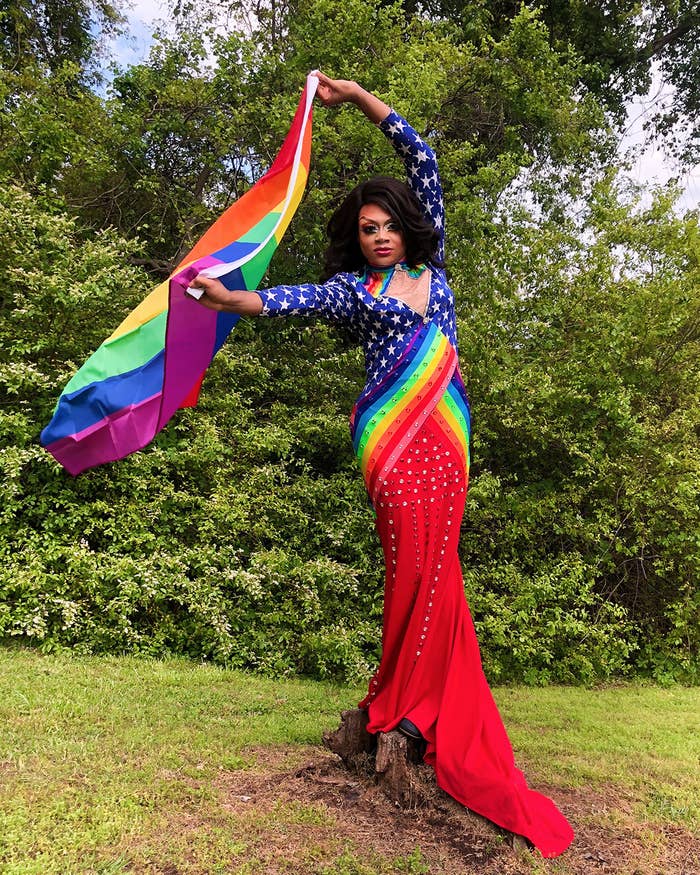 Season 12 of RuPaul's Drag Race will definitely go down in herstory as one of the series' best seasons. And this season's breakout star was none other than its Miss Congeniality herself, Heidi N Closet, whose presence every week on the show left us all feeling blessed and highly favored.
In celebration of Pride, Heidi teamed up with Skyy Vodka to be part of its "We Are the Pride" campaign. The campaign is not only commemorating Pride virtually, but is also helping members of the LGBTQ community who have been affected by COVID-19 and showing support for the National Black Justice Coalition. And recently, BuzzFeed spoke to Heidi about everything, from the campaign and Black Lives Matter, to her keeping the "N Closet" surname, and whether or not she would come back for All Stars 6.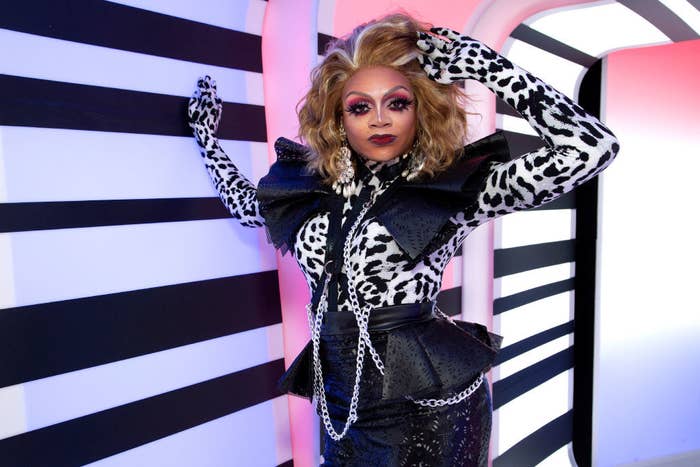 I did want to start off by asking how the meaning of Pride has changed for you this year in light of the Black Lives Matter movement.
Heidi N Closet: I feel like it's really breathing in an air of inclusivity, as well as making it a time to really look inward and see more important things than just going to a fabulous parade or having a party. I think it's really allowing us to see the true meaning of what Pride is — that we are truly what makes up the Pride and even though we're not out celebrating at the clubs or whatever, we can still participate in something that means something to us all.
The true inclusivity of the movement with Black Lives Matter has really brought the community together and is not only really helping us look at issues within our own community, but also issues outside of our community that should have been addressed a long time ago.
I think that's a very important message you're sending to the LGBTQ community, that when it comes to the Black Lives Matter movement we're all in it together and the issues that are being brought up are also our issues.
HNC: Yes, we are all part of the issues that are going on. Whether it's that you are an exact member of that community of people that is directly being affected by it or whether you're not a part of it yourself — in which case you can be a part of the solution. And if you're not helping to be part of the solution, then you are part of the problem, really.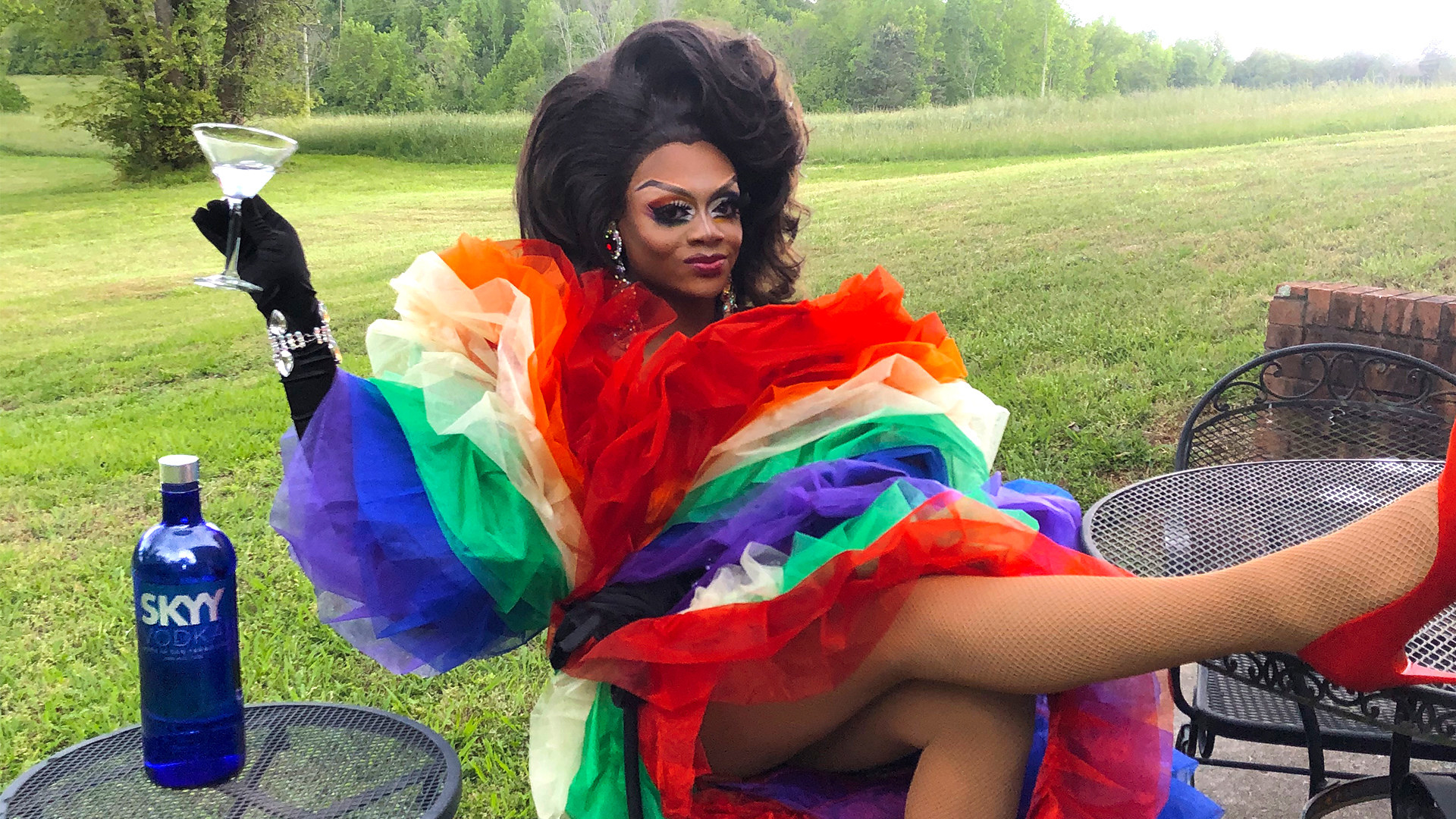 I am going to segue into another thing that has been going on: the quarantine. How has your quarantine been?
HNC: My quarantine has been very peaceful. I've been quarantined at home with my partner. We've been driving each other up the wall a little bit here and there, but we are okay and not trying to throw the other out of the house.
It's definitely been an experience of having to try to figure out what to do with the day when you're just stuck in the house. So yeah, now that's been the experience, truly.
Is that what made you want to partner up with Skyy Vodka for its "We Are the Pride" campaign?
HNC: It was presented to me and I knew that Skyy has been a part of our community for a very long time. And I also knew over the years that they have helped the community and really been there for us, helping advocate for true equality — as well as doing things like sponsoring Prides and whatnot. And I was like, this is perfect because Pride has always held a very special place in my heart. In fact, I am the current reigning Grifton Prides Queen in Greenville, North Carolina, and I've always used that title to give back to the community. So I felt inclined to be a part of the campaign, and make it part of my Pride. It has been amazing partnership as well.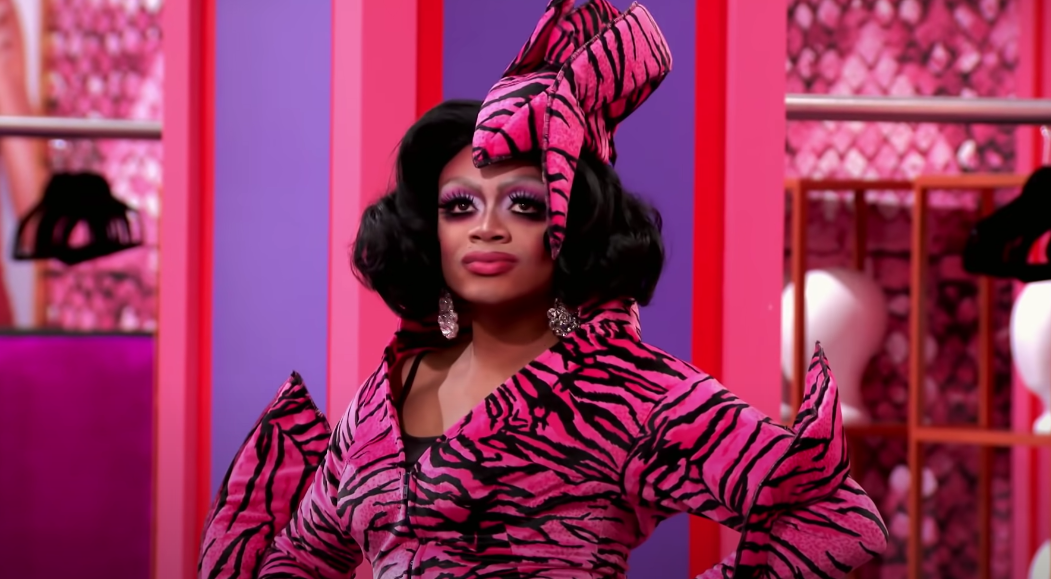 Obviously, we have to talk about RuPaul's Drag Race. I did want to ask you something that maybe casual fans of the show might not know: That the show is filmed long in advance and then in the corresponding time between when you stop filming and when the show premieres, you start preparing yourself by creating or commissioning new costumes and start booking your gigs around the country — to promote both the show and yourself. So Season 12 premieres, then all of a sudden the pandemic hits. Did you have a moment of panic or disappointment when everything stopped and was shut down? What were your feelings?
HNC: Oh, it was definitely a state of disappointment. I was really disappointed with not being able to partake in what every other season has been able to do: Where as the show's airing, to go out, travel, and meet everybody and really take in all that energy from the fans that are there for you during the height of your popularity, which is while you're on the show — so that was very disappointing.
But also I feel like with everyone being quarantined, it really broadened the audience, because most people would be out at the bar watching and maybe not watching as closely as they are if they're sitting in their house. So I feel like it also allowed us to really reach more people and really helped our online presence.
I think the show was almost a perfect thing during this quarantine. It was definitely something you could watch from your home, but along with your friends through a Zoom happy hour. And it also offered a little bit of a distraction during a difficult time.
HNC: I've definitely gotten a lot of messages from people saying that they're happy that the show was airing during this time because they saw me and many other girls as a light in this dark time. So it was really nice to be hearing those messages and stuff.
I think one of the things that stood out this season was it was a lot more RuPaul's Best Friends Race. Which is to say it was a season that was way more about talent and camaraderie, and not about drama — which also made it refreshing.
HNC: Oh 100%! Definitely, we called it Best Friends Race, as well. Even when we were filming it we're like, "This is really the nicest season and stuff." We definitely took note that our season was more focused on the art of drag and the talent and not drama.
Did you go in expecting to get along so well with your fellow queens?
HNC: Not at all. I've seen past seasons — especially the one prior, which was an especially a drama-filled season — so I was like, "Oh god, I don't know what to expect! But we'll see how this all pans out." And it was an amazing experience to get to know each and every one of the girls. To connect with all of them on a very personal level and it not be craziness and 100% arguing all the time. Yes, we had some spats here and there, but it was definitely a camaraderie.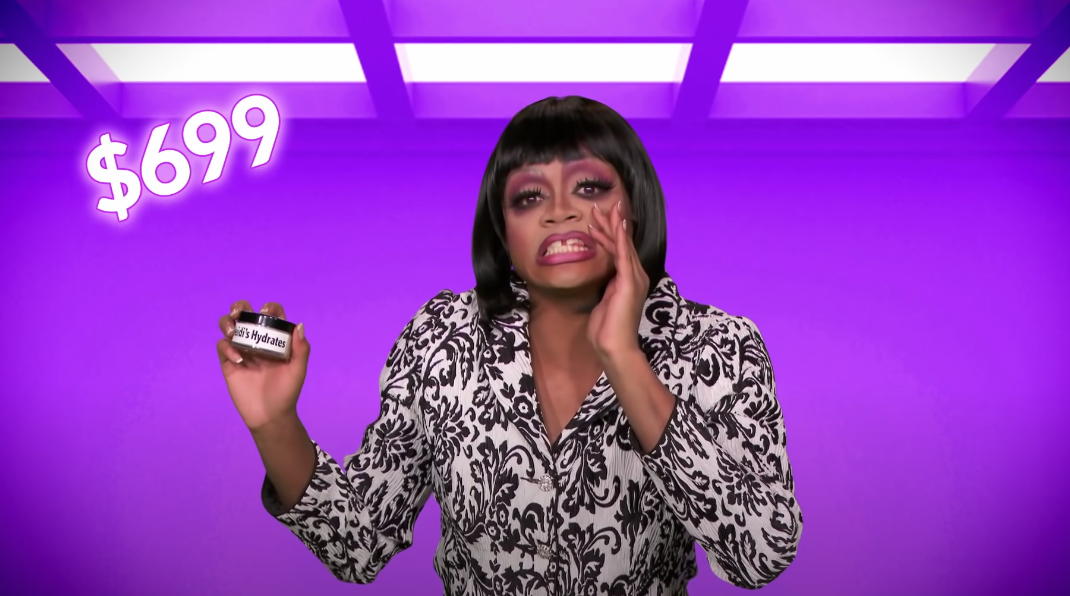 What was your favorite challenge?
HNC: Oh my goodness. I think the easiest one I can think and can say was my favorite was the one I won: the infomercial challenge. It was definitely one where I had to step out and really, really go for it. It was one of the challenges that I just let it all hang out and it paid off, which made it an amazing experience.
Do you have a favorite moment that didn't make it on-air?
HNC: Favorite moment that didn't make it on-air? Hmmm, I would have to say Vanjie pouring more cocktails for us on Untucked. Those were some, um, really, really strong drinks [laughs].
So of course, you were the heart of the season. I think most people will say you were the narrator as well, and you won Miss Congeniality — which came along with a cameo from Dolly Parton herself. Did you expect that you would end up being the fan favorite, and someone who everyone just loves?
HNC: Absolutely not. I didn't see it coming. Especially growing up in my small town, I was never the popular person, I was never the well-liked person — I was always the person that people would make fun of or just not like just because of who I am. And coming into the competition a lot of the girls would tell me, "I cannot wait for America to meet you Heidi, they're going to love you!" And then I'd just be like, "Girl, stop!" But then when it started happening in real life, it's like, "Oh my god, what?"
I just definitely did not expect to win Miss Congeniality either, 'cause in my family Miss Congeniality is not something we aspire to be [laughs]. I'm sorry, I'm joking I just had to reference that. I do think that I'm a nice person, but didn't go in or expect to win the title at all, which made winning it an amazing experience.
I have to ask you about your name, because you're sticking with "N Closet." Ru made a big, big thing about how you should change it throughout the season. And were you surprised with how much the fans of the show (who are now your own fans) have embraced the name?
HNC: Yes! I'm happy that they've embraced it so much. Because it's priceless. It really started out as just a joke name and it now it has turned into something fun. I also think it really exemplifies who I am as a person: fun, whimsical, a little odd. But, also an amazing thing I think it is that we're taking back "the closet." Because for many years, being "in the closet" has been term to put shame upon someone. Now we're taking back "the closet," we're not hiding in the closet, but our old fashion is, so you know. I feel like I am helping take back the term by me keeping that name.
Have any DL men from your hometown — who you talked about on Drag Race as trying to get "in your goodies" — reached out to you since after Season 12 aired?
HNC: Oh goodness, yes! And I just don't entertain the flirting, because that's just not what I do — especially because I have a partner. But I will say, "Hey, you know, it's 2020. Things are changing. You can come out of the closet...when it's your time. When you feel right, because it's your story." But yeah, I definitely have had one or two reach out.
I wanted to ask, what did you learn most about yourself doing the show?
HNC: How to blend better! No, I'm joking. I'm joking. The thing I've learned the most was that confidence is key. I feel like I went into a competition thinking I knew what confidence was and when I got the show and saw what all the girls had brought, that confidence hit the floor. And if you have true confidence, it's harder to be flustered, even by looking at someone's garment. So I definitely learned and took from the show how to really be confident in myself.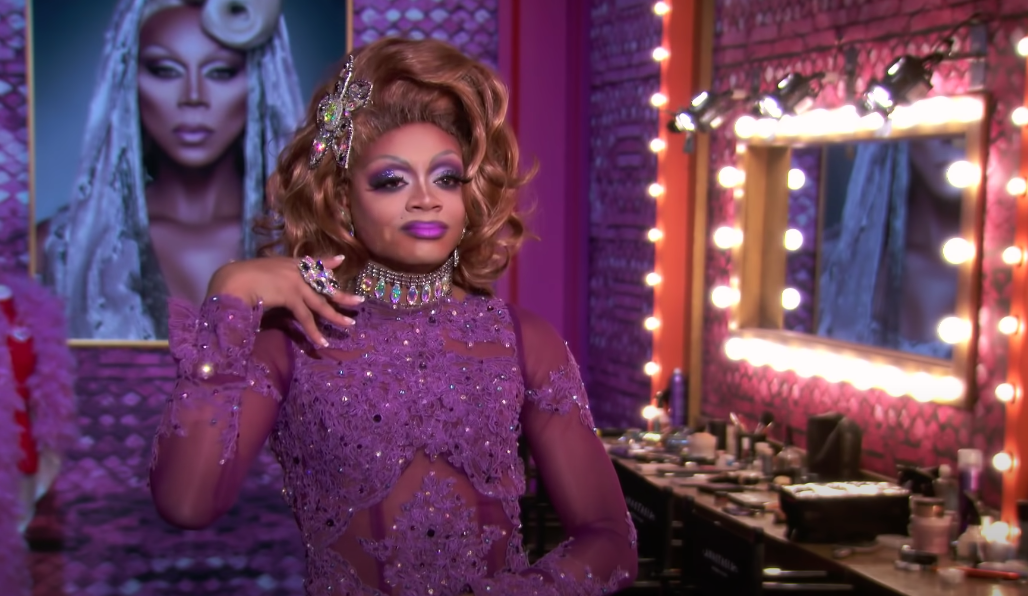 What's next for Heidi?
Oh, goodness. Well first, I have a couple side projects in the works already, so just be on the lookout for those. But also I want to really venture out into more TV things. I want to see my face on TV [laughs]. I think I make good TV, and I would enjoy doing it and acting and all those things. I want to it test out, so hopefully you'll be seeing me again on TV or in a movie.
Alright this is the final question that I have to ask, because everyone wants to know: Would you be up to doing All Stars 6?
It really depends on when it would be, because, you know, we've been locked in the house and I haven't had much time to really get things together or get the coins together. It depends on when they want to do it, really. But if it were to be maybe sometime next year that they want to do it, then maybe. Now if they want to do it sometime this year, probably not. I want to travel, I want to get out there and meet people, make connections, get that money together. So when I do go back, if they ever asked, I can really show the glow-up. It depends on when it is, I guess.
But you are up to returning to the Werk Room?
Oh for sure! If they ever ask, I will definitely be making a return. They've got to ask first, but I will be there if they do!