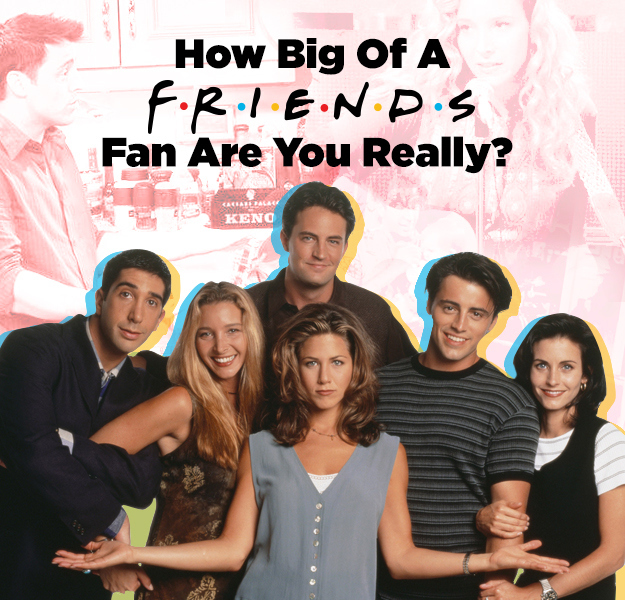 Janice reveals she married Gary (also known as The Mattress King) during Season 2, in the episode "The One Where Heckles Dies."

Monica got a hickey from a member of which band?

After going to see them in concert, along with Chandler and Ross, Monica reveals that her hickey is "...the work of a Blowfish."

What was the name of Chandler and Ross' band in college?

NBC

They rocked the Asian Student Union with their song "Emotional Knapsack."

NBC

Which iconic character does Rachel dress as in order to fulfill Ross' secret sexual fantasy?

NBC

Rachel tries to spice things up by dressing up as slave girl Leia.

NBC

Chandler refuses to celebrate Thanksgiving because it was the day that:

His parents announced their divorce .

Chandler was 9 years old when his parents told him about their divorce during Thanksgiving dinner.

Which one of these was NOT a flaw that Ross listed about Rachel?

NBC / Via zdouf.com

He also described her as "too into her looks" and with slightly chubby ankles.

NBC

What was Richard Burke's profession?

NBC

Monica and Richard are reintroduced at a party attended only by ophthalmologists at his apartment.

Via optometriccafe.com

Which '80s music icon guest starred as a professional singer who replaces Phoebe at Central Perk?

She played Stephanie Schiffer in the episode "The One with the Baby on the Bus."

Chandler bought Kathy an expensive first-edition copy of what childhood classic?

Although he bought the book for Kathy, he let Joey give it to her as present.

What is written on the T-shirt that Ross asks Rachel to return to him after their breakup?

NBC

Although he hadn't worn the shirt since he was 15.

NBC

What was the name of the short-lived TV show that Joey starred in?

NBC

The show was about a detective, Mac, and his robot partner C.H.E.E.S.E. (which stood for Computerized Humanoid Electronically Enhanced Secret Enforcer).

NBC

Ross was put on an indefinite leave of absence from his job after he screamed at his boss for doing what to him?

NBC

He did not take it well as the sandwich was, according to him, "the only good thing going on in my life."
Looks like there are no comments yet.
Be the first to comment!