Drew Barrymore Got Dragged On Instagram, But She Decided Not To Let It Get Her Down
"...You know what women do when they get hurt???? They pick themselves up!"
OK, so you probably don't need any introduction to who Drew Barrymore is.
And if you're one of her 7.8 million followers on Instagram, then you know that Drew keeps her posts pretty real.
Well, last week, Drew posted a photo of herself holding a live starfish to promote her new lipstick color from her beauty line, Flower Beauty.
Unfortunately, people on Insta were not happy with her holding the starfish and began attacking her in the comments. And while lots of people came to her defense, it was clear that it was all just really ugly.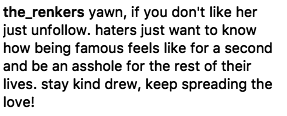 While Drew wasn't immune to the hateful comments, she was able to not let the haters get to her by simply treating herself to some self-care. And, also, reminding everyone in her caption that we all should be nicer to each other.
I think we can all agree with Drew that these are some words to live by: "Pretty is on the inside. But a little love on the outside never hurts."