Bob The Drag Queen Spills The Coffee On All Things "RuPaul's Drag Race"
Bob likes her coffee sweet and her wigs to have a moment!
It's been five years since Bob the Drag Queen first sashayed into our lives — purse first — as the winner of RuPaul's Drag Race Season 8. And since her legendary run on the show (I mean, her portrayal of Uzo Aduba and Carol Channing in "Snatch Game" alone is the stuff of legends), Bob has become the co-host of the wildly successful podcast Sibling Rivalry (alongside her BFF Monét X Change), starred in two comedy specials, hosted The Pit Stop, and co-starred on HBO's critically acclaimed series We're Here.
Recently, Bob teamed up with International Delight for their Room to Party campaign, which hopes to inspire people to turn routine moments into celebrations of their truest selves. And a few weeks ago, we caught up with Bob (right before the Season 13 Drag Race finale) to talk about everything from the campaign to whether or not she would participate in the long-rumored All-Winners All Stars.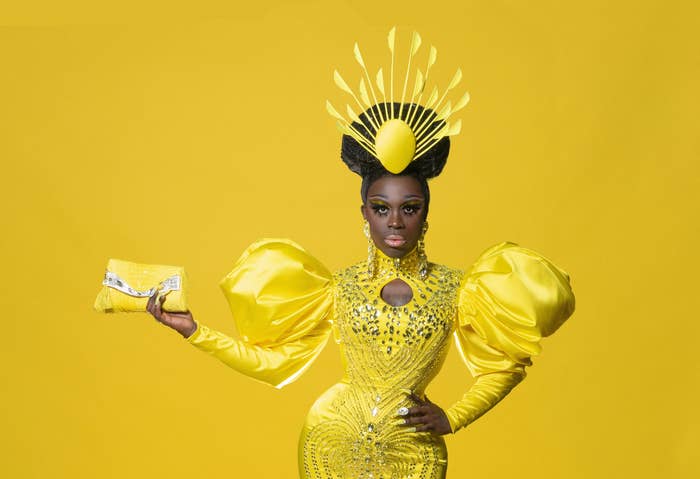 Alright, Bob, I have to ask the now go-to standard question: How's the last year been treating you?
Bob the Drag Queen: You know, it's been the — and I don't think this is unique to me — the craziest year of my life. This year has been wild. It's been emotionally draining. It's been emotionally exhilarating. It's been vindicating, while somehow being the opposite, you know? I mean, there's been a lot going on this year. But, I'm in a pretty good place right now.
And has that helped your creativity? Or has it made you have highs and lows in terms of how you think creatively?
BTDQ: Well, in terms of my creativity, I've been lucky enough that I've been able to express myself creatively throughout this entire pandemic. And that's one of the reasons I'm actually very excited to be partnering up with International Delight right now, to talk to people about inspiring them to express themselves creatively. For example, today I did my look, which is inspired by the Caramel Macchiato creamer bottle, and I'm hoping that maybe — you know, in the midst of all the madness going on right now — we can still create and be and inspire.
So I take it that coffee is your sort of go-to comfort thing to drink?
BTDQ: This is recent! This is very recently. This happened once I moved to LA — it's kind of like a lifestyle moment for me. It started with getting coffee for my partner, who drinks coffee every morning — they're one of those folks that can't function without their coffee.
I drink coffee for the taste, because if I want energy I'll just chug a Red Bull or something. I actually really love the taste of a very sugary coffee; I'm one of those folks who is like, "I would like a little coffee with my creamer."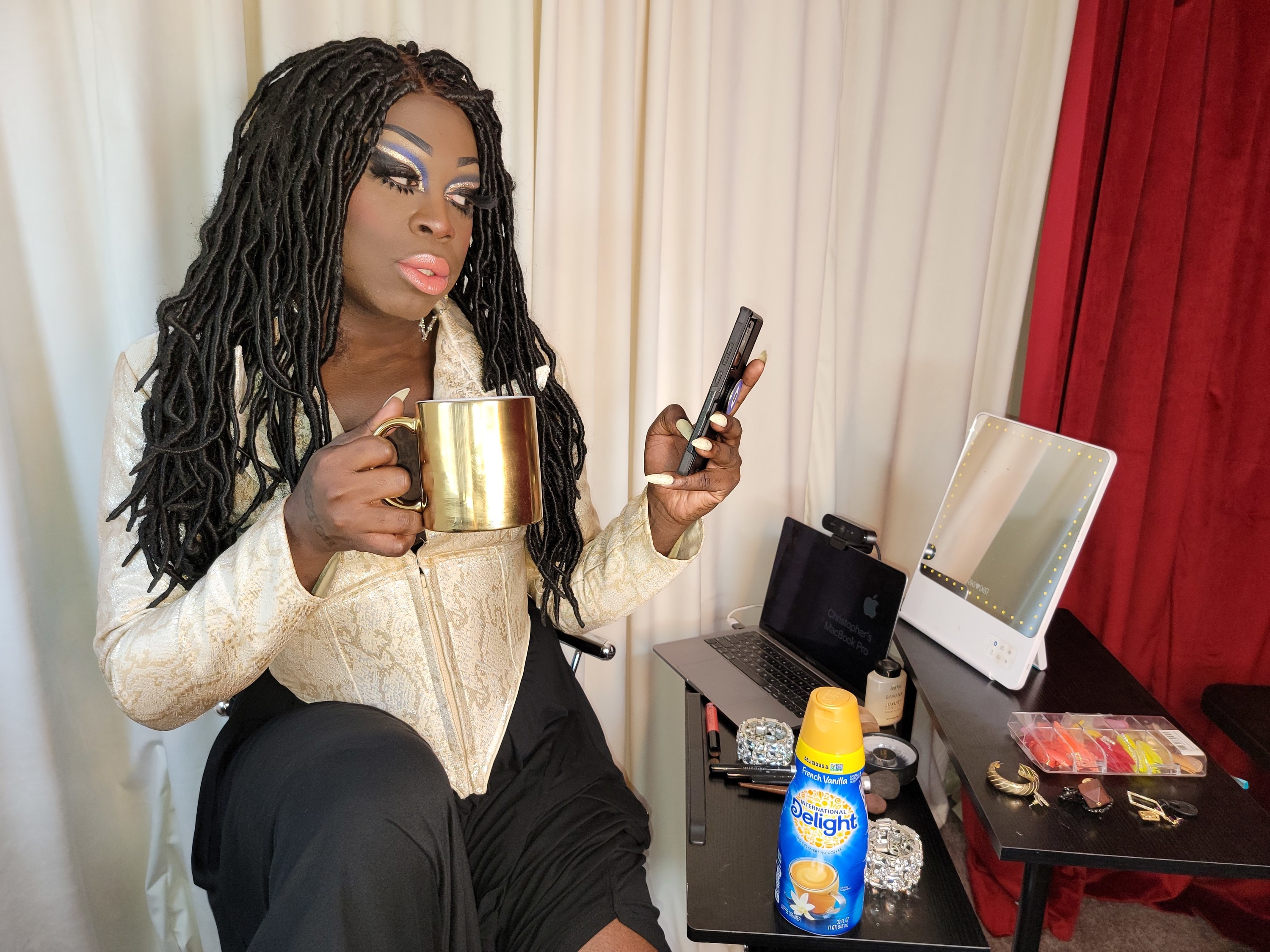 How has your daily routine changed since you started quarantine?
BTDQ: Well, it's really more about how it's changed since I moved. For one, I now actually wake up in the morning, because I'm not working late nights like I used to. So I actually really am a morning person now. I wake up, and I start my day pretty early, early — well, early for me. But, not like 4 a.m., usually somewhere between 7–9 a.m. That is a very early wake-up for Bob the Drag Queen. Then I usually go and get my partner some coffee. And now I'm adding myself to that mix as well. He drinks his coffee black. I like to, you know, add a little bit of my expression into my coffee — I was really doing French Vanilla for a minute, but I realized that the International Delight Caramel Macchiato: She's the girl for me.
I was actually interested in finding out what's going on with the upcoming second season of We're Here?
BTDQ: So we started filming a little bit, but then, for safety reasons, we shut down production and took about a four-month break. We're finally going to be getting back on the road again very soon. We're taking all the necessary protocol and precautions to make sure that we're safe, as well as the towns we go to and the people that we're filming with. So I'm very excited. I'm so excited about the representation we're gonna be bringing to the screen; I'm excited about the stories we're gonna be telling; I'm excited about the people who will get to see themselves represented onscreen — some people, maybe, for the first time ever.
You and Monét X Change postponed your Sibling Rivalry summer tour last year. What is the current status of the tour?
BTDQ: As of right now, we are still waiting...we're waiting on the world, basically. We don't know because every state is not open; some places have higher numbers than other places. We're still waiting to see what's going to happen with these venues too. Some of the venues that we looked at are no longer open. A few of them have closed because of COVID. It's been really wild.
The Sibling Rivalry tour will be back on with dates announced and everything. So everyone just hang out. Sit tight. Listen to the podcast. We'll be back on the road, we promise — that is a promise. And if you want your Sibling Rivalry fix, you can also go on our Patreon too. I am very, very proud of our Patreon; it has really grown a lot during quarantine. And if you want to have a lot of fun with me and Monét, our Patreon has a lot of great stuff on it.
And actually, you and Monét were the first Ru queens to launch a podcast. How does it feel to be trailblazers in that, especially now when every Ru girl is launching their own podcast?
BTDQ: Well to be fair, after Michelle and RuPaul, they did have What's the Tee? before us. But that podcast is now dissolved. I've always loved podcasts; whenever I do my makeup, I actually don't listen to music — I actually listen to podcasts (unless I'm in a group). For years and years, whenever I got ready all by myself, I would just turn on a podcast to do my makeup. I listen to This American Life, Serial, S-Town, Feast of Fun. I listened to What's the Tee? And that has really helped me throughout my entire drag career — podcasts have been a mainstay in my life as a drag artist.
So I wanted to ask you something. And I know there might be an NDA. There might be stuff we can't talk about. But what is the current plans for your Drag Race UK, Season 2, Purse First Impressions wig? Is it still going to Jaymes Mansfield? Is it coming back for Purse First Impressions Down Under? What's the status? People want to know!
BTDQ: [Laughs] Okay, the wig did make me sign an NDA. She has very good lawyers! I don't know if you know this or not, but the wig has an ironclad NDA that you don't want to break.
I'm so intrigued by how this wig has become a whole moment. I will give you a little bit of tea that I have not told anyone. You're the only person that I told this. Me and my team are working on a little mini-documentary about the wig. We're going to be interviewing people about their feelings about the wig, when they first saw the wig, and how the wig has affected their lives. We'll be releasing that on my YouTube page, hopefully in the next couple of months. So keep your eyes and ears open for Busted, my documentary about my wig.
Speaking of the wig, did you feel justified when you saw Symone wearing the exact same wig during the pocket runway challenge?
BTDQ: I just want say, I walked so she could run. [Laughs]
I have to ask about Season 13, obviously. It is the longest RuPaul's Drag Race season in the show's history.
BTDQ: And I'm on the shortest season. My season [Season 8] had nine episodes. By the time they were at a top six, I had already won Drag Race.
Do you like it having a long season? It being this long has created a debate right now between the fans.
BTDQ: Well, typically whenever I'm talking about how long it is, I'm joking, and I love Drag Race. I do not love the episodes where no one goes home. I do not like that. I will be honest. I would like to see someone's great dreams be crushed, please. I need that for me to feel resolve at the end of an episode. But Drag Race is my favorite TV show, so I'm always happy to see more and more.
And who are you hoping to see win this season?
BTDQ: I am Team Symone. I'm Team Symone with a side of Gottmik...but like a heaping portion of Gottmik, not like a little bit, like a lot of it.
I think this is one of those seasons where, between Symone and Gottmik, I think everyone would be happy if it was a double win.
BTDQ: This is the one! No shade to Monét and Trinity [The Tuck]. This double win would make a lot more sense. Don't you agree?
I 100% agree. I love both of them so much. They're both super talented, and it's really hard to not root for either of them. I did want to ask you one final question Drag Race-related. There's a lot of fan speculation about there being a winners-only All Stars edition of Drag Race. So the obvious question is: Would you participate in that? And if you did, who would you see as your biggest competition?
BTDQ: So I may be a big contributor to this rumor, because I did a season of The Pit Stop for All Stars where I only had winners on, and I asked all the winners would they compete on an all-winner season — and I keep calling it Drag Race Superstars. So I have contributed to this narrative — I can acknowledge that. If there was an all-winners season, I would compete on it because I just love drag and I love competing. Of course, schedule permitting. And I think that my biggest competition would probably be Jinkx Monsoon. She's really a brilliant performer, she's beautiful, she's talented, and she's funny.
But what about a lip sync?
BTDQ: I mean, I would beat her in a lip sync. I would beat her in an arm wrestle. I would beat her in a foot race. I would beat her...but she'd be good competition!