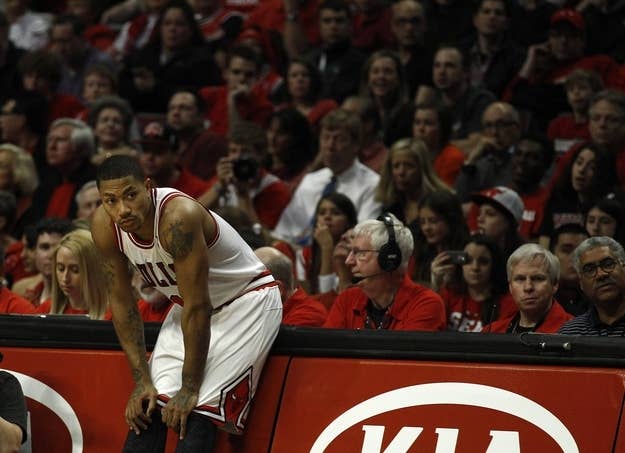 The early stages of Derrick Rose's much-discussed rehabilitation from a torn left ACL called for a steady diet of jump shots. Before his knee was ready for running and jumping, that was the only way for him to play basketball. The upside is that when the Bulls' 24-year-old All-Star point guard does eventually return to play, he'll have a much-improved jump shot and a better three-ball.
At least that's the prevailing assumption among many observers, from color commentators to Rose's Bulls teammate Rip Hamilton to former NBA star Tim Hardaway, who tore his ACL in 1993. At around the time that Rose's trainer cleared him to begin shooting last summer, Hardaway spoke to the Chicago Sun-Times:
He can only do three things. He can dribble — not run and dribble, just dribble walking up and down the court; he can shoot a bunch of free throws; and he can shoot a bunch of set shots like he's playing H-O-R-S-E every day, all day... If you shoot 1,000 jump shots a day, 1,000 free throws a day, you're going to get better.
Hardaway's three-point percentage improved from .334 in the two seasons before his injury to .378 his first year back. Rip Hamilton told the Sun-Times he expects a similar jump for Rose. And the Bulls point guard is only the latest in a long line of incapacitated ballers said to be honing their shooting aim while laid up. When Ricky Rubio, for example, returned from an injury similar to Rose's, the Minnesota Star-Tribune noted he'd "worked on his shooting touch for many of those nine months away when he could do little other than rehabilitation with that surgically repaired left knee."
But there isn't a lot of material out there documenting improved post-ACL jump shots after the fact, and Hardaway's improvement was fairly modest. Is the ACL Rehab Jumper Effect a real phenomenon, or just spin and optimistic coach-speak? I took a look at that question with help from Basketball Reference's bottomless well of statistics and an assist from Basketball Prospectus writer Dan Feldman.
We used Basketball Reference's definition of a jumper as any shot taken when a player jumps and releases the ball mid-air — basically any attempt, short or long, that's not a tip, hook, lay-up, or dunk. Of the roughly 35 players who have suffered ACL tears since the start of the 2000–2001 season, 15 qualified for consideration (for this study) by virtue of having played at least 600 minutes in the season prior to injury and 600-plus minutes in one of two seasons following the year the injury occurred. The rest didn't play enough for their numbers to have much meaning.
Here's how they fared.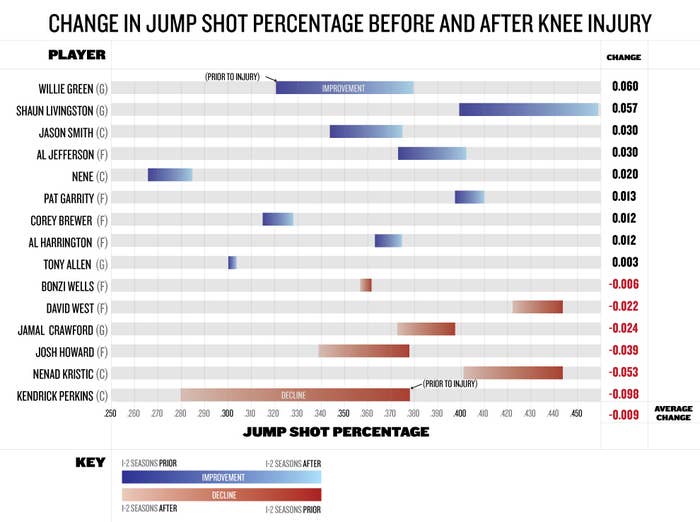 The results don't necessarily disprove the idea that jumpers get better during rehab, but they certainly don't make a strong case that it's a real phenomenon. Four players — Willie Green, Shaun Livingston, Jason Smith, and Al Jefferson — did see the kind of improvement in accuracy that might stand out to someone scanning their career stats. But three others — Josh Howard, Nenad Kristic, and Kendrick Perkins — showed equally noticeable declines, while the rest clustered in a fairly negligible range of minor changes. Individually, results showed no apparent rhyme or reason — wing players, for example, don't seem to do any better or worse than big men. David West, a player whose mid-range jump shooting is a key part of his game, got worse, while Al Jefferson, a forward with a similar style, got better. On the whole, the average post-ACL jumper in our sample was a tiny bit less likely to go in than a pre-tear shot.
Does that mean Tim Hardaway was wrong? Not necessarily, Feldman says: "Maybe Tim Hardaway was very smart about his recovery and said, 'This is what I could do, this is what I'm going to focus on.'" Hardaway also recovered nearly 20 years ago, when doctors were far less aggressive with rehabilitation and treatments were less developed. His recovery took 18 months; these days, players can return to full-fledged competition in as few as six. Doctors have more confidence in grafts, and players are asked to bear weight sooner. Maybe there's not enough recovery time these days to effect a lasting change to one's jumper.
Ricky Rubio returned nine months after his own injury, and early returns don't suggest his touch has improved. Rubio hit an underwhelming 92 of 291 jump shots (.316) during his abbreviated rookie campaign in 2011–2012 — if anyone had room for improvement, it was him — but has been only 26 of 96 (.271) in his return so far. "The big thing for him is the legs, and I'm not sure how good his legs feel," Wolves assistant coach Terry Porter said early into Rubio's return, which is a useful point — improved aim does no good if a player's legs aren't strong enough to provide a solid foundation for his shot as games and seasons wear on.
Whatever the reason, our study didn't turn up any evidence that ACL-related layoffs tend to correspond with improved jump-shooting accuracy. That said, 15 players isn't a huge sample. There's no reason for Bulls fans to despair, but anyone hoping that Rose will return as a faster version of Steve Kerr is likely to disappointed.