Everything You Need To Know About The "Controversial" Japanese Politician Who Brought Her Son To Work
The Kumamoto Prefecture assembly waited 40 minutes before Japanese politician Yuka Ogata left the chamber with her son.
by
,
,
A local politician's decision to take her seven-month-old son to a city council meeting in Japan's Kumamoto Prefecture has sparked a nationwide discussion on the rights of parents in professional settings.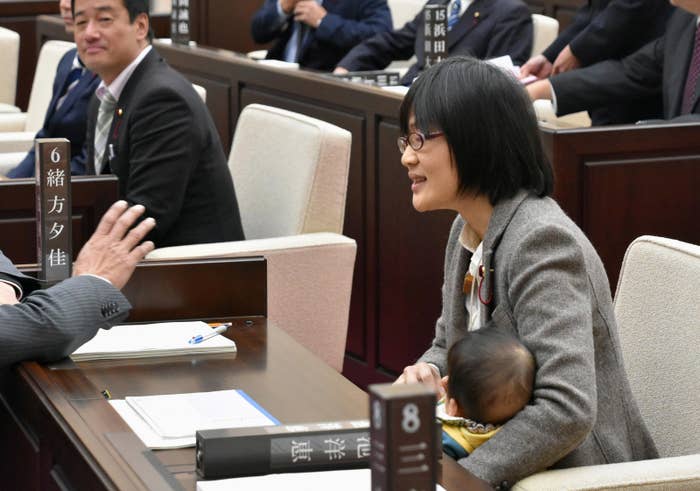 Yuka Ogata, a Kumamoto Muni assembly member, attended a meeting last Wednesday and brought along her seven-month-old son.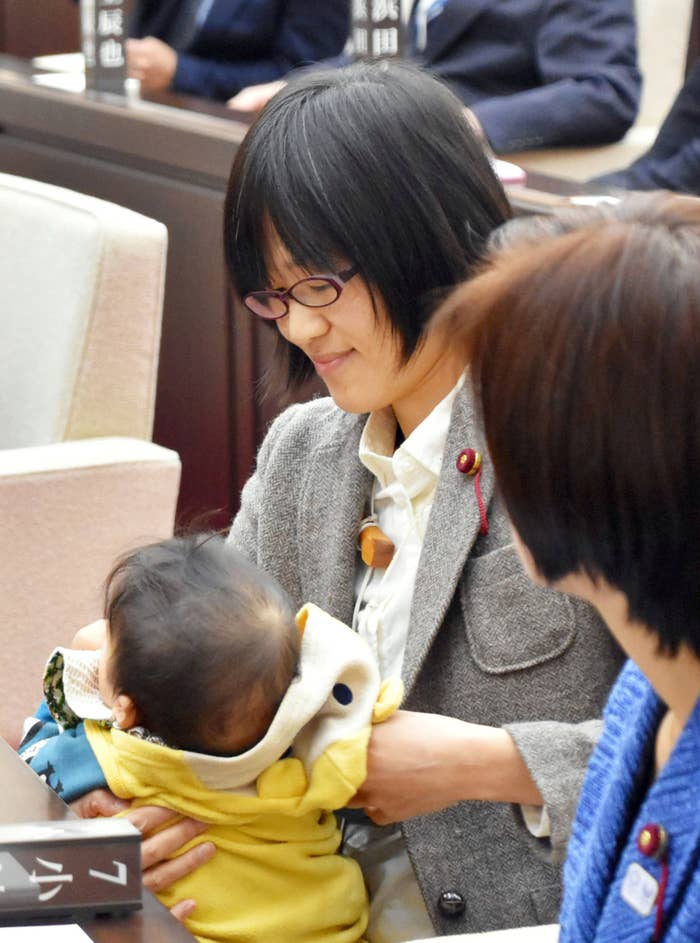 From the time Ogata first learned she was pregnant in 2016 she had requested the assembly allow her to bring her child onto the floor, and create a day care centre in the assembly building. In return she was told to "hire a babysitter".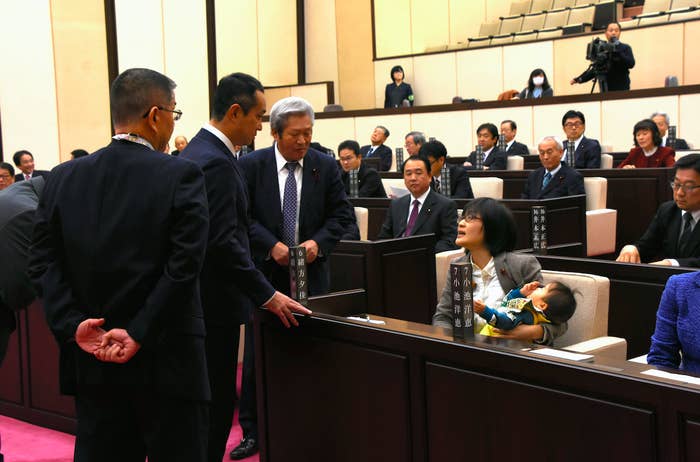 The controversial moment made headlines in Japan and prompted a social media movement encouraging parents to bring their children to work. Japanese citizens started tweeting out their support for Ogata with the hashtag "#子連れ会議OK" (It's OK to bring children to meetings).
"Our church has a kids room on the second floor. To parents with children, please don't worry and come visit us."
Japanese movie director Kazuaki Kiriya spurred on the movement, tweeting out that anyone who works with him could feel free to bring their children to meetings, interviews, and shoots: "I don't mind at all, so feel free to bring them with you."
Kiriya was joined by Japanese writer Hirotada Ototake and prominent manga artist Yukari Takinami. "This is not about fearing that the idea of something like allowing children at meetings will become uncontrollable or that society will not be able to maintain itself!" tweeted Takinami. "Instead, I hope the society will be able to think with hopes that 'if it's something that will clearly not harm anyone or make anyone miserable, then let's try it. We'll certainly learn something by giving it a try'."
And Hiroki Komazaki, the director of Japanese non-profit Florence – which provides day care centres for working mothers and for children with disabilities– defended Ogata by comparing her actions to American civil rights activist Rosa Parks. Komazaki told BuzzFeed that a Japanese social movement would not spread without people such as Ogata pushing the boundaries.
"Just like how Ms. Rosa's defiance shone a light on structure of discrimination against black people," Komazaki said. "There's a necessity to shine a light on an oppression that is considered a matter of course, and say 'well, actually that might be wrong'."
However, some criticised Ogata for bringing her child to work, claiming it was an "inappropriate" performance that created a scene.
Some even countered the #子連れ会議OK hashtag movement, starting their own: "#子連れ会議NG" (It's not good to bring children to meetings).
The Kumamoto Municipal chamber chairman will carry a decision this week about Ogata's penalty for delaying the assembly last Wednesday.