A now-deleted Facebook post that went viral over the weekend has left many questioning how Woolworths stores its meat products.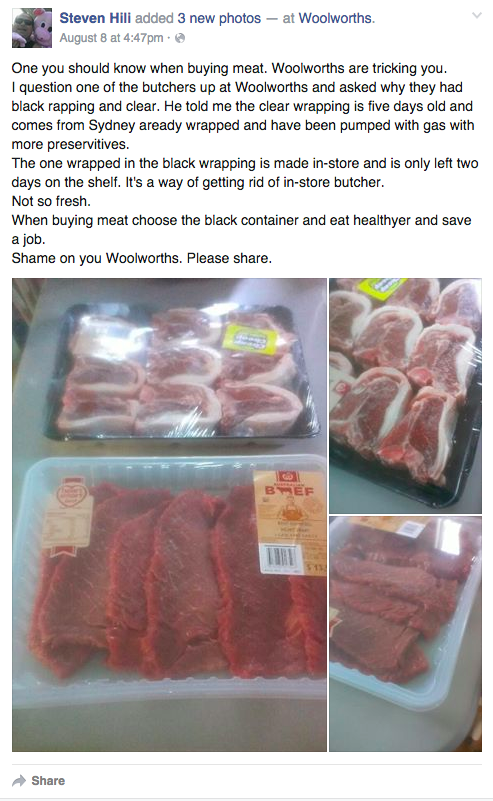 In the post, Steven Hili argues that he had been told by a butcher working at Woolworths that meat wrapped with black wrapping was made in store, and was only left on the shelf for two days. The white packaging, he alleges, is used on meat that is five days old - arriving from Sydney already wrapped and "pumped with gas with more preservatives".
At Woolworths we are committed to providing the freshest food possible for our customers.The clear packaging that we use for case ready items is tamper proof, non-leaking and allows customers to see the quality of the meat. This form of packaging is used worldwide and has been in retail supermarkets for many years.As part of our commitment to provide the best level of service for our customers, Woolworths is currently in the process of launching specialised meat serveries in selected stores throughout Australia. This will mean our qualified butchers will be on hand to cut meat specifically to suit the customers' preference and give advice on preparation and cooking.
When pushed further on whether the claims made by Mr. Hili were true, a Woolworths spokesperson said he "hadn't been provided with further details... apart from the information we have put on record."
BuzzFeed News has reached out to Steven Hili for comment.