A woman from Penrith, NSW, says she was having her hair blow dried over the weekend when she realised she had forgotten her wallet.
"I had $15 tucked in a zipper of my bag but no wallet so no cards or cash," Kerrie Davies wrote on Facebook. "Mortified, I explain the situation. Hairdresser tells me I have to get someone to bring the $15 and I'm not to leave the store," Kerrie Davies wrote in a Facebook post that has since been shared more than 20,000 times.
The hairdresser ended up refusing to allow Kerrie to leave, and wouldn't let her transfer the store money from her phone, or leave her belongings as collateral so she could go home and get her wallet.

Eventually, security was called by the hairdresser's manager, and Kerrie claims she was told that she would need to get her partner to catch a cab and bring her wallet to the hairdressers.

"I ring Greg, by this time everyone is looking at me so I'm in tears," she wrote. "He'll have to call a cab and bring my wallet. Security guard arrives and rude manager is barking 'she's not leaving here' over the top of me while I'm trying to explain the situation to the security guard."
"He looks at the manager as if she has three heads, reaches into his wallet and pulls out $15, gives it to her and says to me 'just drop it in to [the] concierge when you can. Sorry, I can see how embarrassed you are."
Kerrie wrote about her ordeal at the hairdressers that evening, and people began rapidly sharing it. So far, the post has 21,000 shares and thousands of angry comments from people who are calling for the hairdresser to be shut down.

The hairdresser has now been inundated with bad reviews on Facebook and Google.




People are even re-posting Kerrie's Facebook post in the Google reviews en masse.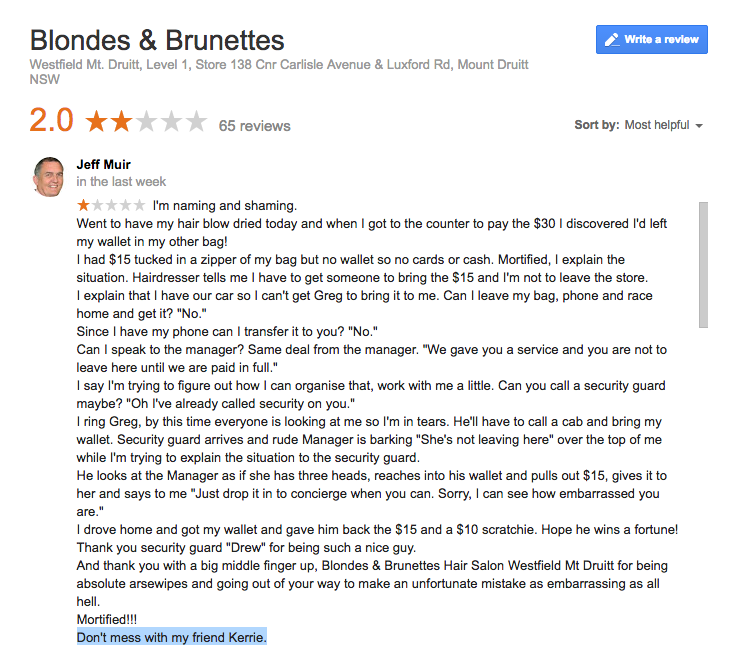 Blondes and Brunettes has deleted its Mt. Druitt branch Facebook page, however the official Blondes and Brunettes business page has also been filled with negative reviews and comments.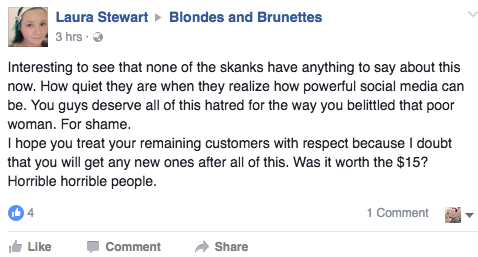 In a subsequent post, Kerrie said she had been called by the owner of Blondes & Brunettes and received an apology. Drew the security guard has also received plenty of plaudits for lending Kerrie the $15, and everyone's hoping the scratchie Kerrie bought him wins him a million.

BuzzFeed News has contacted both Kerrie Davies and Blondes & Brunettes for comment.