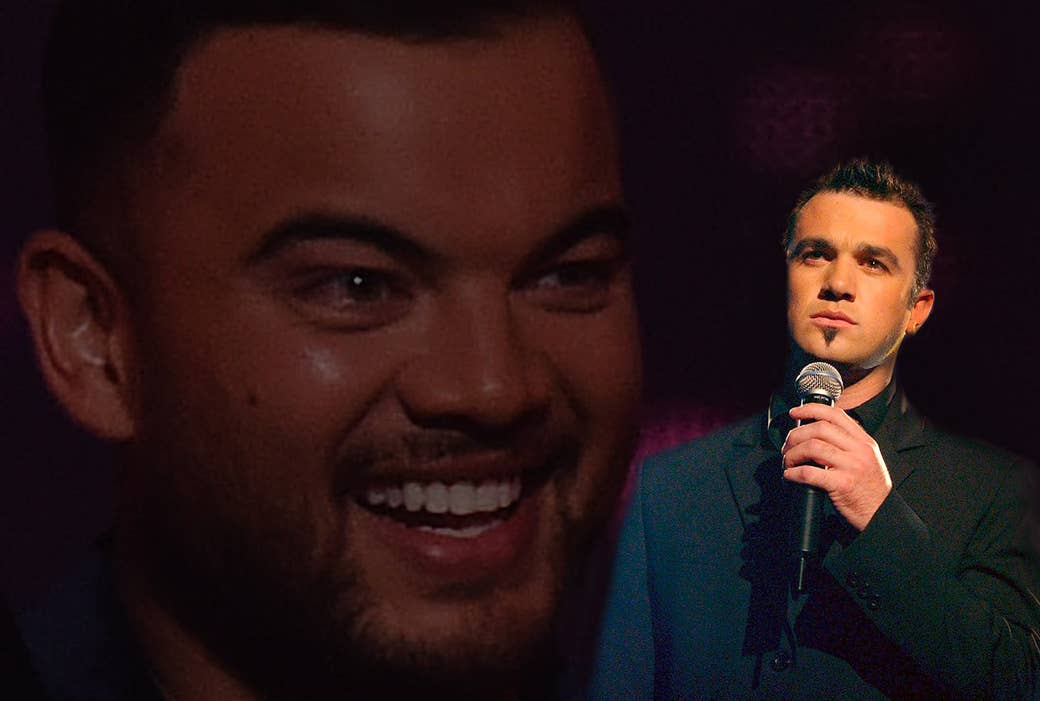 Shannon Noll: one time Australian Idol runner-up, has had a bit of a resurgence lately.
The farmer-turned-musician has stared deep into the eyes of celebrity and also watched as it faded away - but now his career has bounced back from obscurity - thanks in no small part to the dark, meme-filled caverns of the internet. A few hit songs rounded out his briefly chart-topping career in the mid 2000s, before his image slipped away into relative obscurity, stewing there alongside Joel Turner, Casey Donovan, and Anthony Callea.
Noll had more hits in his first year than the man who beat him in the inaugural Australian Idol final, Guy Sebastian. In fact, the formative years of both their careers gave great credence to the views of many of the Australian public - that Noll should have been the winner of Australian Idol. But something never quite clicked for the True Blue Aussie Bloke from the outback town of Condobolin. Despite being the only Australian male artist in chart history to have 10 consecutive top 10 singles, Shannon was always on the periphery, allowed to gaze into Australia's popular music scene only fleetingly. He never quite got an invite to the party.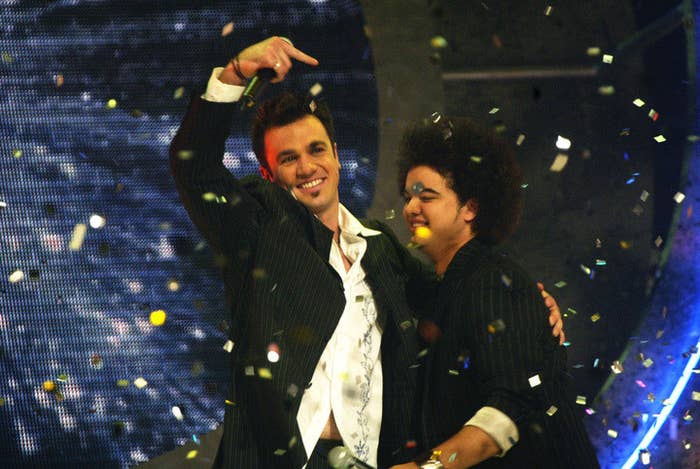 Despite Noll's critical success, his career eventually came to rest at the foot of a hill it couldn't ever seem to climb.
"What About Me" debuted at number one and spent four consecutive weeks there. His debut album, That's What I'm Talking About, also debuted at number one and sold 131,680 copies in the first week alone. It went on to be five times platinum. He had a TV special, hosted by the notoriously blunt Idol judge Ian "Dicko" Dickson in 2004, and his albums Lift (2005) and Turn It Up (2007) were also commercially successful. He sang songs written by Bryan Adams, and worked with Bon Jovi guitarist Richie Sambora, but outside of the few die-hard followers he established when he first appeared on Idol, the Australian public never truly adopted him as their own. Noll's star had faded so much in recent years that a Tumblr user uploaded a photo of the Idol runner-up, allegedly singing at a "compulsory lunchtime concert" for a school group that was "confused and angry at being forced to attend."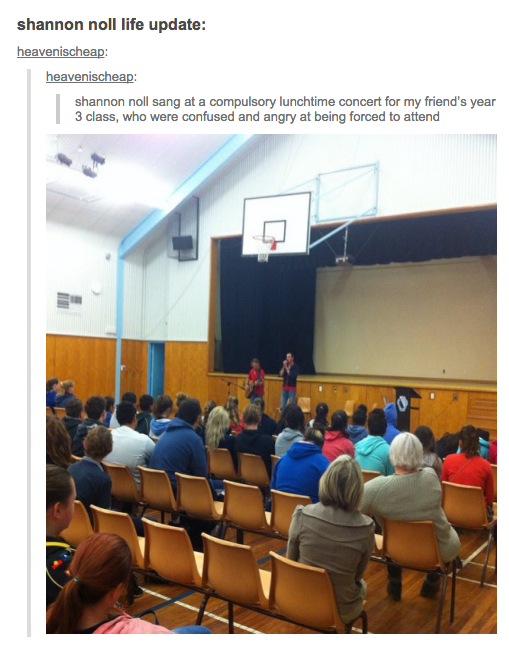 Even when Noll managed to get high profile gigs - like performing at the 2015 State of Origin - he was unable to escape the Australian public's view of him as a has-been. His State of Origin performance was widely mocked, with some calling it "cringeworthy." Shannon Noll had just become someone who was famous and an artist Australia once loved, but now he wasn't even considered good enough for school-time assemblies, let alone massive footy halftime shows.

In 2010, Noll dropped his record company, Sony, and signed with Universal Music Australia. The album that followed, A Million Suns, produced four singles, one of which was "Switch Me On," a song he co-wrote with Good Charlotte's Benji Madden. The song reached number 42 on the charts. His three other singles; "Living in Stereo," "Rewind," and "My Place in Line" didn't make the charts at all. Later, it was announced he would be appearing on Dancing With The Stars, alongside other low-level celebrities like AFL player Brendan Fevola and Miss Universe Australia 2006, Erin McNaught. Noll had to withdraw from the competition after suffering a severe spinal injury while rehearsing.

This whole time, Noll had been something of a punchline for much of Australia, especially on social media.
It goes all the way back to Idol '03 - before Facebook was even a thing. With his debut song, "What About Me," Noll topped the charts thanks to a song that many saw as a pot-shot at Channel 10 and Guy Sebastian, moreso than because of its catchy chorus. Of course, that isn't true. Noll sang the song because it was given to him by the people behind every winner's first single. But that didn't phase the Australian public. And just as Noll was becoming a star, social media was becoming a powerful tool to give punters an insight into the lives of their favourite stars.

Shannon Noll treats his professional Facebook page the same way a grandma would manage her personal page. He loves updating his growing fan base on life in the country, as well as posting pictures from the odd performance at an RSL or pub. This all despite the fact he has 17 platinum accreditations. Seventeen. We hear his voice each year, blaring from our TV screens in the opening credits of The Biggest Loser. Noll screams "YOU GOTTA LIFT" at us through as competitors on the weight loss reality show run through tyres and sweat blood. Noll even got a job as the spokesperson for Radio Rentals, an Australian electronics chain. That was Noll's role in the Australian media for quite a while - the once-popular star spruiking cheap whitegoods. And then it all kinda turned upside down.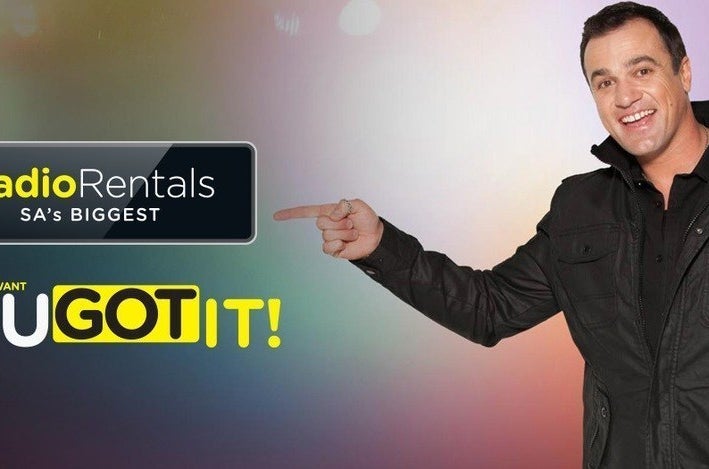 With social media, Shannon Noll was inadvertently thrown into the spotlight.
When Facebook took off in 2008, making joke fan pages and groups on the platform was big. It became a joke in itself. Everyone was making pages, sharing them, and watching them grow with varying degrees of success. People would make pages about their friends with jokes only a dozen others would understand. And in 2013, Shannon Noll became a key target. His clichéd Facebook presence became more than an ultra-personal insight into his life; it was an opportunity for people to make fun, and somewhere along the way, Noll became an ironic star.
Noll's new persona wasn't restricted to social media, it bled into the real world as well. Companies began jumping on the opportunity to monetise the meme and started creating things like "Nollsy Wall Hangings" - all yours for $19.95.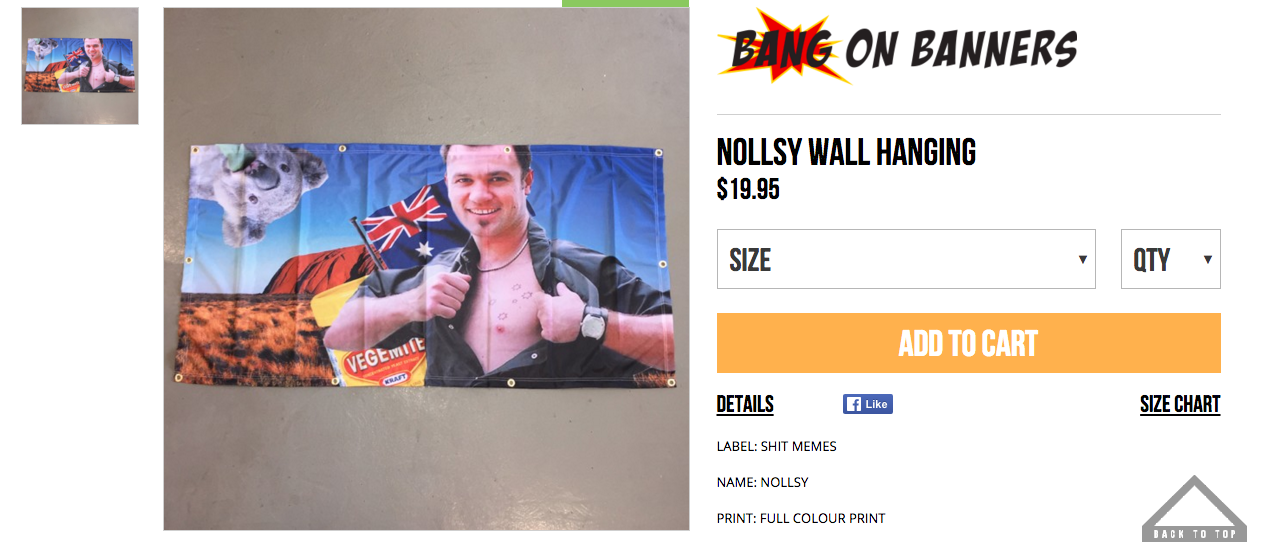 In 2015, people saw Noll's personal life as fair game: his "awesome!" visit to the zoo, his performance with the "newly re-united" Cold Chisel (2009), or the fish tacos he made. It was all perfect cannon fodder for the internet.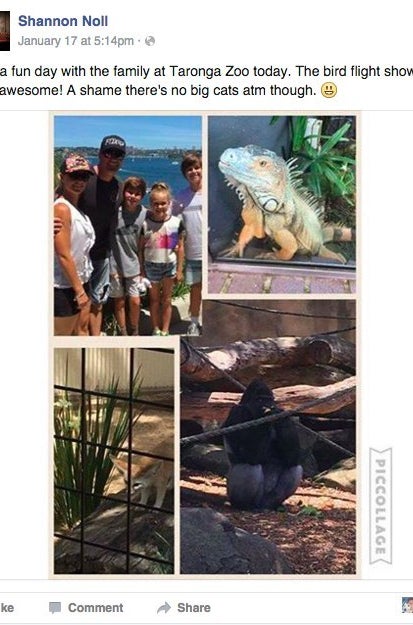 It's not clear if his transition into more photo-based posts was accidental or managed by a very good social media manager, but it doesn't really matter. The train had left the station, and Noll was on board, crackin' a whip and waving goodbye to the other members of the "Not Quite Good Enough, Even For Idol" club.

As his social media persona took off, Noll's image shifted. People were still mocking him, but now they were also listening to his music.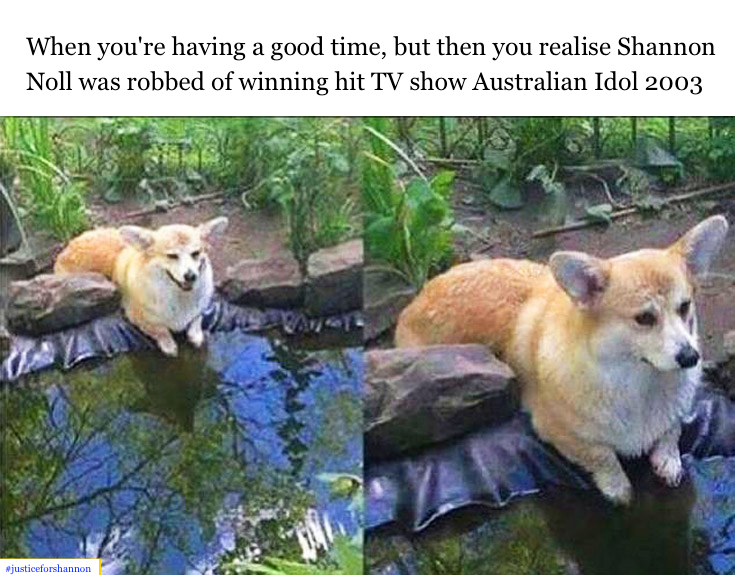 Every photo Noll uploaded to his Facebook was quickly turned around with a witty caption on a variety of Facebook pages. "Shannon Noll Was Robbed Of Winning Hit TV Show Australian Idol 2003", a page designed to mock the conspiracy theorists who prophesied a different world with Noll as the winner of '03's Idol became so large, and was shared so much, that the originally contemptuous product of the page had become a sort of semi-ironic Noll tribute.
The admin of the Shannon Noll Was Robbed Of Winning Hit TV Show Australian Idol 2003 page, who goes only by Nick, told BuzzFeed News he believed Noll appealed to the masses because of his harmless nature.

"Shaz Noll is another true blue, genuine Aussie," he said. "He means no harm [and] isn't a corporate sellout. Who couldn't get behind that?"
Such sentiment is shared by the admin of another prominent Aussie memes page, "Shit Memes," who goes only by the name Dart Sultan.
"He's rough as guts, he's true blue, he's a humble chap and he's got the southern cross tattooed on his chest."
These two Facebook pages seem to be generating the majority of online attention Shannon Noll, however inadvertently it might have first been. Both pages say Noll knows about them, and is generally positive about their content.
"Yeah Nollsy definitely knows about it. 100%," said Dart Sultan. "I think it [the page] would have had an extremely positive affect [on Noll's career.] Although, memes do come and go, and if this has turned him into a fully fledged meme, then it won't be too long before he is forgotten... I hope he digs it."
As more and more people have caught on, Noll's Facebook popularity has continued to grow and improve each week.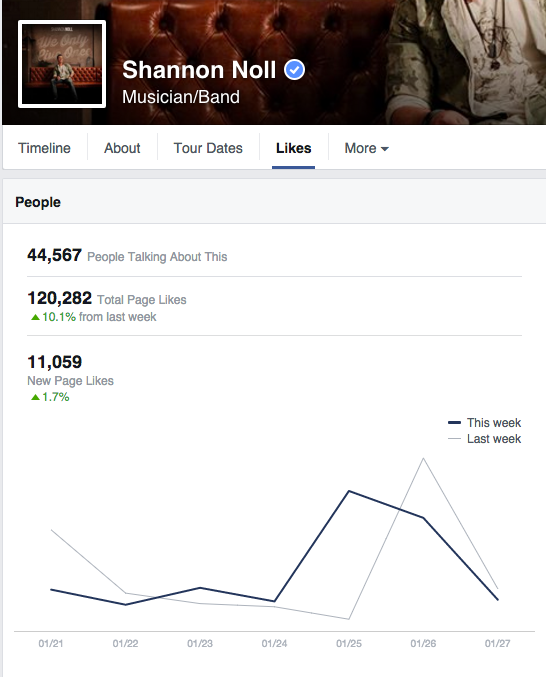 Remixes are spawning online, crossing Noll's songs with Darude's "Sandstorm," and some are even taking it upon themselves to remix entire tracks.
Through Facebook's multiple pages, and a series of memes, Noll's decade-old music was introduced to a new audience that wasn't even socially conscious when he was first on television. The pre-teens of the early '00s had latched onto a figure their parents and siblings had deemed uncool - so naturally, it was cool now. Whether or not they really liked Shannon Noll was besides the point; the internet had picked the topic of discussion, and it was Shannon Fucking Noll.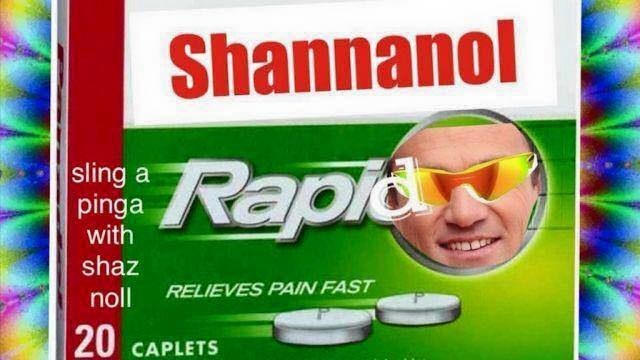 Rapidly, memes began appearing all over social media. Some still had Noll as the victim, a punchline to a joke already made thousands of times. But others were using Noll as the triumphant end to a series of jokes: a signal of success.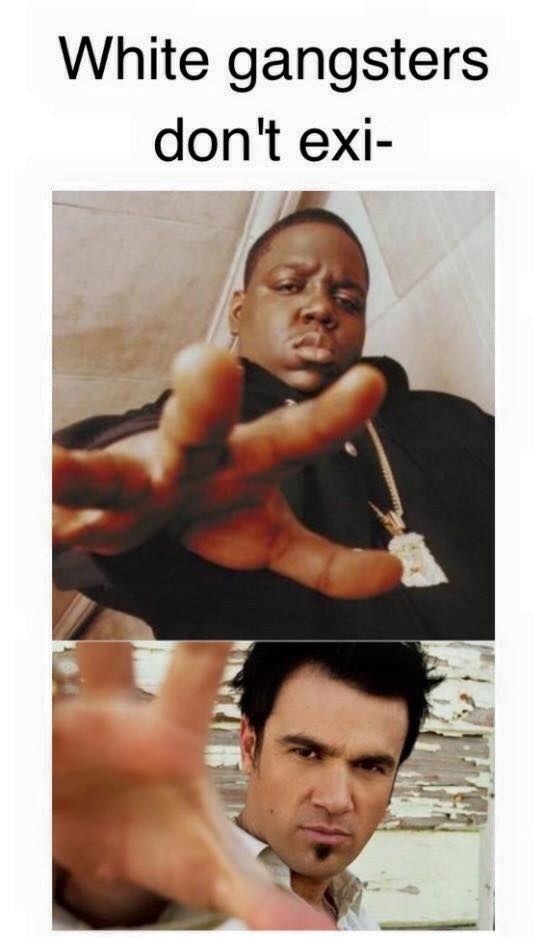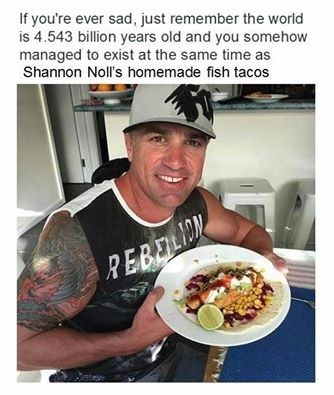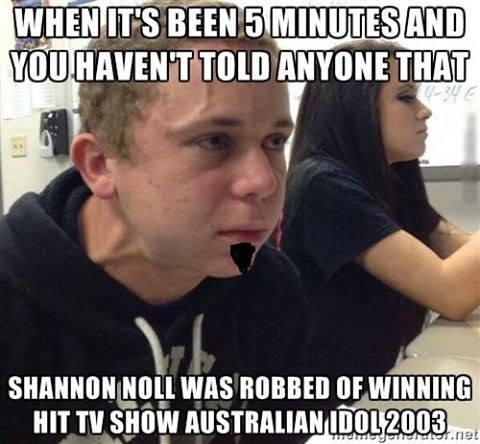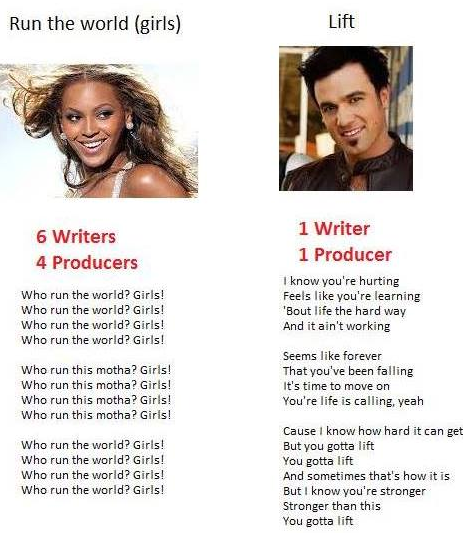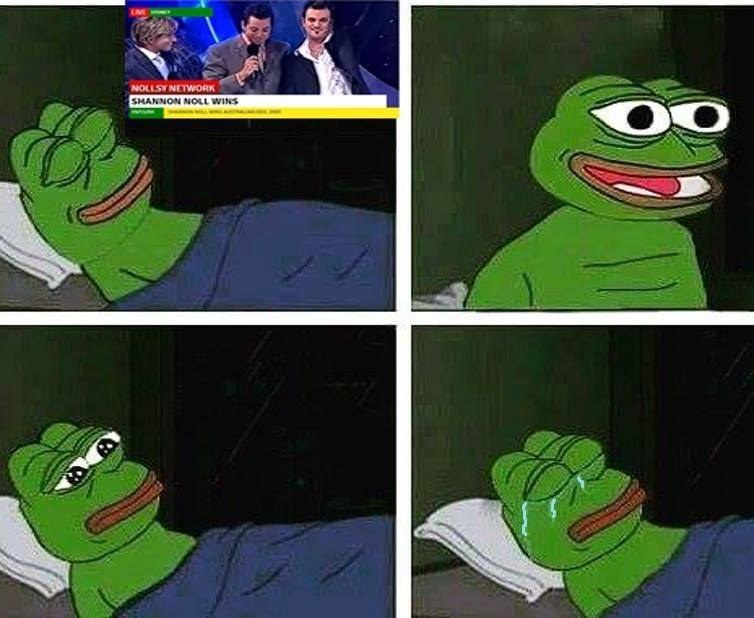 Now, the online love for Noll is bleeding into the real world. There's a petition with almost 6,000 signatures trying to get Shannon Noll a spot on 2016's Groovin' The Moo festival.
Noll fans are beginning to step up to the fiery face of Australia's recording industry, using people-power to overwhelm the decisions of label execs. Quasi-celebrities like Adelaide rapper All Day - who in-between punching cones and rapping about drugs took to his Facebook to show his support for Noll - even offering to fly him to Adelaide so that the pair could cover Guy Sebastian's "Angels Brought Me Here."
A fan even managed to track Noll down and get a video with the singer. In it, Noll confirms his excitement at the petition surrounding his appearance at the festival.
Now Noll faces a make-or-break 2016.
While the Groovin' The Moo lineup that was announced didn't feature Noll, he has publicly addressed the petition designed to get him on the stage. People are remixing his songs. There's Valentine's Day cards designed around his image, for God's sake. All for a joke? Not anymore. His tour sheet might still be littered with the same Golf Clubs and Pubs of yesteryear, but 2016 will be the year Noll finally has a chance to climb back to the top of the mountain - and it's all because of the internet.