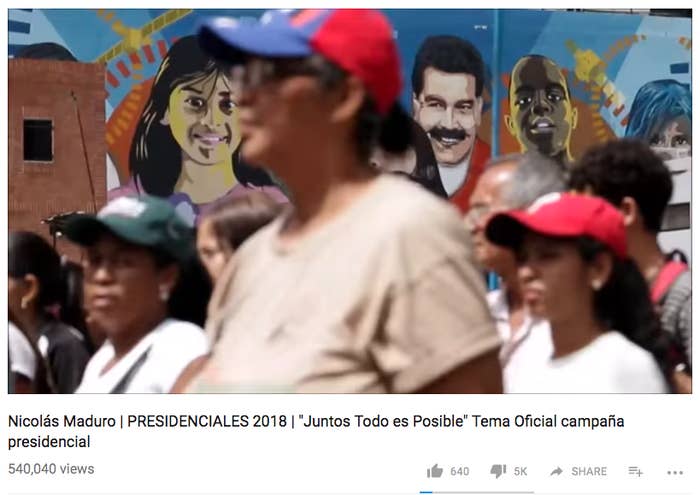 Just days before the country's presidential election, people in Venezuela say YouTube – and more broadly, Google – is showing ads for its controversial president Nicolás Maduro on the platform.
Last year, the US Department of the Treasury's Office of Foreign Assets Control (OFAC) announced sanctions against multiple Venezuelan officials, including president Maduro. These sanctions meant all of Maduro's assets subject to American jurisdiction were frozen, and American citizens were prohibited from dealing with him.
A Google spokesperson told BuzzFeed News the company complied with all applicable sanctions laws.


"It would be a violation of our policies for U.S. sanctioned individuals to run ads on our platform," said the spokesperson.

An advertisement from a sanctioned individual or group would violate YouTube's policies and result in the account being suspended – however it is not immediately clear who commissioned and paid for the adverts, his campaign team or someone else.
Regardless, the adverts for Maduro have seen many in Venezuela lash out.
Christian*, who lives in Venezuela and saw the commercials on YouTube, told BuzzFeed News his friends living in different cities across the country had also seen the ads.

In Venezuela, presidential candidates may show advertising from April 22 to May 17. Christian said he first noticed the advertisement on Monday. "I never noticed on my desktop since I have a VPN setup," he said. "Some of the things I've tweeted can get me in trouble here, people have already been arrested for mere tweets or Facebook posts."
Christian said clicking the YouTube ads took him to a YouTube channel in Maduro's name. Others told BuzzFeed News the advert was a 40-60 second song championing the Venezuelan president.
In 2003, seeking to prevent the flight of capital out of Venezuela, the government introduced currency control laws that made it incredibly difficult for its people to trade or deal in any form of foreign currency.
This lead to the growth of a huge black market, but Christian thinks the government is still using foreign funds for advertising. "They're free to hire YouTube for ad space, and use foreign currency to pay for said service," said Christian.
"[The currency control law] was a justifiable measure, given the circumstances at the time, but it shouldn't have been there for more than a few months, yet it's still going 15 years later."
Venezuela now has one of the highest inflation rates in the world, with prices rising by more than 6,000% in the last year.
Since April last year, thousands have taken to the nation's streets to protest political repression, a homicide crisis, and a critical shortage of medicine and food. According to Foro Penal, a Venezuelan human rights group, 102 people have been killed during demonstrations.
For some, the YouTube-based advertising of Maduro's campaign creates more of an ethical issue than a legal one. Daniel*, who also lives in Venezuela, said the pro-Maduro advertising on YouTube went against the platform's transition to becoming a more family-friendly platform.
Daniel told BuzzFeed News YouTube's much-publicised demonitisation of thousands of creators, because they violate terms and services, raises the question of why YouTube allows "a genocidal dictator who starves his people for fraudulent elections he has already won" to advertise.
Many, angry with Maduro and the Venezuelan government, have fled the country for the United States in the last year. One of those people is Alex Goncalves, a popular comedian who was also part of the team that produced Venezuela's Daily Show-esque ChataingTV.
The satirical show was canceled in 2014, a day after mocking the Venezuelan government.
Goncalves, who now lives in Miami, makes videos on YouTube and was told by Venezuelan fans that Maduro campaign ads were also showing up on his channel.
"You can imagine my indignation for my videos to have ads for someone who censored me and shut me down – now I have ads for this crazy fucking government," he told BuzzFeed News.
Goncalves said he asked YouTube to remove the ads two days ago, but hasn't heard back yet. "I don't know if it will matter," said Goncalves. "We are talking about a dictator so you never know if they care about YouTube's laws.
"Ads are normal, but this is aggressive propaganda. On all platforms – we have reports of it on Facebook, apps, on YouTube – in Venezuela, the propaganda is very aggressive."
Maduro is expected to win and maintain his presidency this Sunday — particularly given some sectors of the country's opposition have said they will boycott the election.

* Some surnames have been withheld from this story to protect the anonymity of sources.
The US Department of the Treasury did not respond to BuzzFeed News' request for comment by time of publication.