People Are Laughing After The Daily Mail Published A Story Calling "Bachelor" Contestants "Vapid C*nts"
"These vapid c*nts only go on shows to find mediocre Instagram fame and make a living promoting teeth whiteners."
For what feels like forever, the Australian public has been enthralled with The Bachelor and all of its spinoffs.
As with all things the public loves – the media loves it too. Especially the Daily Mail, which has published with great glee stories on every bit of drama and turmoil thrust onto the contestants.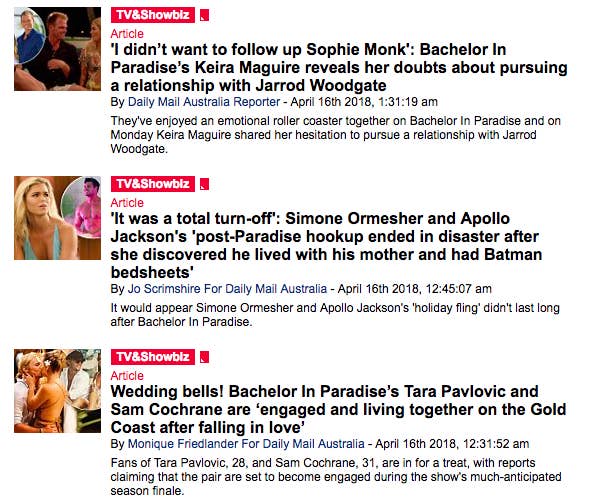 Well, on Sunday the Daily Mail offered an awkward glimpse behind the curtain, publishing a story with a paragraph that called the contestants "vapid cunts" who will only find "mediocre Instagram fame" before "making a living promoting teeth whiteners and unnecessary cosmetic procedures" following the show.
The paragraph was up for a few hours before it was removed from the story – but we now know at least how someone feels about "The Bachelor."
People quite enjoyed the stuff-up.
A spokesperson for the Daily Mail Australia told BuzzFeed News the story contained wording that "should not have been included" and that it was investigating the incident.
"Daily Mail Australia would like to apologise for inappropriate language that appeared on an article published by this site on Sunday morning," said the spokesperson.
"The story about 'Bachelor in Paradise' star Florence Alexandra contained offensive wording that should not have been included. As soon as we became aware of the mistake, the wording was removed.
"The Daily Mail Australia apologises for any offence taken by either our readers or contestants of the show."
The spokesperson said the Daily Mail Australia is looking into the incident.