In November 2014, Twitter user @RaysFanGio tweeted his prediction for the 2016 World Series. He was...ridiculously accurate.
Hell, Gio didn't just predict the two teams that would be in the World Series, he also predicted it would go to Game 7 and extra innings.
"I tweeted it the day Maddon signed with [the] Cubs," Gio told BuzzFeed News. "And I knew the Indians had great young staff."
It is possible that the prediction is fake, set up using a similar technique to a bunch of Twitter accounts that predicted results in the 2014 FIFA World Cup by tweeting out literally every possibility and then deleting the wrong tweets.
Of course, this would be a very, very specific thing to predict.
So far Gio's tweet has been retweeted over 100,000 times, and is full of people losing their collective shit at his prophecy.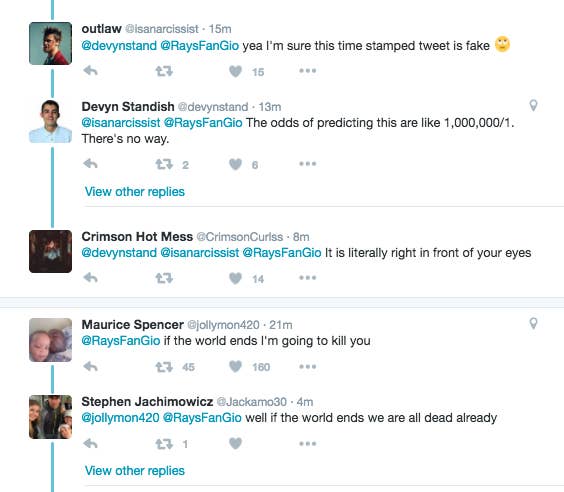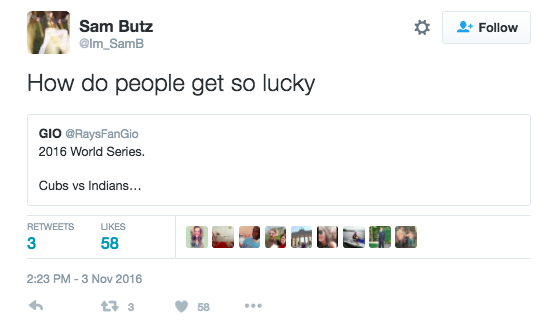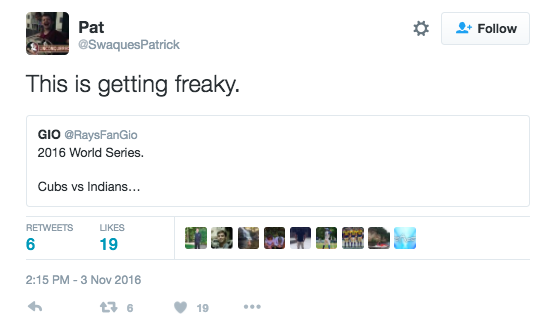 The odds for such a prediction have got to be ridiculous, so let's just hope the other half of the tweet about, y'know, the world ending, is wrong.