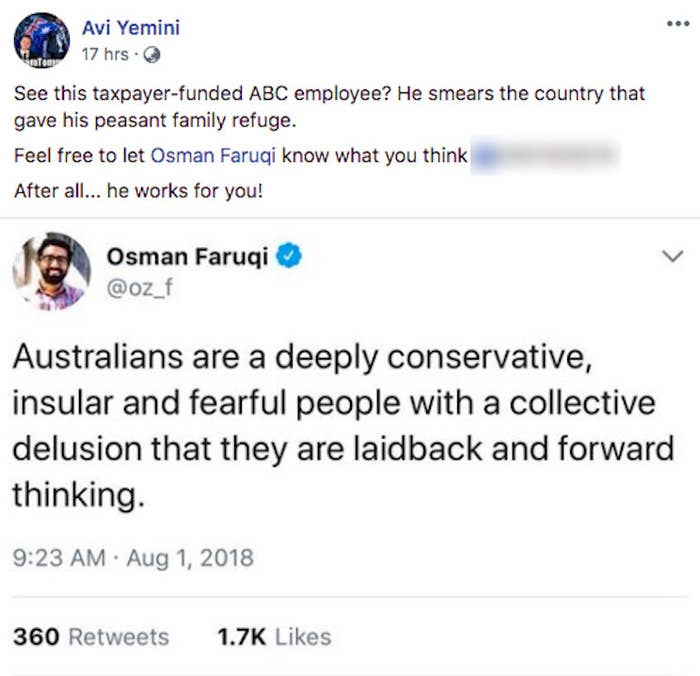 On Wednesday evening, controversial political activist Avi Yemini – who campaigns heavily for issues he believes violate free speech, like the ongoing court case of Sonia Kruger and the imprisonment of Tommy Robinson – posted the personal phone number of Australian journalist Osman Faruqi on his Facebook page.

Yemini was responding to a tweet from Faruqi, who was commenting on parts of the nation struggling to go along with a plastic bag ban from supermarket chain Coles. "Australians are deeply conservative, insular and fearful people with a collective delusion that they are laidback and forward thinking," Faruqi wrote.
On his Facebook, Yemini posted a screenshot of the tweet with the message, "see this taxpayer-funded ABC employee? He smears the country that gave his peasant family refuge. Feel free to let Osman Faruqi know what you think", before posting Faruqi's personal phone number.
The post remained on his page for 18 hours, during which time Yemini's 150,000+ follower base called Faruqi with death threats and messages of abuse. Around midday on Thursday, Facebook removed the post. This came after Faruqi himself posted on his Twitter about the abuse he was receiving, and many others reported Yemini's Facebook post.
Faruqi, a former Greens political candidate, editor at Junkee, and now ABC employee, made it clear on his Twitter page that the abuse was too much.
"The price for having an opinion about the plastic bag ban reversal whilst being brown. Someone leaked my personal phone number and all night I received calls from strangers threatening to kill me and abusing me," he wrote.

"You all tell me to stop 'making things about race'. I didn't mention race once, yet all the abuse and harassment I've been receiving is entirely focused on my skin colour.

"I can't write, post or broadcast anything without experiencing vast amounts of racist abuse — and most people on this website want to pat each other on the back for 'owning' me because you convinced yourself it doesn't happen.
"Experiencing this stuff is toxic to my life, which is overwhelmingly great — except when I have to cop this shit. I've always persisted because I didn't want to 'lose'. I didn't want to get shut down or silenced by aggressive nutters.
"But it's too much now. I'm scared about my safety, and I just want to live my life free from the threat of violence and abuse. So the idiots won. I'm finished."
In a much-publicised new era of Facebook, one in which posters blast messages like "fake news is not our friend" on every street corner, the social media giant has failed a simple and standard test in protecting its users.
Yemini believes what he did was fair game, but ultimately Facebook's mission statement of "bringing the world closer together" doesn't exactly align itself with enabling others to harass and send death threats to another person.
Publishing the direct contact number of someone you disagree with isn't so much a test of Facebook's rules — it's something the company has a defined position on. Don't do it.
So why did the company take so long to remove the post, and what is being done to ensure it doesn't happen again? In the end, the post wasn't even the reason Yemini's 150,000+ follower account was taken down. Yemini told BuzzFeed News the company had "permanently removed" his profile under grounds of hate speech, but that he would be appealing the case.
BuzzFeed News understands the social giant came to the decision to remove Yemini's account after looking through his post history and determining he had multiple examples of hate speech, resulting in subsequent warnings.

An example of what that hate speech is has not followed from Facebook, but BuzzFeed News was directed to the company's community standards, which outline dozens of types of speech the platform defines as hate speech.
With the removal of Yemini's account, and an unclear definition as to why, Facebook has only strengthened his status. In truth, most of the information surrounding the removal of Yemini's page has had to come from Yemini himself, such is Facebook's timidness to outline exact reasoning.
With his Facebook page gone, Yemini has turned to YouTube. He has already made two videos, declaring Facebook is "trying to shut us down" and directing his followers to the Australian Liberty Alliance's Facebook page.
Yemini told BuzzFeed News he had found Faruqi's number "using Google", and thus hadn't doxxed him.
"Doxxing" is widely understood to be the practice of publishing someone's personal information as an act of punishment.
A spokesperson for the Australian Liberty Alliance, the party Yemini plans to run as a candidate for in the Victoria state election in November, told BuzzFeed News it has plugged $40,000 into Facebook advertising for him since 2016.
The party confirmed that Yemini would be running as a candidate and also defended publishing Faruqi's phone number, saying it was available online, his work with the ABC makes him a "public servant" and, as a spokesperson told BuzzFeed News "he shouldn't put his nose out if he doesn't want it bitten off".

Yemini put it more bluntly. "We sponsor content as a political platform ... they [Facebook] have had no problem taking our money and now they think they can just delete it?" he said.
If his account isn't reinstated, Yemini says he's going to take Facebook to court.
In the US, public figures have also had their phone numbers published online. Stephen Miller, a White House adviser, had his phone number included in a news article. Luckily for him, Twitter was at hand to automatically ban tweets that contained a link to the story that shared his personal number. But Miller is a White House adviser.
If you don't have that sort of clout, it can be hard to have Big Tech quickly by your side.
BuzzFeed News has contacted Faruqi for comment.