So this is JD Scott. He's brother to the well-known property twins Jonathan and Drew Scott, who host the hit renovation show...Property Brothers.
As you can see, it's clear JD is part of the family. He's a pretty normal-lookin' dude with all the characteristics of other members of the Scott clan. Look, the whole family was in People magazine.
However, if we go back a few years, it becomes apparent that JD once had a very different life.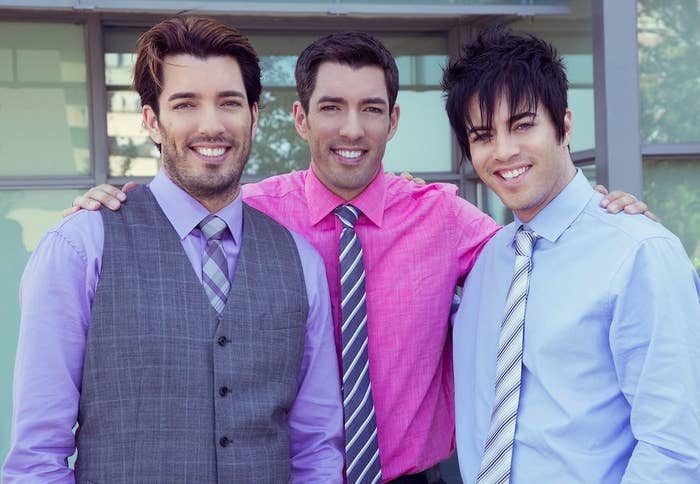 I discovered the Other Property Brother by chance (basically someone at work showed me the Three Grinning Brothers picture and said "wtf is up with this?") and immediately began investigating. How could someone from such a well-known and respected family (the Property Family) have flown under the radar for so long? Especially when they look like a Dragon Ball Z character.
After tweeting out the pic it became pretty clear that, well, a lot of people were unaware of the Third Property Brother.
JD's photo on the official Scott Brothers website (it exists, it's great) is another example of how he has chosen to differentiate himself from the Lesser Property Brothers.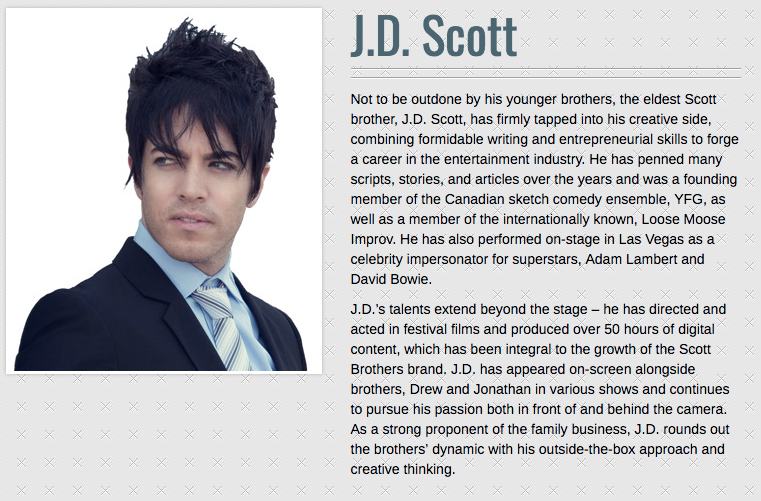 Apparently JD has written many scripts and articles over the years and has worked as an impersonator (David Bowie and – shock – Adam Lambert).
Investigations also uncovered an "incredible" and entirely unbelievable theory – the Property Brothers aren't actually identical twins, but have had plastic surgery to make it appear as if they are.
Really, it seems like JD's hair and look are probably from his days as an Adam Lambert impersonator. Here he is performing in Las Vegas:
There was also a rumour that JD was a magician. He's not, although it'd be a career that suits him.
BuzzFeed News has contacted JD to further discuss his, uh, hair.