NSW Health is reviewing its guidelines for medical staff at festivals as advocates and the family of a teenager who died from a suspected drug overdose at the weekend push for pill testing.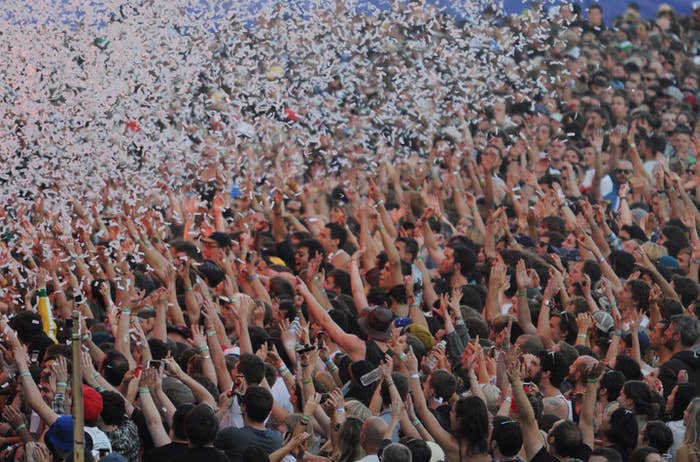 Five young people have died in the last four months after taking drugs at music festivals, pushing the issue of pill testing and harm minimisation into the spotlight as NSW heads towards a state election.

Central Coast teenager Alex Ross-King died from a suspected overdose at Western Sydney's FOMO Festival on Saturday. Her family has since appeared on television urging NSW premier Gladys Berejiklian to consider implementing pill testing at future events.
"I just don't want this to go, just pass by. I'd like this to have some legacy, and that is to get these pills tested," Ross-King's grandmother Denise Doig told 10 News.
"Premier, please, can we have this pill testing done? It's such a small thing to do, it's not hard. Let's try and get it out there."
But Berejiklian has remained headstrong in her position that pill testing will not be considered until she sees direct evidence that the method saves lives.
"My heart literally gets torn to shreds every time we hear about a young person dying in this way," she told the Today show on Monday.
"The important thing to remember is we do need to focus more on education, on medical attention, on making sure young people are aware of the risks.

"Pill testing doesn't deal with overdoses. Pill testing doesn't deal with the fact that drugs and alcohol are a lethal combination. Pill testing doesn't deal with the fact that what's OK for one person's body isn't OK for another person's body."
Berejiklian said her government would mimic the position of Victoria's Labor Party, concerned by the "unintended consequences of pill testing".
"Pill testing could unfortunately give people a false sense of security because we know that what is most lethal is the actual ecstasy and people taking these drugs thinking its OK when in fact it's not.
"For every expert who advises us to look at pill testing there's another few that say don't, and we rely on the advice of a number of people across the network."
Earlier on Monday Berejiklian was grilled by Sunrise host David Koch, who accused the premier of being a hypocrite as her government does allow safe injection rooms.
"That is a totally different matter," said the premier. "Those injecting rooms are supervised for known addicts who are on a register... My attitude is to reduce the deaths and we know that there is more that we need to do in terms of education, medical attention."

"If you're at a concert and you see a friend not doing well, don't be scared to get medical attention."

Matt Noffs, CEO of the Ted Noffs Foundation, said doctors are "ready, willing and able to volunteer their expertise right now".
"Right now, under NSW law, a kid can go and buy a half-rate pill testing kit from a shop — legally," he said in a statement.
"What we are saying is this: allow these doctors onsite, allow them to speak to the young people, allow them to use medical-grade equipment and allow them to save lives. That's pill testing. A pilot won't cost the government anything. Anything less will be too little, too late.
"I understand the premier is in tough position. I know she wants the best for our young people. But I need her to listen to me right now — we are the experts. We know the evidence. The evidence is clear — this will save lives. It's time to act."

The Daily Telegraph has reported the state's health department is considering increasing the number of health professionals required at festivals.