The chaos surrounding Australia's fruit contamination crisis picked up on Tuesday after a sewing needle was found in a third different variety of fruit: this time, an apple.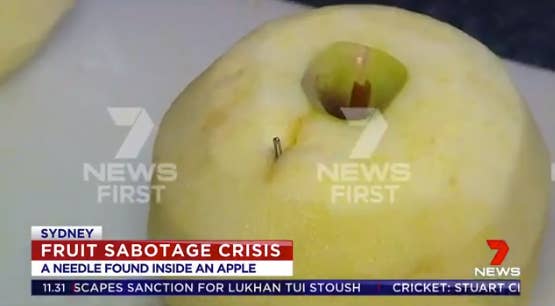 Farmers have been suffering for weeks since a man was hospitalised after biting into a strawberry that contained a sewing needle. Six different strawberry brands have been brought into the mess, and almost every state and territory in Australia has had reports of contaminated produce.
Footage and pictures have also gone viral from a range of different strawberry producers showing the impact the contamination has had on the industry. One video showing thousands of strawberries being dumped into a pit has been viewed over 1 million times on Facebook.
The daughter of the couple behind Donnybrook Strawberries, Stephanie Chheang, wrote that the incident was "no doubt the worst thing to ever happen to my family".
"This will not stop my family from doing what they do best, if anything they're going to do better," wrote Chheang. "I thank everyone who supports us and all the other farmers who were affected by this horrible issue. We thank you from the bottom of our hearts."

Police are investigating the apple incident from Tuesday but there is still cause for concern as multiple reports of contaminated fruit emerge in New South Wales alone.
"At the end of the day it is an act of treachery on the community of NSW," said Detective Superintendent Daniel Doherty in a press conference.

"All reports are being investigated and not just strawberries... We've also had some isolated reports of contamination of banana and apples in the Sydney area."

Police also warned the public that anyone found to be involved with the contamination — or any copycat cases — could face the same charge of food contamination, which carries a 10-year jail sentence.
The public have been reminded to exercise caution when eating all fruits and to cut up strawberries before eating them.
BuzzFeed News has contacted Stephanie Chheang for comment.