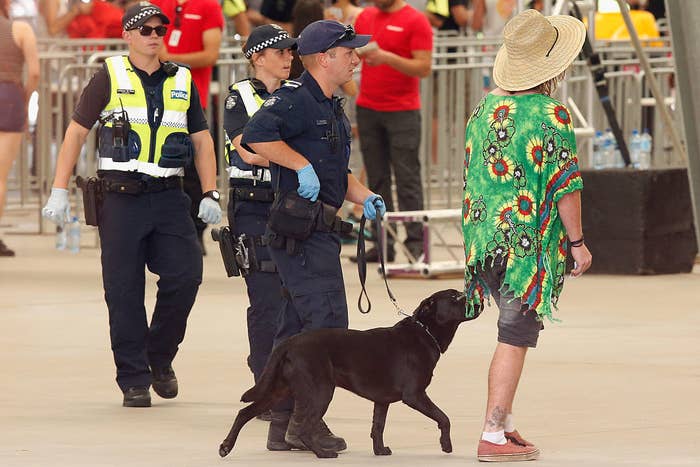 Greens MP David Shoebridge claims data shows that NSW Police drug dog operations at music festivals cost the NSW taxpayer more than $700,000 in the past 12 months, on top of the almost $9.5 million a year it costs to maintain police detection dog units.
The costing rates, based on an average of 20 festivals a year, were obtained via Government Information Public Access (GIPA) and document how almost 200 people faced possession charges this past summer as a result of drug dog operations. The GIPA process allows for certain government information to be made publicly available.

Police dog operations require 12 officers to be present, which the Greens estimates cost about $2,000 per dog an hour. Many music festivals have multiple dog operations (some as much as seven, some as few as two), meaning if the average festival were to run for six hours it would cost NSW Police $36,000 on average per event, based on the GIPA average of dogs per festival.
These costs come on top of the average cost of maintaining police detection dog units from 2010-2017, which was almost $9.5 million a year.
Shoebridge told BuzzFeed News this expenditure does little to address criminal elements or make young people feel safer. "The war on drugs has failed," he said. "It's become a war on class, ethnicity, and young people – and one of its worst aspects is the police drug dog program.
"It is completely random whether a young person gets punished or not, they randomly have their future career destroyed, their capacity to travel curtailed."

Drug dog searches were carried out at multiple music festivals in the last 12 months, with Secret Garden Festival topping the charts at seven drug detection dogs deployed.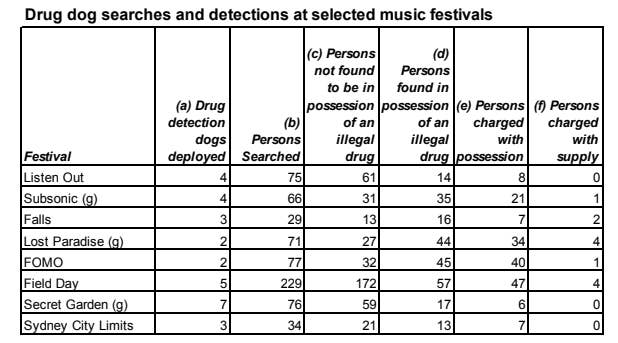 A total of 30 dogs were sent out to festivals including Listen Out, Subsonic, Falls, Lost Paradise, FOMO, Field Day, Sydney City Limits, and Secret Garden. Their deployment led to 12 people being charged with supply and 170 people with possession.
New South Wales Police did not immediately respond to a BuzzFeed News request for comment.