Yesterday, Sharktato was uncovered. The spud / marine hybrid was seen by many to be the dawning of a new age. Some light digging has revealed the Sharktato has been meandering in the depths of civilization for quite some time.
Its origins have been debated by many online, and the unkempt manner of the recent Sharktato revival has seemed to raise more questions than answers.
HOW DID THE SHARKTATO FORM?
WHY DID IT CHOOSE NOW, OF ALL TIMES, TO RETURN?
WHAT DOES THIS MEAN FOR SPUD-LORE?
WHAT DOES THIS MEAN FOR HUMANITY?!?!?
Shocking images have surfaced showing the rapid evolution of Sharktato. As you can see here, Sharktato are beginning to evolve further into the Sharktatoiphi genus. Sharp, protruding teeth and small, beady eyes are fast developing on the supple spud skin.
The Sharktato hybrid has even spread in the other direction, with Sweet Sharktato sightings beginning to increase in the Southern Hemisphere.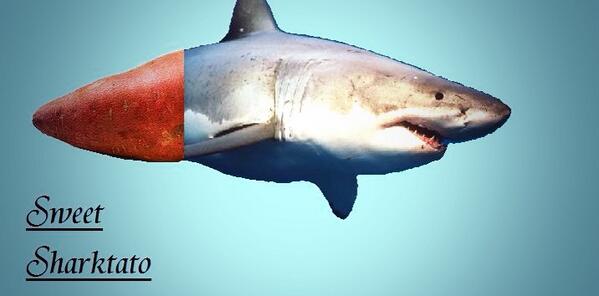 But where did this all begin??!?!?!?!???!!?!?
MAN.
A father here, a daughter there. When will humanity realise the power they hold? When will they stop dangerously pressing their sick desires and wrong beliefs onto culture they JUST DON'T UNDERSTAND?
The true origins of the Sharktato are clear.
This photo has emerged of a no doubt SECRET potato research centre in Canada. This seems like only a small thing to be concerned about at first...
Why are we researching potatoes? What good do we expect from this? How do we hope to deal with this in the future?
At first, the Potato Research Centre seems calm and idyllic. But, when you turn on the terrain mode... THREE BABY SHARKTATO. CLEAR AS CLEAR CAN BE.
When will we learn?!!!!! When will we stop!?
You have been warned, humanity. Ignore this at your own peril.