This is Sam Mitchell, from Tasmania, Australia, grabbing a photo with another dude named Sam Mitchell, who is living in Melbourne after journeying from his home in London.
Now, these two Sam Mitchells don't actually know each other. At least, they didn't, until the Tasmanian Sam Mitchell decided to add the other Sam Mitchell on Facebook. It's complicated, I know.

"I was sitting in the library and I got a message from a stranger [on Facebook] saying he added me because we have the same name," the English Sam Mitchell told BuzzFeed News.

"I found it pretty funny so I accepted [his friend request] and commented on his wall 'fucking class name mate'."

From there, the Australian Sam Mitchell's friends and family began getting involved with the blossoming friendship, commenting on the post. One of Australian Sam's friends even photoshopped an image of the two together.

Then, after messaging only for a few hours, it was decided that English Sam would be flying to Tasmania (paid for by Australian Sam) to celebrate New Year's Eve.
And just like that, English Sam was headed to Tasmania.
"I want to tell everyone that has taken the piss out of me for bringing a neck cushion on an hour-long flight that it was really comfortable," said English Sam.
"A free flight doesn't hurt either when you're a backpacker."

Originally, Australian Sam and his family planned to prank the other Sam at the airport, but decided against it at the last second.
"They wanted to hogtie one of their mates and leave him in the (car) boot so when I put my bag in, it [would] look like they'd kidnapped someone," said English Sam.
Instead, the two Sams enjoyed a wild New Year's Eve at Australian Sam's house, including a host of events like bucket racing and beer pong.
And then they watched the fireworks, as is tradition, and gave each other a (somewhat uncomfortable looking) smooch, as is also tradition.
On Sunday the Sams posted their story on Reddit, where it went massively viral, amassing hundreds of comments and more than 18,000 upvotes.
"It's been crazy, I thought it was pretty funny but it's just blown up," said Australian Sam.



Australian Sam has returned to his job as a plasterer. English Sam is unemployed.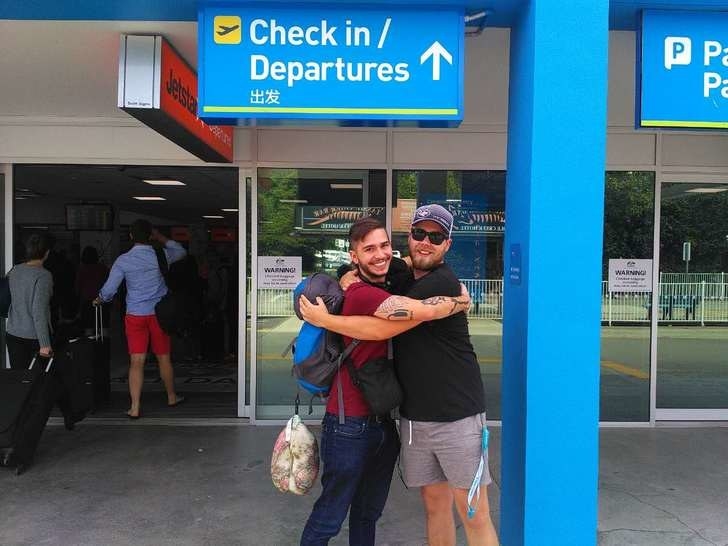 "Please tell them I'm unemployed so someone hires me," he said.