Hundreds Of Racing Greyhounds Have Been Euthanised Since April Last Year. Some People Say The Injuries Were Treatable.
A former racing veterinarian described the deaths as "economic decisions".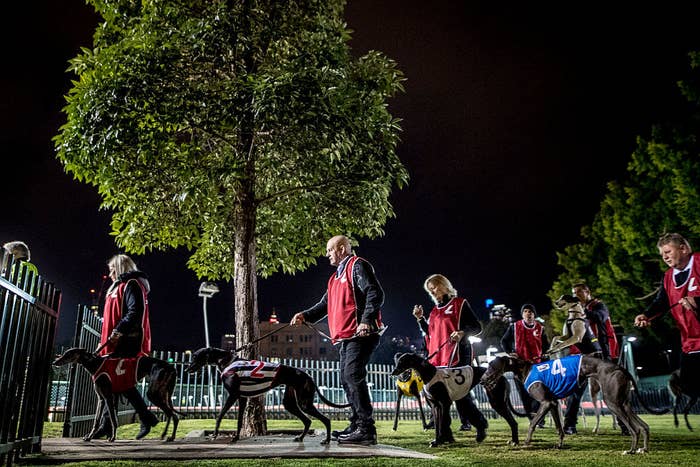 Documents obtained by the NSW Greens via Freedom of Information law and shared with BuzzFeed News show nearly 400 racing greyhounds were euthanised from April 2017 to May 2018.

Euthanasia forms show dogs were put down in NSW for injuries such as fractured hocks, fractured wrists and shoulders, and "dark muscle tears".
More than half of the dogs were put down for injuries to the hock — a part of the dog leg that is similar to an ankle. A former veterinarian who worked on greyhound racing tracks in New South Wales told BuzzFeed News these injuries are usually treatable, but that treatment is often expensive.

"All these euthanasias are economic decisions," said the vet, who did not want to be named. "If the dog can't race and win [owners] money the dog is worthless to them ... Unless they use it to breed."

Many of the hounds euthanised weren't even failing racers, with almost $2 million winnings being made from the 383 documented cases.

A commission in 2016 found many greyhound trainers favour cheap and sometimes painful methods of treating injuries, rather than using the services of a qualified vet.

Peter Flann, co-founder of Greyhound Rescue in Sydney, told BuzzFeed News many trainers would opt for euthanasia over rehab because the latter costs time and money.
"As far as any owner is concerned, why would they spend $3,000 or $4,000 to mend a leg when they're not going to race again?"
Greyhound Rescue recently rehabbed a dog with a broken leg, paying vet bills and helping to train the hound back to full health. In other cases, the rescue has had to amputate legs. But three-legged greyhounds can still be adopted.
"I'm sure there's injuries that might be too difficult, but if we can mend a broken leg, it's possible," he said.
In 2013 an ABC investigation found unwanted greyhounds were being drained of their blood before they were euthanised. That blood was then used in other veterinary procedures.
Greens MP Mehreen Faruqi said in a statement that the greyhound racing industry could not exist without the deaths of hundreds of greyhounds each year.
"The best thing to protect greyhounds from injuries is a ban on racing," she said.
"But in the interim, the industry should be providing rebates to greyhound owners to treat injuries rather than have them put down."
The NSW government established the Greyhound Welfare Integrity Commission (GWIC) after overturning an initial ban it made on the entire industry.
The commission is run by the former chair of Racing NSW Alan Brown.
A spokesperson for GWIC told BuzzFeed News a greyhound rehoming policy was introduced in July this year which outlined mandatory requirements should an owner wish to euthanise their dog. Breaching the rehoming policy will result in disciplinary action from the commission.
In July, the NSW minister for racing Paul Toole announced Australia would be home to the richest greyhound race in Australia. "The Million Dollar Chase" will be made up of a series of races across the state, with the state government contributing $500,000 in funding.