People Are Convinced This Video Of A Hawk Throwing A Snake At A Family Is Fake
Today in "Is this shit real?"
UPDATE
The video did turn out to be fake and was the efforts of a marketing team working for the Hawthorn Hawks AFL team.
A wild video that appears to show a hawk dropping a snake on to a family enjoying a barbecue in Melbourne, Australia, has everyone second-guessing whether it's real or not.
The video, which was uploaded on Monday, apparently shows international student Douglas Wong and his family enjoying a barbecue when the hawk swoops by, picks up a snake, and drops it on Douglas's uncle.
"I'm from China and my uncle was visiting so we had a barbecue to show him the Australian ways," Wong told BuzzFeed News. "The snake ended up sliding back towards the river past those barriers. I think it was just trying to get back to the tall grass, not really chasing my uncle."

However, many have pointed out multiple points in the video that might indicate it's actually a fake, a ruse, and a big fuckin' lie.
Some commenters were quick to call foul, saying the hawk was the result of skilled CGI work, and that the shadows of the bird were all wrong.


Others considered the fact that there are two seagulls near the barbecue as well, and wondered why they wouldn't flee when a huge bird of prey is circling overhead. Perhaps the lure of the barbecue sausage was too much? Or perhaps, also entirely possibly, the video is completely fake.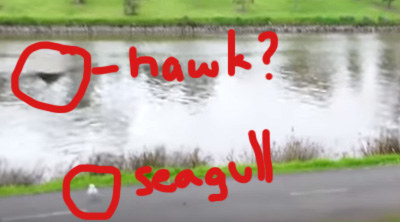 There's also the fact that the esky (Australian slang for cooler) in the final frame of the clip has a clear, almost too clean, Geelong Cats AFL sticker. And who do the Cats play in the AFL's next round? THE HAWTHORN HAWKS!
Melbourne newspaper The Age has also gotten involved, and has found both a bird expert and an animation expert who believe the video to be fishy.

Billy Collett, the head of reptiles at the Australian Reptile Park, told BuzzFeed News he believes the video may be real. Apparently, that's the way snakes move, and the positioning of the snake in the hawk's talons is how a bird of prey carries snakes.
Collett also said that hawks will drop a snake for two reasons: 1) they drop them to kill them and 2) the snake may have bitten the hawk.
For the record, the creator of the video, Douglas Wong, isn't that bothered by the attention.
"I don't really mind," he said. "My friend just thought it was funny and people would want to see it. I mean I just took it on my phone and we didn't stay much longer in case it came back."