A South Australian man has uploaded footage of him driving past an out of control bushfire near Tarlee, in the state's mid-north, and it is super intense.
With Supertramp's "Logical Song" playing in the background, Clare native George Hooker can be heard muttering, then swearing, and then saying "I should not be here" as multiple fires are pushed towards his car.

Plooms of smoke wrap around his car and cover the road in a thick fog, with Hooker unable to see where he's going for large portions of the video.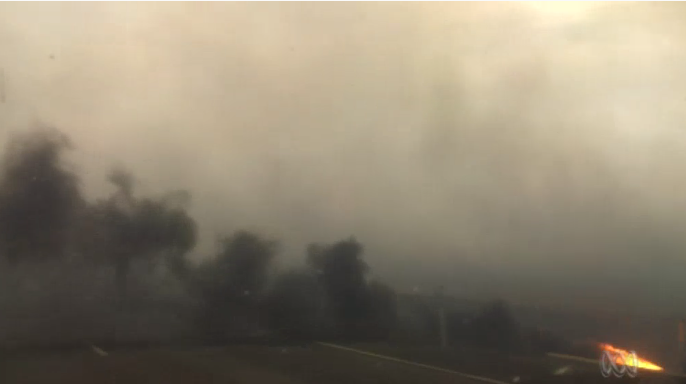 Hooker told ABC News he had taken the Horrocks Highway because the Hamley Bridge had been closed by police.

"There were no road blocks... and then before I knew it, there was fire up the side of the road, lapping up my car, gale force winds. There were cinders blowing up all over my car. I couldn't see in front of me from the thick smoke."
Later, Hooker pulled over to witness a house burning down and then drove past two cars that had been involved in a head-on collision.
South Australia Country Fire Service have been updating their Facebook with rolling updates of where fires are burning and how best to avoid them.
There is currently a "watch and act" warning to residents in the state's mid-north, with sporadic fire activity around various townships from Owen to Greenock.