An Optus store in a Sydney shopping centre has had to remove a number of advertisements in Arabic after threats were made towards the staff.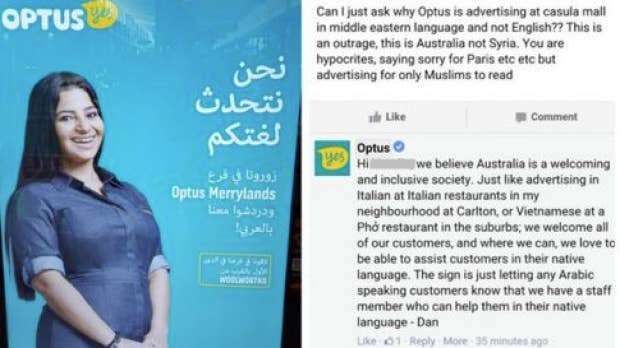 The company's Facebook has also been hammered with comments from people upset with the advertisements, with many saying they were insensitive following the terror attacks in Paris last weekend.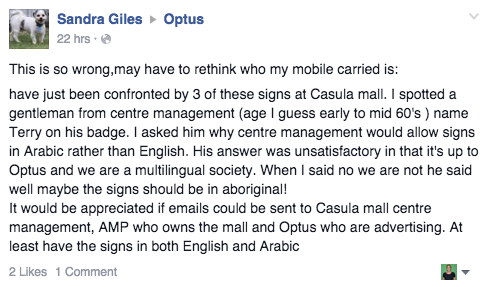 Optus tried to explain to the numerous commenters that the ads were important because of Australia's diverse population, even going so far as to explain to people that Islam is a religion and not a country.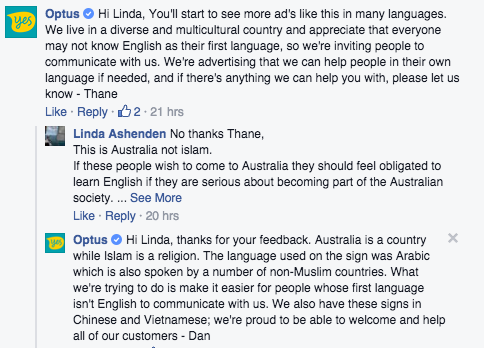 Following alleged threats to staff at the store, Optus was forced to take down the Arabic advertisements.
In a statement to BuzzFeed News, a spokesperson for Optus said the company prided itself on the diversity of its employees.
"Optus' customers and staff come from a range of backgrounds and speak many different languages. In some communities we actively promote the bi-lingual skills of our front line staff."
"We recognise that sometimes customers find it easier to understand the detail of a phone plan when it's explained in their first language. Optus remains committed to minimising and eliminating discrimination through our corporate culture, marketing activities, employment practices and interactions with the community."
"However, yesterday following a threat to our store staff, we made the decision to remove some materials that were published in Arabic. The safety and security of our staff is paramount."
Still, as the news is breaking about Optus' decision, the company's Facebook has begun seeing more positive comments, praising the direction of the telecommunications giant.