Newtown Police have responded to BuzzFeed News' request for comment:
"Newtown Local Area Command Police continue with their investigation into this matter."
"If the person who reported this matter to police seeks further advice they are encouraged to contact the investigators."
"As this in an ongoing operational investigation it is not appropriate to discuss the matter further."
This is Olivia Melville. Last week Olivia was the subject of a torrent of online abuse after a screenshot of her Tinder profile was uploaded to a stranger's Facebook.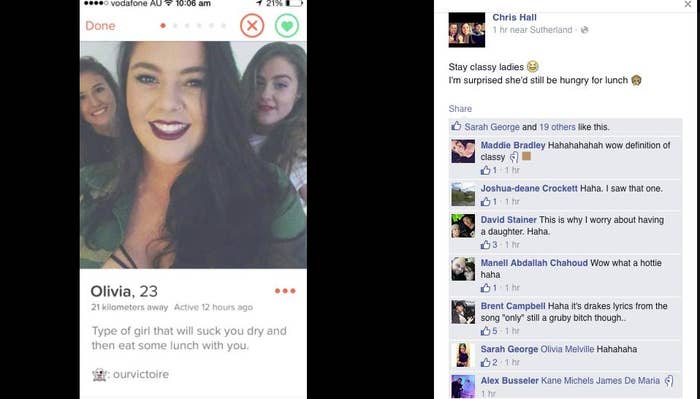 Most of the attention came because of Olivia's Tinder bio, "Type of girl that will suck you dry and then eat some lunch with you", which is a quote from a Drake song. The abuse that followed was both vile and extreme.
Olivia was made aware of her profile being shared on Facebook by a mutual friend, and as she alerted her own friends they came to her defence.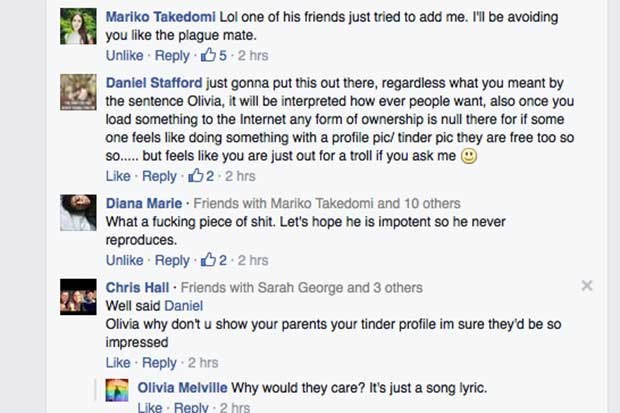 But as the post was shared and liked across Facebook, more and more people got involved.
One person in particular delivered waves of abuse threatening rape and violence towards Olivia, and then later towards her friends when they got involved.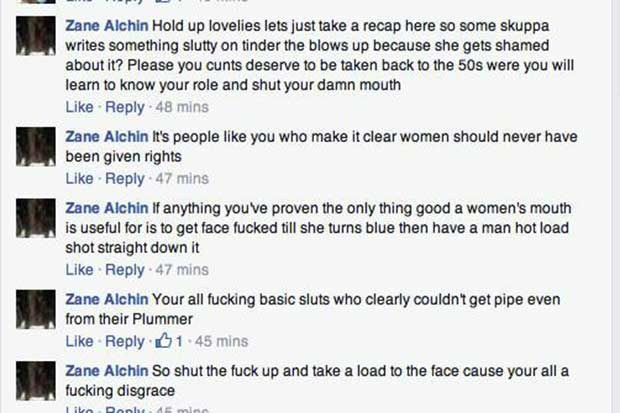 Speaking to BuzzFeed News, Olivia's friend Paloma Brierley Newton said that Olivia had been getting a lot of abuse both on the Facebook post and to her inbox.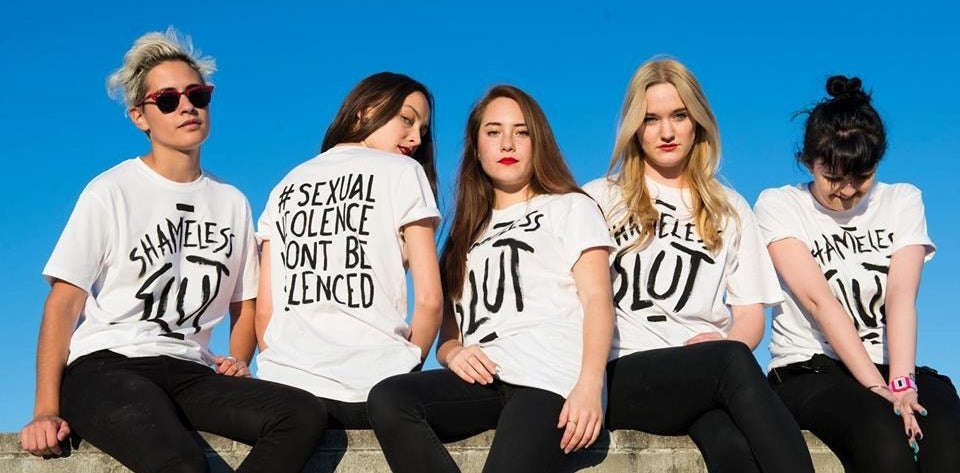 "Olivia has definitely been getting the brunt of it," she said, "but we're all getting messages."
"I had gotten so many friend requests [on Facebook] that Facebook asked me if I wanted to put a 'follow' button on my profile. As soon as I did that the messages came through."
Last week, Paloma took to Facebook to explain the situation and announce the new organisation that the girls were planning on forming.
Paloma, Olivia, and around 12 others have started an organisation called Sexual Violence Won't Be Silenced, aiming to raise awareness of cyberbullying and slut-shaming on social media.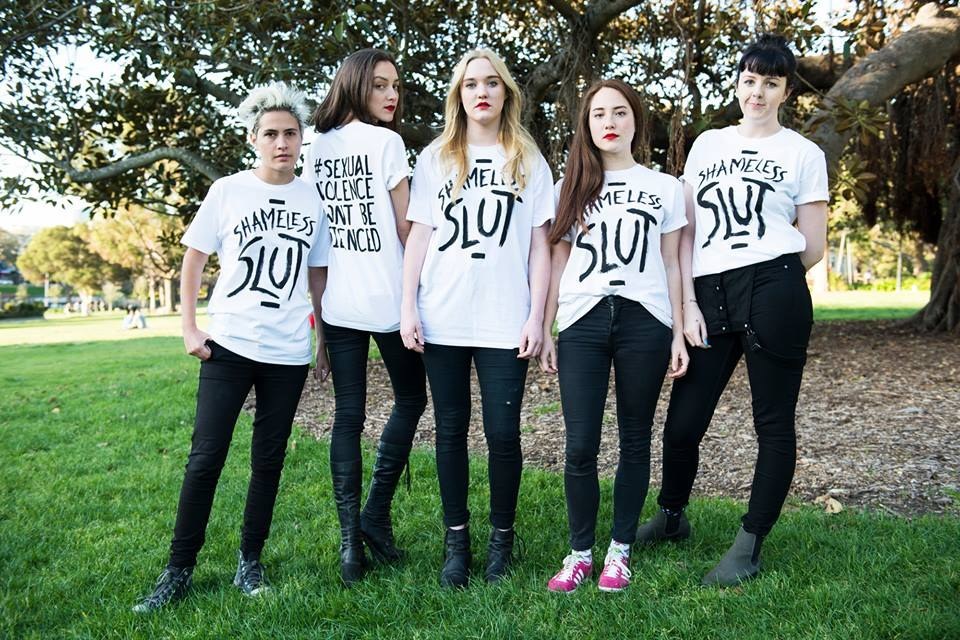 "We're currently getting a lot of attention," she said, "lots of media."
"We just want to deal with this side of it first, and then work on changing the normalisation of abusing women on social media."
The group has also started a petition, hoping to reach 2,500 signatures in the hope that the government will be forced to act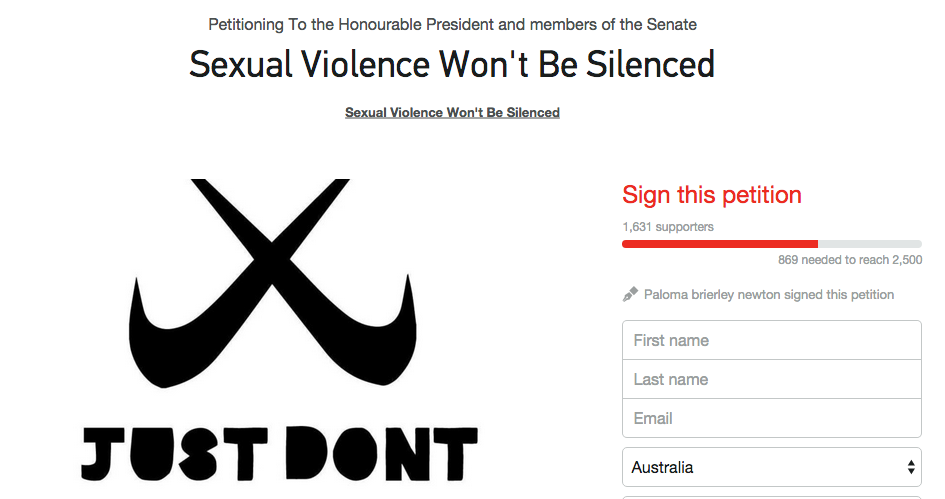 "One in four young women have experienced online sexual harassment," the petition states.
"There are currently few education programs in place that enable law enforcement professionals to respond appropriately to online harassment and sexual abuse."
There have also been accusations that Paloma, Olivia, and the organisation were contacting people's employers.
Paloma told BuzzFeed News that the accusations were "completely false" and that the main antagonist, Zane Alchin, had been confirmed by various sources to be a real account and not that of a troll.
Paloma told BuzzFeed News that she had spoken to the police on the day of the abuse, but only heard back from them today - a week later.
"Even when they called me back today," Paloma said, "It was to tell me that they were investigating the people that delivered the abuse - but the whole thing could take another three week."
"My response to that was, like, what if I am raped in that time? How long will they take to respond to that?"