The new version of the ad removed references to Australia Day, as well as cutting a scene that mocked former Australian prime minister Kevin Rudd's apology to the Stolen Generations.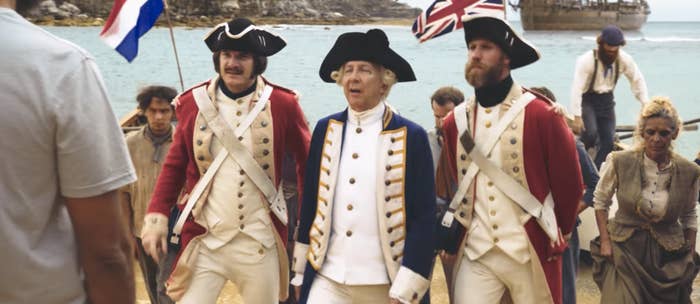 The decision to stick with the ad's theme of colonisation left many in the Indigenous community angry. Writer and actor Nakkiah Lui took to both Facebook and Twitter to explain her frustrations.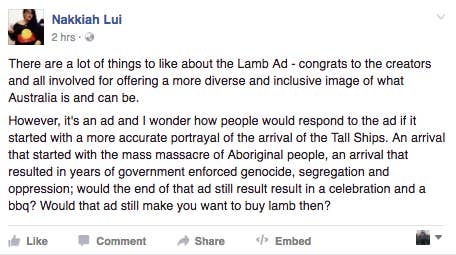 Ryan Griffen, director of the ABC's critically acclaimed drama Cleverman, also tweeted his frustration.
Prominent Aboriginal journalist Amy McQuire said the ad "sidelined the invasion".
And Ken Canning, a Murri activist, writer, and poet, wrote about how the representation of settlement as a picnic was not accurate at all.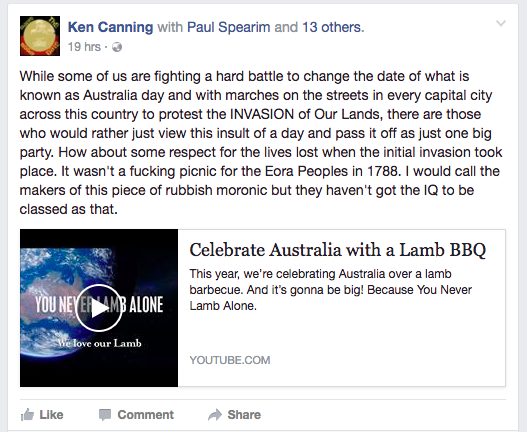 The ad drew criticism across Australia, with many on Twitter echoing the frustration.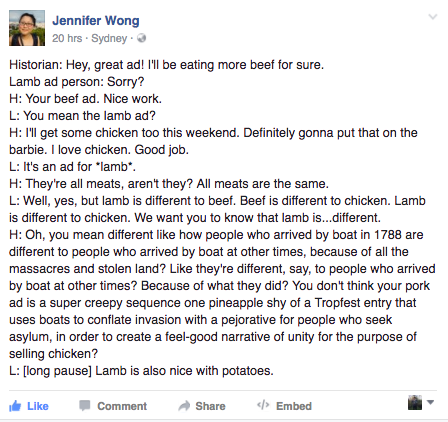 However there were some who enjoyed the ad, believing it to be a great representation of Australia.
And some just wondered why lamb even needed an advert.
"Something I related it to, is if you imagine having a BBQ in the backyard and all these boats and everything come in, it's almost like a driveway," he said.
"Ultimately it took all that serious intent and made something that's ultimately a very mature view of the Australia we live in now and a very respectful one."