Private Revenge Porn Page Re-Emerges After Being Shut Down By Facebook
"Melbourne's Men's Society", a Facebook group originally created in April and used for sharing revenge porn, has re-emerged.
In April this year a private Facebook group for Melbourne-based men was at the centre of an online war involving revenge porn, drugs, and racism. Now, months after being shut down by Facebook it appears the page is back.
On Sunday evening, the group known as Melbourne's Men's Society was re-created with the explicit purpose of sharing revenge porn. BuzzFeed News understands this version of the group was set up by a different administrator to the original Melbourne's Men's Society.

Following BuzzFeed News' report on the original Melbourne's Men's Society page a Facebook spokesperson said the company had acted quickly to remove the group because it violated community standards. Facebook also said it would be taking steps to help stop similar groups reforming.

The new version is much like the first, with men from Melbourne and surrounding areas sharing photos of young, naked women, as well as sexually graphic video from Snapchat and Instagram. In the comments on these posts, some men name the women in the photos, while others cheer each other on for sharing the images.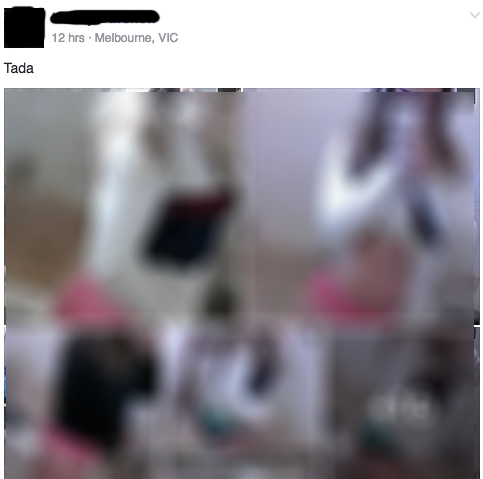 There is discussion within the group about a possible Melbourne's Men's Society group chat, with many members asking to be added to it.

The men appear to be aware that what they are doing is illegal, with some joking that jail time is inevitable.

Members of the group waited until 8pm last night before posting any explicit content, to be sure the secret group was free of "snitches".

BuzzFeed News has reported the group to the Australian Cybercrime Online Reporting Network and contacted Facebook for comment.