The chorus of calls for Australia's National Rugby League (NRL) to explain why a footballer convicted of assault was allowed to play again has grown louder, after the man's former partner claimed he subjected her to years of emotional and physical abuse.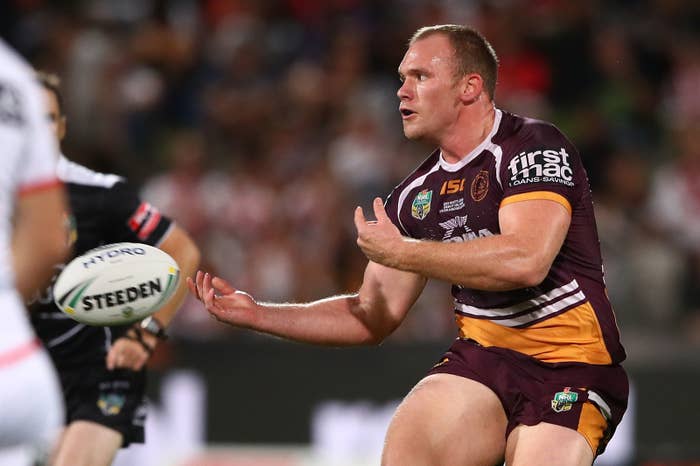 Matthew Lodge was booed earlier this month on International Women's Day when he returned to the sport to begin his one-year contract with his new team, the Brisbane Broncos. Lodge was sacked by his former club, the Wests Tigers, after a 2015 incident in New York that ended with the young rugby player being incarcerated on Rikers Island.
Lodge was arrested at gunpoint by New York Police in 2015 after a violent home invasion. He had confronted two women exiting a cab and threatened them, allegedly saying "this is the night you die". He then followed them into an apartment building.
Lodge allegedly told the women's friend "You don't scare me. I have tattoos too. I'm going to kill you", before putting another man who had come out of his apartment to help in a headlock and repeatedly punching him.
He then entered that man's apartment and locked the man outside, however the man's wife and child were inside the apartment. The woman and child locked themselves in a bathroom while Lodge attempted to punch his way through the door, before eight NYPD officers arrived with their guns drawn and arrested Lodge.
The then 19-year-old Lodge pleaded guilty to a misdemeanor reckless assault charge in a US court.

Earlier this month Lodge spoke publicly about the incident for the first time in an interview with Fox Sports.
"I can't be more sorry to them and I'd happily say I did the wrong thing, they didn't deserve that," he said. "They don't deserve any of that behaviour and I'll do anything I can to make up for it."
In the interview, Lodge also denies ever hitting a woman.
"I definitely didn't strike anyone or hit anyone or cause any harm to any women and that's something I want to be strong about," he said. "I didn't hit any of them."
Catherine Lumby, the NRL gender adviser, described Lodge's New York rampage "among the most disturbing of cases I've ever reviewed".
Brisbane Broncos' principal sponsor, NRMA Insurance, condemned Lodge's behaviour as "completely unacceptable" and said in a tweet on March 5 that it was concerned about the long-term impact the incident had on "his victims and their families".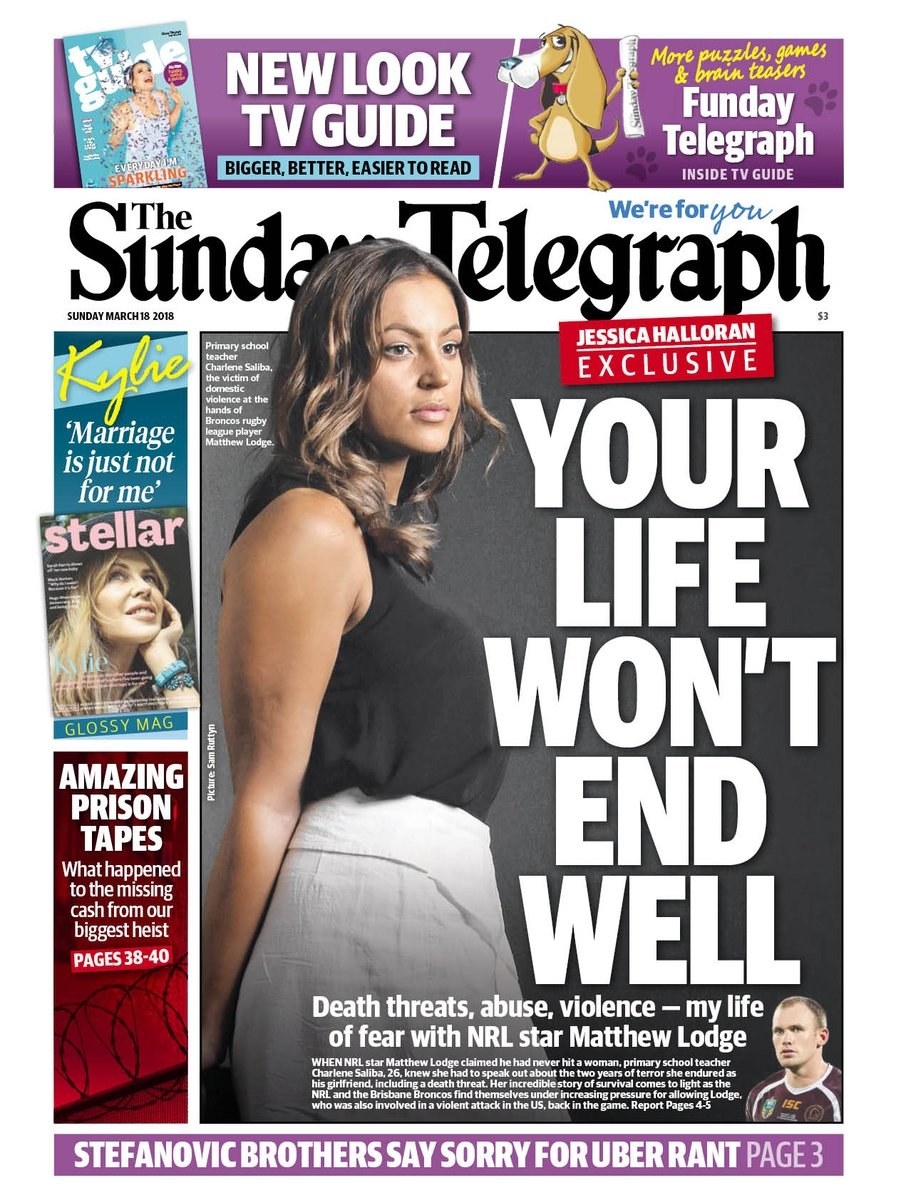 Charlene Saliba, a primary school teacher, accused Lodge of physically restraining her, spitting on her face, and threatening her life.
The Daily Telegraph also published an eyewitness account of violence within the relationship from the couple's neighbour, who detailed an instance of Lodge hitting Saliba.
Lodge and his manager did not respond to the newspaper's requests for comment.
The NRL's CEO Todd Greenberg defended the league's decision to register Lodge before the season started.

"Matt Lodge is 22 years of age and he's made some horrible errors," he told Fox Sports in reference to the incident in the US. "The easy thing to do is to shut the door and walk away — I don't think that's what rugby league stands for."
Greenberg said Lodge had had a "very tough three years" but was not excusing what he did.
"The NRL took into account Mr Lodge's guilty plea to domestic violence when it rejected his request to return to the game several times," an NRL spokesperson told BuzzFeed News in a statement.
"He was allowed to return to the NRL after two years only after undergoing extensive rehabilitation."
Queensland's premier Annastacia Palaszczuk weighed into the controversy on Monday and said the Broncos players were role models in her state.

"Those issues that have been raised are quite disturbing … I think they're serious matters the Broncos need to address," she said.
In 2015, after the federal government had just contributed $1 million to help Australian sporting codes address domestic violence, former governor-general Quentin Bryce visited a Brisbane Broncos training session.
"These blokes are absolutely key to solving this issue," Bryce said. "These men are very influential to young people and commun­ities, especially boys growing up.
"That's who the boys listen to, that's who they want to be like. They hear their messages."
Brisbane Broncos chief executive Paul White said the team had always "taken the strongest stance against violence against women in any form".
"The club was aware of the 2015 court proceedings involving Matt and that the issue had been fully investigated by police and by the NRL," White told BuzzFeed News in a statement.
"The club has made contact with the NRL Integrity Unit today to ensure that no new information has come to light in today's media reports, and is satisfied that all the information has been considered in past investigations."
"When signing Matt, the Broncos were aware that the NRL took this matter into consideration when it mandated a range of work and courses that Matt was required to complete over a two-year period before he would be considered for a return to the NRL."
"Inside the last fortnight, Matt has also publicly stated that he in no way supports violence against women, and continues to work hard to improve himself as a member of society and within the NRL community."