Mia Freedman, founder of Australian website Mamamia and former chair of the National Body Image Advisory Group in Australia, has come under fire for her comments during a podcast about author and academic Roxane Gay.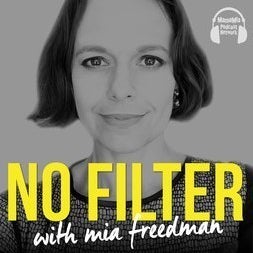 Freedman wrote a lengthy article and published a podcast on Sunday discussing Gay's latest book Hunger: A Memoir of (My) Body.
In Hunger... Gay writes about her lifelong struggle with her weight.
On Tuesday, Freedman faced criticism from the public and Gay for her choice of words, including sections where she calls the writer and professor "super morbidly obese", also questioning if "she will fit in the office lift".
"Hunger... is a memoir about Roxane Gay's body," Freedman said on the podcast.
"Now, I would normally never breach the confidence of what goes on behind the scenes while organising an interview. But in this case I've thought a lot about it and it's a fundamental part of her story and what her book is about. And I brought it up in the interview, so it's not news to Roxane. She writes about it in the book, so I'm sure she won't mind me telling you any of this.
"You see, Roxane Gay - well, I'm searching for the right word to use here. I don't want to say fat, even though she uses the word fat about herself, so I'm going to use the official medical term: super morbidly obese. There's obese, then there's morbidly obese, and then there is super morbidly obese. I don't think the scale goes beyond that, quite literally."
Freedman goes on to describe the correspondence between her team and Gay's publishers that included requests related to Gay's comfort during the interview, which were also published in a now-deleted post on Mamamia.com.
In her interview with Gay, Freedman mentions the requests once again.
"I wasn't going to talk about it, but you talk about it so much in your book," Freedman says. "Before you came, we had to make sure we did a bunch of stuff that would make you feel comfortable. Stuff that I would never have even thought of which I was so grateful to be warned about… I had no idea how stressful it must be for you just to be in the world."
Gay responds by saying, "it's very stressful. You just never know, is there a space that's going to accommodate me? Are there gonna be sturdy chairs, are the chairs gonna have arms? How wide are the arms, how low is the chair? It's just a constant series of questions that you're asking yourself every single day before you go into any space. And it's exhausting because people don't think, they just assume that everyone fits in the world the way that they do… but then sometimes people go to the other extreme and assume that you're incapable of basic things and basic movement, and that you need to be coddled. There's a happy medium, but to have to teach people in every single space that you enter how to treat you and your body with dignity is a full-time job, and I already have several other full-time jobs."
On Tuesday, Gay responded to the comments on Twitter, describing her interview with Mamamia as a "shit show".
Others on Twitter also criticised Mamamia.
As of Tuesday afternoon, Mamamia had deleted its article on Gay. Neither Freedman or Gay have responded to BuzzFeed News' request for comment.
UPDATE
On Tuesday afternoon, Mamamia released a statement addressing the controversy.
"As a publisher that's championed body diversity and representation in the media we're deeply apologetic that in this instance we've missed the mark in contributing to this discussion. We believe the conversations sparked by Roxane's book are vitally important for women to have, and are disappointed our execution hasn't contributed in the way we intended," the statement said.
"Prior to the interview, many requests were made to the producer of the episode via email and in phone calls by Roxane's book publishers about the logistics of her visit.
"We understand these questions were asked in good faith by her publishing team to make Roxane feel as comfortable as possible and we willingly answered all questions and complied with all requests. It is always our top priority that all our guests feel welcomed, relaxed and at ease.
"In the context of these logistics, prompted by her publishing team, the interviewer respectfully raised them with Roxane as an example of what she writes in her book."
It continued: "In no way did Mamamia ever intend to make Roxane Gay feel disrespected and we apologise unequivocally that that was the unintended consequence, including to her publishing team who organised the visit and made the requests in good faith. We are mortified to think she would ever believe this to be the case or that we have upset someone we so deeply admire and respect.
"As soon as we became aware of her feelings about it, we took down the written post, edited the podcast intro and changed the podcast description to remove all references to the questions asked by her publishers and about details she said she found upsetting."
"I made many mistakes," she wrote.
"The first and worst was not understanding the difference between Roxane writing in her book, Hunger, about her experiences and difficulties of trying to navigate the world and me talking about that experience from the outside, from my perspective."
"I mistakenly assumed that because she spoke about it, I could too. But this is not my story to tell and I should not have included it in the intro to the podcast or the podcast description. It was disrespectful and it upset her and for that I am deeply, deeply sorry. Unconditionally sorry."
CORRECTION
Mia Freedman is the former chair of the National Body Image Advisory Group. A previous version of this post stated this was her current position.