A woman has been charged with damaging property and common assault after footage of her abusing a Muslim university student and her husband went viral.
A female Muslim student, who has asked to remain anonymous, was looking forward to celebrating after completing the final exam of her medical science degree at Macquarie University in Sydney's north, when another student locked eyes on her and ran towards her and her husband Ramzy's car.
"The lady flips it and sticks her middle finger right at us," wrote the woman's husband, Ramzy, on Facebook.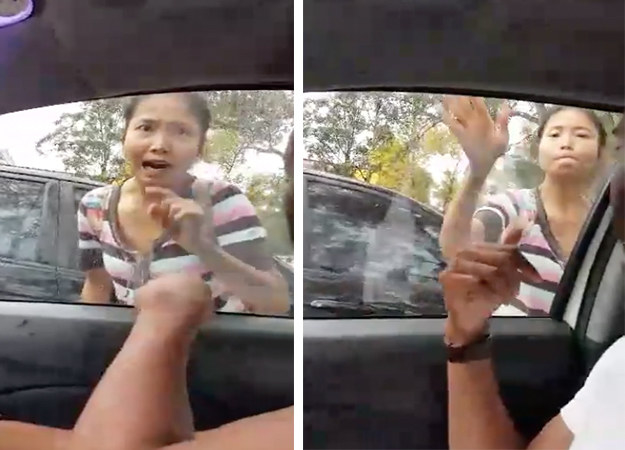 "Me, being completely dumbfounded [asked]: 'Ah, is everything OK?' At this point, she blows up in a rage... starts pointing at my wife and screaming, 'Fuck you! Take it off!! [referring to my wife's veil]'. She then runs towards our car and I urge my wife to lock her door and start recording if anything happens."
Ramzy posted a 90-second clip showing a woman bashing on windows, hitting the car and telling the couple to "fuck off". When she extends the car's windscreen wipers Ramzy exits the car to contain the woman and stop her attacking their car. The woman then screams, "Who are you? Why have you got a mask? Terrorist!"
The video showing the altercation has been viewed over a million times since it was uploaded to Ramzy's Facebook on Friday. Thousands have commented on the post, and more than 10,000 people have shared it.
A separate video filmed by another student, Emily Guff, who was watching the events unfold, has been viewed nearly 200,000 times.
"The whole time this woman was having her rant, her baby was sitting in her unlocked car, metres from where she was hurling abuse," she wrote. "Yes, she had left her infant child in the car to run over and launch herself at an innocent couple minding their business."
In an interview with Macquarie University newspaper Grapeshot, the victim said she would not let the altercation discourage her.
"I was scared of the thought of ever going back on campus," she said. "This woman did make me feel anxious. But after coming to terms with it, I realised that I should not let it be something that discourages me. There are many deranged and paranoid individuals out there. We need to take everything day by day with wisdom, calmness and patience."