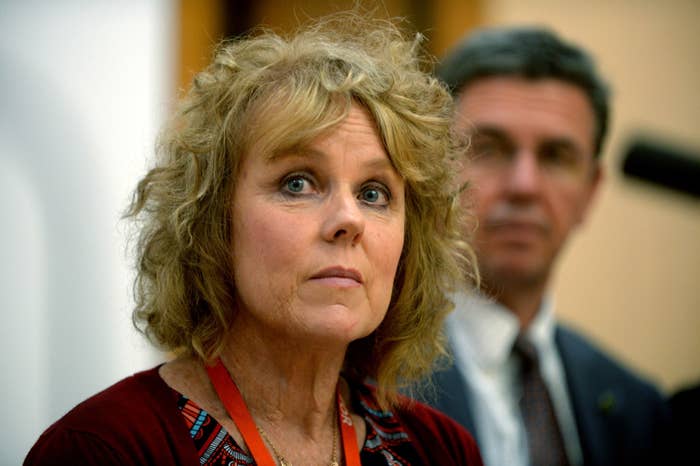 Lucy Haslam, perhaps the most prominent face in Australia's medical cannabis scene, has declared the industry is destined to fail unless better patient access is secured.

The prediction came on Wednesday in a joint statement with Dr Teresa Nicoletti. Nicoletti is a key figure in the country's medical cannabis world, for her work as a partner at law firm Mills Oakley helping multiple cannabis start-ups obtain federal growing and manufacturing licences.
"I laugh when I read some of these press releases promising the earth about what the regulated market will be worth by 2020," said Haslam. "At this rate it'll be worth hardly anything, while the black market continues to thrive. And all as a direct result of absolutely lamentable public policy."
Haslam shot into the public eye in 2014 after she and her son, Daniel, began campaigning for the drug's legalisation for medical use. Daniel Haslam died in 2015 but a law was introduced in 2016 to formally legalise the drug, and Lucy has since founded United in Compassion to continue campaigning.
Australia's legal medical cannabis framework has been criticised almost from its inception, with black market suppliers, doctors, and the Australian public lamenting the system for being overly bureaucratic and slow.
Nicoletti and Haslam have referenced the medical cannabis movement in Germany, a country where the drug was legalised a year after Australia, and where patient numbers are in excess of 16,000.
In Australia that figure is closer to 1,000.
"No patient access equals no industry," said Haslam. "It's really as simple as that.
"In [Tasmania], until fairly recently, there were actually more cannabis companies than there were patients approved to use it, and even now there are just six more patients than there are companies. It's insane."
The University of Sydney's Iain McGregor, who heads the Lambert Initiative for Cannabinoid Therapeutics out of the university, famously estimated there were around 100,000 Australians using illicit cannabis as medicine. The vast majority of those people are using a drug illegally and risk criminal conviction by going through the underground market.
"The regime in Australia is Kafkaesque at best," said Nicoletti. "I'd argue that we need a firm domestic base and provenance locally if Australian companies are going to stand a chance on the international stage.
"It's essential therefore that we build a viable industry here first – and that's just not going to happen without significant legal and regulatory reform."
In July the Australian government attempted to speed up the application process. A streamlined application process was quietly rolled out by the Therapeutic Goods Association in an attempt to move towards federal health minister Greg Hunt's idea of a "one-stop shop for accessing medicinal cannabis."